Rivalry between Long Beach State and Cal State Fullerton should reach new heights with a trip to Omaha on the line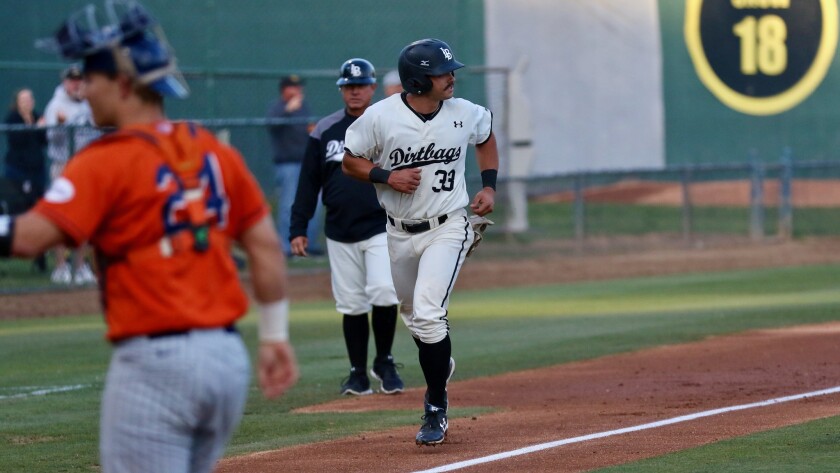 The game was over. Long Beach State had just defeated Cal State Fullerton in baseball. Again. And it had avenged the Dirtbags' only loss to the Titans this year.
What ensued was a dispute over the difference between a throw and a roll, between gloating and merely celebrating a victory. It is the type of small spark that ignites in a rivalry like this.
And it is one that illustrates why this weekend's NCAA super regional at Blair Field, when these rivals will meet for their third series of the season — this time with a trip to the College World Series on the line — is unlike almost any other before it.
As Long Beach recorded the final out of the game two weeks ago, "I don't know, I caught the ball and just rolled it at their dugout," first baseman Daniel Jackson said. "It wasn't malicious by any means, but they took offense to it."
Fullerton didn't perceive it as a roll.
Jackson, said Fullerton third baseman Taylor Bryant, "threw the ball at our dugout."
"That's just disrespecting the game," he said.
Roll, throw — in any case, the final game of that series was heated. Players on both sides talked. A lot. On one point they all agreed.
"We don't like them," Jackson said. "They don't like us."
"It's kind of a bad blood weekend," Fullerton right-hander Connor Seabold said. "For both of us."
This is fairly typical of this rivalry on the border of Los Angeles and Orange counties.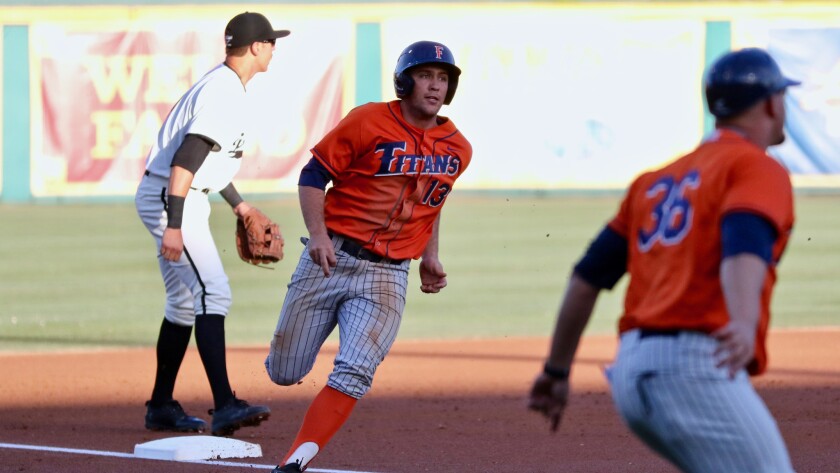 What isn't typical are the stakes: Long Beach and Fullerton have never met this deep into the NCAA tournament. Friday's opener is scheduled to start at 3 p.m. Saturday's game is set for noon, as is Sunday's, if necessary.
On the line is more than just a College World Series appearance, but the balance of power. Fullerton has long controlled the rivalry. Long Beach would like to change that.
The fans are no doubt ready. The series, Long Beach announced Thursday, is sold out.
"We're competing for everything, pretty much," Seabold said. "I don't think the rivalry has gone to where it's going to go this weekend."
The rivalry is an unusual one. On the field, tensions often boil over. Players grow up competing with and against each other. Coaches tussle over recruits. But otherwise, the coaches say they have real espect, even affection, for their counterparts.
The dynamic, Long Beach coach Troy Buckley said, is that of "step brothers."
The schools share a similar lineage, both offshoots of longtime Cerritos College coach Wally Kincaid. Dave Snow, an early assistant coach at Fullerton who became the most influential coach in Long Beach history, and George Horton, another early Fullerton assistant who won a national title as Fullerton's head coach, both played under Kincaid.
The similar upbringings forged similar baseball styles: an emphasis on pitching, defense and situational mastery. Both teams fashion themselves underdogs, blue-collar types, and compete in the Big West Conference.
This season, the offenses were constructed similarly, though Fullerton has slightly more power. Long Beach has the deeper bullpen.
Fullerton, an at-large entrant, cruised through the Stanford regional, giving up only five runs in three consecutive victories. Long Beach, the Big West champion, had to labor after an early loss to Texas. But it battled back to defeat San Diego State before twice defeating Texas to advance.
Jackson said the teams are so even and so crisp that the series probably will hinge on who makes the first mistake.
Earlier this season, Long Beach held the advantage. All six games between the teams were decided by three runs or fewer. Long Beach won five.
It was a breakthrough for the program, which has usually played runner-up to the Titans. Fullerton has won four national titles, Long Beach none.
Recently, though, Long Beach has been the more prodigious major-league factory, with 14 major leaguers this season, including players such as Troy Tulowitzki, the most of any college in the nation. Fullerton has nine, including Justin Turner.
"They've kind of dominated the Big West for the last eight, nine, 10 years. We think it's our time now," Long Beach shortstop Laine Huffman said. "It's the stick changing hands. That's how we feel."
Losing two series and the conference title this season has grated on the Titans.
"Going into this weekend I think there's a lot of thoughts that we need to get revenge," Seabold said. "And I kind of like it."
Added Fullerton first baseman Dillon Persinger: "And what better way than to dog pile on their field to go to the World Series."
Again, the foes came to a wary agreement.
"It's not even about making it to Omaha at this point," Jackson said. "It's about beating Fullerton."
Follow Helfand on Twitter @zhelfand
---
Get our high school sports newsletter
Prep Rally is devoted to the SoCal high school sports experience, bringing you scores, stories and a behind-the-scenes look at what makes prep sports so popular.
You may occasionally receive promotional content from the Los Angeles Times.