Column: For the Dodgers, the rewards outweigh the risks in starting Hyun-Jin Ryu over Clayton Kershaw in Game 1 of NLDS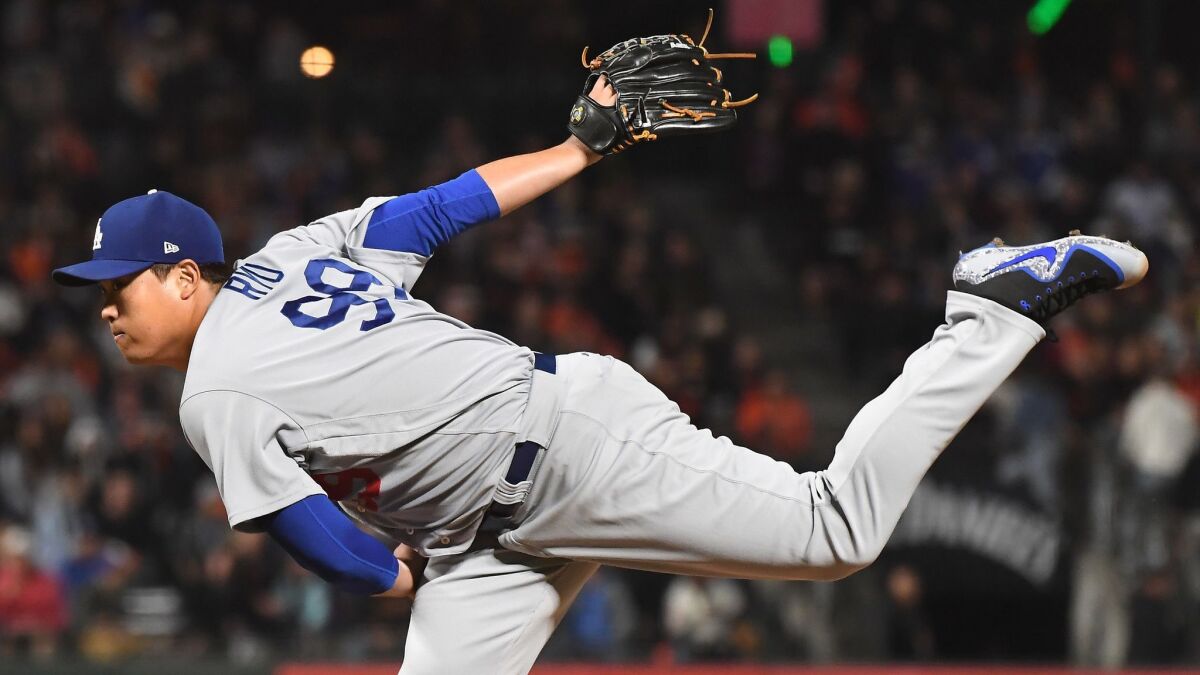 The facts were obvious. The logic was sound. The move was just waiting to happen.
The only question was, would the Dodgers dare do it?
Would they dare risk upsetting their highly competitive pitching star on the eve of the postseason if it would give them the best chance to win?
Would they dare mess with their longtime ace's status only a month before he could opt out of his contract if they thought everyone involved would benefit from the move?
For the first time in six consecutive Octobers, would they dare begin a postseason without Clayton Kershaw on the mound?
Well, they dared, they did, and good for them.
In a sort of typical bold move that has helped the Andrew Friedman-Farhan Zaidi regime engineer National League West Division titles in each of their four seasons here, the Dodgers have announced that Game 1 of the division series against the Atlanta Braves on Thursday at Dodger Stadium will be started by Hyun-Jin Ryu, with Kershaw pitching in Game 2.
This is like the Dodgers beginning the postseason dressed in green. Kershaw always has been the anchor. He always has been the leader. He always has been first. In every postseason series in the last five years when he didn't pitch in a previous closeout game, he has started the opener.
This will feel very strange. But it is also very smart.
The Dodgers will say this move is being made because it allows both men equal rest, with both having five days from their last start. If Kershaw went first, he would be on four days' rest, and Ryu would be on six days' rest, so this switch gives them equal footing.
But there's more to it, and you know it, even if nobody will say it.
Ryu gives them their best chance to deliver a first-game knockout.
Ryu loves pitching in Dodger Stadium, witness his 1.15 earned-run average in nine games there this season. Ryu also loves pitching in big moments, as he threw seven scoreless innings in the showdown series opener against Colorado in mid-September, then gave up one run in six innings during crunch time in San Francisco last weekend.
Ryu, who finished the regular season at 7-3 with a 1.97 ERA, has been hot.
Kershaw, who finished at 9-5 with a 2.73 ERA, has not.
Kershaw finished with a 4.20 ERA in his last five starts, including giving up five runs in five innings during his own crunch-time moment last weekend in San Francisco.
There's also the matter of their postseason records, and, although Ryu's sample size is small, in three postseason games he has a 2.81 ERA. In 24 postseason games, Kershaw has that glaring 4.35 ERA.
This doesn't mean Kershaw isn't still the soul of the Dodgers pitching staff, because he is. This also doesn't mean he's not the heart of this team, because these Dodgers don't beat steadily without him.
But this probably does mean the Dodgers no longer feel compelled to put the biggest part of the postseason burden on Kershaw's shoulders. With a rotation that includes Ryu and Walker Buehler — the kid has unofficially become the ace — the Dodgers no longer feel Kershaw is their only option at all cost.
A big part of the Dodgers' postseason failures could be attributed to too many Kershaw innings, too little Kershaw rest, too much Kershaw stress, and this move could mean the Dodgers finally seem determined to fix this.
The Dodgers also seem resigned to accept the risk it brings and, man, what a risk.
Kershaw is the ultimate team player, and he will pitch in Game 2 without complaint, and this could wind up being the impetus for the best postseason of his life.
But this offseason, Kershaw can opt out of his contract and leave town, and one wonders whether this decision might be later viewed as a demotion that would make him consider other options.
It says here the Dodgers should lock him up to a lifetime deal, and the guess is that ownership agrees. It will be expensive, but what price can one put on having a future Hall of Fame player spend his entire career in a Dodgers uniform?
But it's also well known that the front office doesn't love giving giant contracts to aging pitchers, and were willing to let Zack Greinke walk to division rival Arizona.
Things could get complicated this offseason. Perceptions will matter. And before pen hits paper, might Kershaw point to this decision as a lack of faith in his future here?
Maybe, maybe not. Right now, the only thing that matters is the Dodgers having the best chance to win their first World Series championship in 30 years. The decision to start Ryu instead of Kershaw in Game 1 is the first step toward giving them that chance.
A bold move, a risky move, but the right move.
Get more of Bill Plaschke's work and follow him on Twitter @BillPlaschke
---
Get our high school sports newsletter
Prep Rally is devoted to the SoCal high school sports experience, bringing you scores, stories and a behind-the-scenes look at what makes prep sports so popular.
You may occasionally receive promotional content from the Los Angeles Times.