Column: Sense of urgency drives Dodgers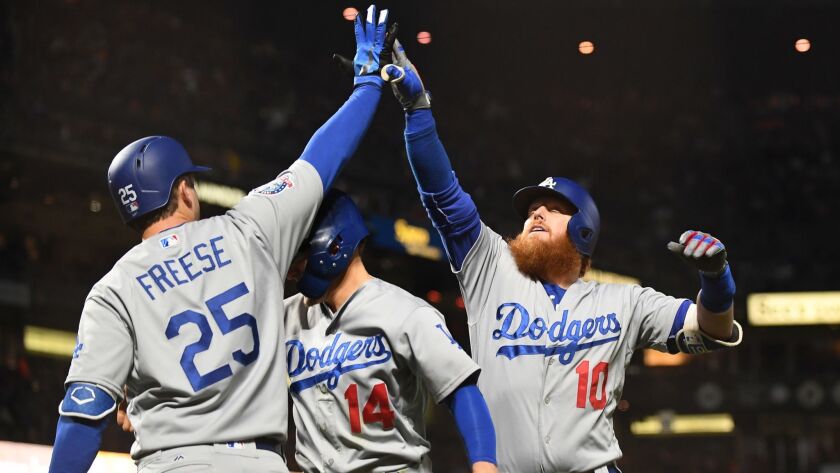 Reporting from san francisco —
Standing in a chilly, windswept dugout at AT&T Park on Friday afternoon, Dave Roberts acknowledged the obvious.
"To play with desperation, I'm OK with that," he said.

For the record:
9:55 AM, Sep. 29, 2018An earlier version of this column said the Dodgers will play Chicago if they win the division title. The Dodgers will play Atlanta if they win the NL West.
Roberts didn't say it very loud. His voice was muffled by the clanging of bats and scuffing of cleats.
Yet rarely have his words resonated deeper, drilling through this final stretch of a long and confusing summer with rattling clarity.
His Dodgers better be listening. His Dodgers better realize just how desperate they need to be.
As baseball's most underachieving contenders took the field against the San Francisco Giants for the start of the final three games of the season Friday, they knew the St. Louis Cardinals had already lost, placing a wild-card berth squarely in their sights.
But that's not enough. That was never the plan. That cannot be the goal.
A wild-card berth will get them in the playoffs, but a wild-card berth would be a major disappointment and pose a formidable problem.
The Dodgers need to be thinking only about a sixth consecutive West Division championship. That is their talent level. That should be their expectation.
The acquisition of that crown became more difficult during the middle of Friday's game when, over in Denver, the first-place Colorado Rockies won their eighth consecutive game and tightened their grip. But the Dodgers still have a chance. They made sure of it with a 3-1 victory over the Giants on another rollicking night in an ancient rivalry.
Dodgers fans populated large portions of the bayside ballpark, exchanging taunts with Giants fans, sometimes drowning out Giants fans, causing such a ruckus that at one point police were hauling unruly fans away from behind home plate.
But the real craziness is yet to come.
With the win, the Dodgers trail the Rockies by one game with two to play. They need to view these final two games as must wins, playoff games, even if their postseason is all but assured after clinching at least a wild-card tie with the Cardinals. They need to view it like West Division title or bust, because it could be exactly that.
A wild-card berth probably would force them to fly to Milwaukee to play a winner-take-all game again the hot Brewers with their formidable lineup and deep bullpen.
The division championship probably would give them five games against the unsettled and eminently beatable Atlanta Braves.
A wild-card berth could place the entire season on the shoulders of rookie Walker Buehler who, even though he has essentially become the staff ace, would be making his first postseason appearance.
A division title would allow Buehler to slip into his more comfortable spot behind Clayton Kershaw.
The Dodgers need to understand this, because even the taunting fans understand it. As the crowd scattered late Friday, one Giants fan threw one last jab at a horde of Dodgers fans by shouting out a punctuation mark on the Dodgers victory.
"You're still in second place!" he hollered.
Roberts agreed that the division title is the mission, but noted that you can't win a championship if you don't get invited to the tournament, even if that invitation feels like a consolation prize.
"The regular-season goal is to win the division, and that's still our goal," Roberts said. "But most importantly, ultimately, the goal is to win a World Series, and so to do that you have to get to the postseason. So to take the approach of the division or bust is really discounting the importance of getting to the postseason."
Roberts added, "Would it be a regular-season disappointment to not win the division, if that's the case? Yeah, it would be. But you have to refocus and understand that you still have an opportunity to win a championship."
No matter how you want to spin it, the Dodgers need desperate, and they got it Friday from a couple of familiar sources.
Enrique Hernandez, who has played everywhere and done just about everything this season, continued to own Giants starter Madison Bumgarner, this time for three consecutive singles leading off an inning.
The first time, he was stranded on third. The second time, he came around to score on Manny Machado's single. The third time, he scored on a two-run homer from one of those other desperation guys, Justin Turner, one of baseball's best players with a .369 average since the All-Star break,
On the mound, the Dodgers also discovered desperate in Hyun-Jin Ryu, who continued his brilliance since returning from a groin injury Aug. 15 by holding the Giants to one run in six innings. In nine starts since his comeback, he has given up as many as three runs only twice, with 53 strikeouts and five walks, cementing his spot as their No. 3 postseason starter.
"This is why guys in the offseason put in work, we do little things, and prepare for moments like this," Roberts said afterward. "The fans get into it, our players get into it, this is why you play."
Desperate times call for, well, you know. And now the Dodgers need two more days of it.
Get more of Bill Plaschke's work and follow him on Twitter @BillPlaschke
---
Get the latest on L.A.'s teams in the daily Sports Report newsletter.
You may occasionally receive promotional content from the Los Angeles Times.