Column: Dodgers clubhouse exudes a championship vibe that looks to defy history
Most baseball teams with championship hopes enter the season searching for something big.
The Dodgers, on the contrary, are searching for something small.
One more pitch, maybe a cutter from Kenley Jansen that doesn't end up landing on a blanketed lap in a distant bleacher.
One more swing, perhaps this time Cody Bellinger making contact with something other than the smoky October air.
One more decision, possibly Dave Roberts leaving his pitcher on the mound when he's throwing a ONE-HITTER IN THE SEVENTH INNING!
The Dodgers have ended their last two journeys so agonizingly close to the Commissioner's Trophy — consecutive World Series appearances, consecutive heartbreaks — that it would appears one more powerful lunge could touch it.
Common sense says they don't have a chance.
Common sense says they are mentally fatigued from a two-year grind to nowhere. Their ace is hurting again. Their shortstop hasn't played in nearly a year. They lost their power-hitting catcher. They lost their exciting right fielder. Guggenheim whiffed on Bryce Harper.
Only two teams in the last 29 years have advanced to at least three consecutive World Series, and it's been 75 years since it last happened in the National League, with the St. Louis Cardinals. History will be against them. An improved league will be against them.
Common sense says the Dodgers won't be able to summon that one more something.
But clubhouse sense says they will.
The clubhouse sense of this visitor to their spring training home at Camelback Ranch says this team is even better equipped to win that first title in 30 years than any Dodgers team during the current era.
Surprised to hear that? Everyone is.
You tell someone you really like this Dodgers team, and the reaction is usually something along the lines of, you're kidding me!
It's no joke. This is the most professional group that has either been assembled by Andrew Friedman or played under Dave Roberts.
There is no flash here. There are no actors here. Nobody is going to be licking their bat or raising the roof.
But there is quiet purpose here. There are experienced grinders here. There is a room full of old-fashioned ballplayers gathered here who know just how to handle the next six months and maybe, just maybe, can finally figure out October.
"I love this team, this is a pro clubhouse, it's a whole different feeling in there,'' said Roberts recently and, no, he hasn't always been that enamored with his group. "You can see the mood, the vibe, the lack of drama, the way it's supposed to be, how the Dodgers are meant to be.''
Look, OK, sure, some of this is about the fresh air that has poured in after the departure of nutty Yasiel Puig, moody Matt Kemp and chippy Yasmani Grandal.
But some of it also is about the gritty additions of Joe Kelly, A.J. Pollock and Russell Martin. Some of it is about what seems like a big free-agent signing in revived shortstop Corey Seager. Some of it is about the new swing of Bellinger, the new body of Jansen, and that eternally new kid Julio Urias.
The Dodgers experienced addition by subtraction, sure, but they also enjoyed addition by addition, and now appear as deep and committed as any team in a league which they should win again.
Fine, write it down, the belief here is this team will advance to a third consecutive World Series.
And if you think that's bold, listen to Roberts.
"I expect to win the World Series,'' he said, and he sounded like it meant it.
They have that one more pitch.
In past years, a Clayton Kershaw shoulder injury would have elicited deep breaths and nervous glances. Now, well, the whole place sort of shrugs.
Is he going to be at full strength for the latter part of the season and playoffs? Probably. Can he give the Dodgers six good innings each start when he comes back? Absolutely.
OK, then, what's the big deal? The Dodgers have the deepest starting pitching in baseball, and that's not even the possible rotation emergence of bullpen-bound Urias.
Walker Buehler is legitimately the staff ace, while Rich Hill, Hyun-Jin Ryu and Kenta Maeda provide veteran consistency. Throw in utility pitcher Ross Stripling — he had a 3.02 ERA last year and could be the ace on some staffs — and the rotation is loaded even without its future Hall of Famer.
"Look at the sum of our staff, we have a lot of guys, every single time they take the mound, we feel we should win,'' Roberts said. "Collectively as a group, one through seven, we're as good as anybody in baseball.''
In the bullpen, closer Jansen has recovered from heart surgery — he no longer requires any heart medication — and has lost 30 pounds while gaining something much larger.
He finally has a legitimate setup guy in Kelly, a free-agent signing from Boston who came home to the Southland last October and blew the Dodgers away in the clinching World Series Game 5.
"This team is already amazing to me,'' Kelly said. "The way they go about their business, you can tell they have only one thing on their mind, and that's a championship.''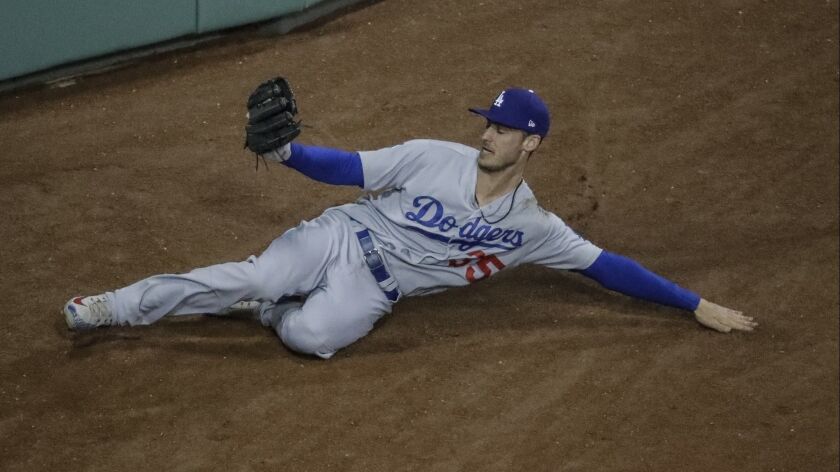 They have that one more swing
Bellinger looks smoother, and will play every day. If Pollock can stay healthy, he will also play every day. Add everyday Seager, and that rids the team of three platoons, the sort which were caused by injury and performance and proved so detrimental during last year's World Series.
"I believe we've gotten exposed offensively in the World Series,'' said Roberts, not needing to note that last fall the Dodgers batted .180 with a .550 OPS against the Red Sox. "Now, bringing in guys who hit lefties and righties, less platoons, more consistency.''
Sign up for our daily sports newsletter »
The leader is still Justin Turner, who has led the charge in making it clear to his teammates that there will be no World Series hangover this time, and that the serious business begins now.
"You can just kind of feel, I hate using the word hunger, but that's what it is, hunger,'' Stripling said. "J.T. has turned it up a notch, Kershaw up one notch, Kenley up one notch. Everything is heightened a little bit this spring, we know where we need to go, we know how to get there.''
They have that one more decision
This is as strong as Roberts has ever been. He is no longer a lame duck after signing a four-year contract extension this winter. After spending his first three years walking a tightrope between an unsettled clubhouse and a hyper-focused front office, he now has the gravitas to make tough choices and exercise more input. Oh, and did he tell you he has the confidence?
"Watching how these guys prepare, how they focus, their understanding in what it means to be a Dodger, it's all there,'' Roberts said. "The world is not perfect, but this is as good as I've ever had it."
But will it be good enough? Common sense says no. Clubhouse sense says bring it on.
Get more of Bill Plaschke's work and follow him on Twitter @BillPlaschke
---
Get the latest on L.A.'s teams in the daily Sports Report newsletter.
You may occasionally receive promotional content from the Los Angeles Times.