Column: Those Dodgers stars you cheer? Marty Lamb saw them first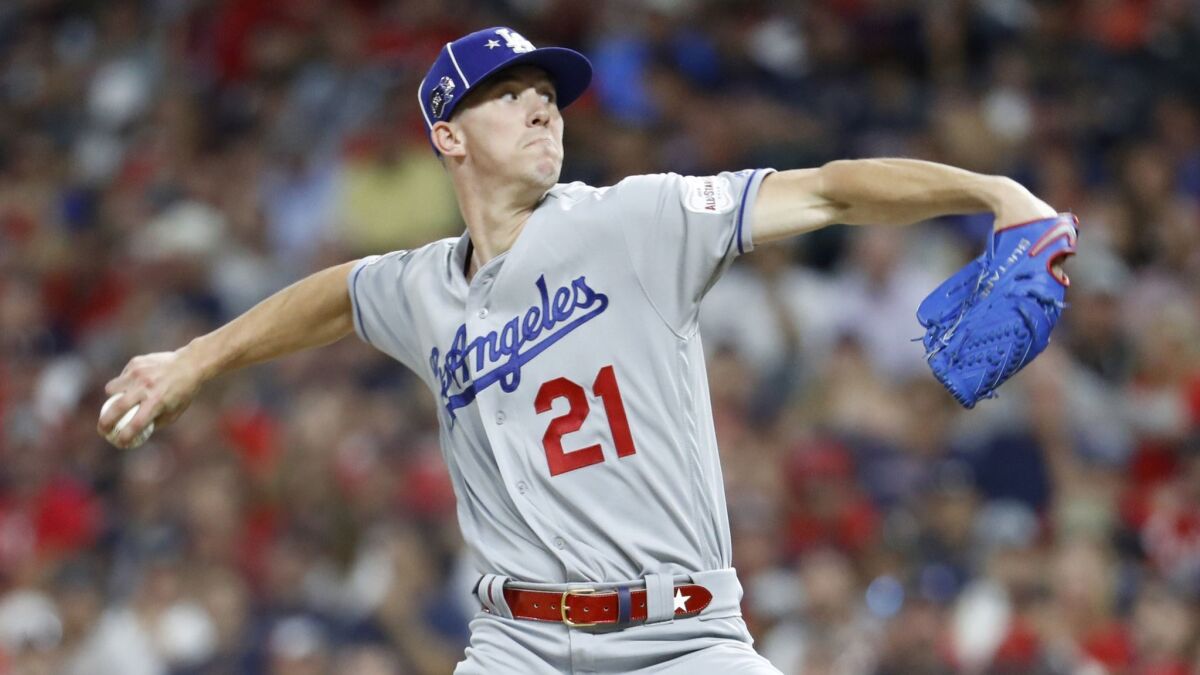 The Dodgers' hottest hitter is being interviewed by phone while driving his Ford pickup south through the Kentucky hills and into Tennessee.
There is country music on his radio. There is a cowboy hat in the back. In the console is a cup into which he collects the juice from the snuff that rarely leaves his lower lip.
"My wife says she can hear it when I spit," Marty Lamb says. "She said, 'Don't you get on that phone with me and spit.'"
He laughs, because he's doing what he loves, driving four hours to places like Kingsport, Tenn., where he will sit in a minor-league ballpark watching teenage kids throw curves and take hacks.
"Every night there's the excitement of watching somebody new," he says. "You look forward to going to a game and saying, 'Is this going to be the guy?'"
Right now, Marty Lamb is that guy, the guy he has spent his life searching for, a Hollywood hero from the middle of tobacco country, the unlikeliest of stars.
Lamb is a Dodgers area scout covering Ohio, Kentucky and Tennessee. His job is to identify prospects. He is the organization's first set of eyes. Sometimes he hits on a future major leaguer. Many times he does not.
This summer, his finds are knocking them out of the park. In one recent weekend, his vision filled Dodger Stadium with three glorious moments undimmed by the fact that he could not witness them.
"I didn't see any of it," Lamb says. "But I heard it was pretty fun."
On a late June Friday night against the Colorado Rockies, a Dodgers pitcher struck out 16 and walked none in his first complete game. His name is Walker Buehler, and in 2015 Lamb was the person who signed him.
"Marty is the man!" says Buehler.
On that same Friday night, the game was won with a walk-off homer in the bottom of the ninth by a rookie who had showed up less than two months earlier. His name is Matt Beaty, and in 2015 Lamb also signed him.
"I'll never forget him in those Wrangler jeans and button-down short-sleeve shirts," says Beaty. "He's a really good guy who truly wanted what was best for us."
Two days later, on Sunday afternoon, the Dodgers won on a third-straight walk-off homer, this one by a rookie catcher also getting his first taste of the big leagues. His name is Will Smith, and the scout who signed him in 2016 was — you guessed it — Marty Lamb.
It was all happening across the country from the scout, who spent the weekend sitting in tiny New England ballparks scouting the summer Cape Cod League — where he goes to follow the top college players from his area.
Sign up for our daily sports newsletter »
"Lots of people texting me, sending me Twitter type stuff, I figured it out," he says. "I didn't need to be there. I was just proud to see them do well."
Buehler and Smith were first-round picks — Buehler going 24th overall and Smith going 32nd — but Beaty was a 12th-rounder, and the evaluation of all three was considered a great success for a scout who has signed nine major leaguers, including Dodgers reliever Caleb Ferguson and former Dodgers A.J. Ellis, Eric Stults and Cory Wade.
"Marty is the foundation of where we're going," says Billy Gasparino, the Dodgers' director of amateur scouting. "He's such a good guy, and it correlates to the kids he signs. When you have that kind of scout, you find that kind of player."
Lamb, 53, will go anywhere to find them. He once jumped a fence to scout a college batting practice. He has sat in a concession stand and pointed a radar gun through the popcorn. He filed a report on a starting pitcher who warmed up with the baseball still wrapped in plastic because the kid didn't want to scuff one of his downtrodden team's only good ones.
He has sat through rain and snow without benefit of a straw hat or much sunscreen — "I probably need to use that more, huh?" he says. He sat in the stands while another Dodgers scout hid in the car so nobody knew they were putting on the full-court press. He puts 40,000 miles a year on his trucks. He has never eaten a ballpark hot dog. Or so he claims.
"I'm just trying to dig 'em up," he says of the ballplayers he discovers. "That's super hard to do."
He's been digging them up for the Dodgers since 1999, an amazing run in the transient world of scouting. He has survived three owners, five general managers and one promotion
About 11 years ago, he became a scouting supervisor for one year, but it meant he couldn't work out of his home and be near his three young children. So, after a season, he returned to his grass-roots job and has been in it ever since.
"Haven't got fired yet," he says, chuckling. "I've been tricking them for 21 years."
It's no trick. He mixes analytics with a homespun demeanor to delve inside a player's game and his personality.
"The scouting landscape changed so much last five, 10 years, but Marty really is a learner of the game; he is open to all new ideas," Gasparino says. "And when you walk into the park, everyone knows him. Parents know him, coaches know him, vendors know him."
Lamb watches for the little things. He had seen Buehler enough to know he was hiding some sort of injury in his junior year at Vanderbilt. He warned the Dodgers, but also told them the kid was still worth taking in the first round. Buehler underwent elbow surgery shortly after the 2015 draft, and has been overpowering ever since.
Lamb notices the intangible things. He was sold on Beaty when he saw the kid show up at a pre-draft camp in Atlanta at 9 a.m., shortly after Beaty's Belmont team was eliminated from a conference tournament in a late-night game in Jackson, Tenn.
"He drove all night to get to the camp," Lamb recalls. "That showed passion and dedication. That showed what was inside him.''
Many scouts were on Smith, but not everyone had him so high. The Dodgers made him a late first-round choice after collecting information that included a conversation between Lamb and Smith's Cape Cod League coach.
"I was told he had a quiet confidence, very mature, had a routine, knew what he wanted to do, a super nice kid, and all that was what we were looking for,'' Lamb says.
A former high school pitcher from Colorado, Lamb was never drafted himself. He initially wanted to be a coach, and once guided an undermanned team from tiny Bay Springs (Miss.) High, in a town of about 2,000.
The team traveled in his pickup truck. At its home field, second and third base were a foot below home plate. Lamb had so much trouble finding players, his first varsity team contained four ninth-graders, two eighth-graders and a seventh-grader.
"I'll never forget those kids," he says. "They taught me a lot about toughness."
He turned to college coaching, with stops as an assistant at Southern Mississippi and Texas Tech before joining the Dodgers, where his humble background has served him well.
"It's a tough field, you're going to be wrong a lot of times, you'll make a lot of mistakes," he says, "… but you can't be scared to make those mistakes."
When he hits, like that wondrous weekend in June, it lasts forever. Just the other day, Beaty and Buehler were passing around a photo of their heroics from that weekend. They were going to sign it and send it to Lamb.
That can be as close as he comes to seeing his players star on the game's biggest stage. Lamb joins the other scouts on annual postseason trips to Dodger Stadium, but when the team offers to fly him out to see one of his players make their first major league appearance, he usually politely declines.
"We're like, 'Come watch this debut!'" Gasparino says. "But he's like, 'Nah, I need to watch out for the next guy.'
"He always wants to go find the next guy."
Get more of Bill Plaschke's work and follow him on Twitter @BillPlaschke
Get our high school sports newsletter
Prep Rally is devoted to the SoCal high school sports experience, bringing you scores, stories and a behind-the-scenes look at what makes prep sports so popular.
You may occasionally receive promotional content from the Los Angeles Times.