Column: Was it worth it? The Dodgers' television deal kept them out of homes, but they made it to the World Series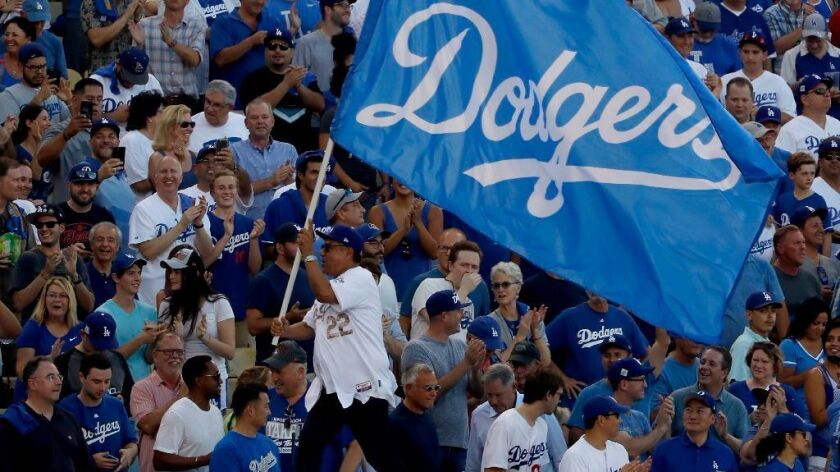 However anticlimatic and painful the ending, this was a glorious month of baseball in Los Angeles. The Dodgers overwhelmed their opponents in the first two rounds of the postseason to reach their first World Series in 29 years. A new generation of October heroes emerged, from All-Stars such as Justin Turner to role players such as Enrique Hernandez .
Now that it's over and the Astros have returned to Houston with the World Series trophy, the question has to be asked: Was this worth it? More specifically, was the last month worth the Dodgers' four-years-and-counting television blackout?
It's worth contemplating, largely because the World Series run wouldn't have happened without the controversial $8.35-billion television contract that has made regular-season games invisible to the majority of the Los Angeles metropolitan area.
If that deal with Time Warner Cable — now Charter — was a deal with the devil, the devil at least held up his end of the bargain this October. For the first time since who-knows-when, this was a baseball town again, courtesy of the Charter billions.
But there are no indications Dodgers-owned SportsNet LA will gain wider distribution any time soon. The agreement with Charter will be in place for 21 more seasons.
So, again, was this worth it?
For some perspective, it's important to revisit the past, to remember what the Dodgers were like under the previous owner, Frank McCourt. These were simpler times when ambitions were modest. The Dodgers had a below-market broadcasting deal with Fox, the company that sold McCourt the franchise. Considering the size of their market, the Dodgers were relatively thrifty when shopping for players.
The McCourt Era wasn't entirely awful. In their eight seasons under McCourt, the Dodgers reached the playoffs four times. Anyone in a market with a basic cable package could watch all 162 of their regular-season games. General manager Ned Colletti compensated for the team's financial limitations by offering free agents shorter contracts with higher average annual values. The team's inability to shop on the high-end of the free-agent market resulted on a focus on homegrown talent, which produced Matt Kemp, Andre Ethier, Russell Martin, Jonathan Broxton and James Loney.
At the same time, the Dodgers never looked like a World Series team, namely because they could never afford the pitching to get them there. Their best chance, in 2008, was because of a borderline miracle: Manny Ramirez's relationship with the Boston Red Sox deteriorated to the point where the Dodgers were able to acquire the dreadlocked star at a minimal cost.
Of course, nothing in life is free. McCourt bowed to public demand and re-signed Ramirez, who turned out to be on performance-enhancing drugs. The deferred payments that were a part of Ramirez's new contract helped sink the Dodgers into bankruptcy. By this point, Los Angeles viewed McCourt as a villain, as his divorce proceedings revealed he and his wife had drained the franchise of virtually every revenue stream to spend on their lavish lifestyle.
This set the stage for the Dodgers to be purchased in 2012 by their current owners, Guggenheim Baseball Management. The group paid a record $2.15 billion for the franchise. In Guggenheim's first year in charge, the Dodgers made a statement by taking on more than $260 million in salary obligations to acquire Adrian Gonzalez from the Red Sox.
The Dodgers transformed into big spenders under Guggenheim. They have spent money to ensure Clayton Kershaw would remain with them. They have spent money on free agents such as Zack Greinke. They spent money to restock a farm system that was neglected in the final years of the McCourt ownership. They spent money to assemble an All-Star front office. And they spent money to retain their own free agents, spending close to $200 million last winter to bring back closer Kenley Jansen, Justin Turner and Rich Hill.
They spent because they had or knew they would soon have an influx of cash from the 25-year, $8.35-billion deal they signed with Time Warner Cable in 2013. And their investment on the field has been rewarded with five consecutive NL West championships. The World Series felt within reach.
The downside of this is that the new channel, SportsNet LA, remains unavailable to the majority of Angelenos. Even after Time Warner Cable was acquired by Charter Communications, the channel has reached fewer than half of local households.
Earlier this year, the U.S. Justice Department settled its lawsuit with AT&T, resolving claims that a DirecTV executive illegally colluded with other cable television companies to block the channel's rollout in 2014. As part of the agreement, however, the government didn't force AT&T to start carrying SportsNet LA.
If you have a 1-year-old child, it's possible he or she could be a college graduate by the time the Dodgers could be watched throughout the market again.
On one hand, this is Los Angeles, and, if we're going to be honest, the majority of sports fans here don't focus on baseball until October.
On the other, baseball doesn't require focus. Think back to last year, when Vin Scully was retiring and fans shared their memories of him. What was striking was the number of people who recalled doing something else while listening to the Hall of Fame broadcaster, like, say, fixing cars with their fathers. Baseball can be the soundtrack to people's lives, the familiarity of the broadcaster's voice and the sounds of the game offering comfort and a sense of home.
A new generation of viewers should be forming that kind of relationship with the Dodgers' current play-by-play man Joe Davis, who is one of the most promising broadcasting talents in the country. They should also be following the development of such players as Corey Seager and Cody Bellinger, just as the generation of fans before them grew up as they watched Kershaw and Ethier go from being prospects to veterans.
The situation now is one in which fans are first introduced to the likes of Seager and Bellinger in October, when games are shown on Fox, FS1, TBS, ESPN and MLB Network. Listening to the deafening ovations Ethier received over the last two months, it was natural to wonder if fans would ever be able to make similar connections with Seager and Bellinger.
Turning a product into a luxury television item has consequences over time. Ask boxing, which has become a niche sport.
Still, it's undeniable the Dodgers energized Los Angeles similar to how the Kobe-and-Shaq Lakers once did. The city came together. Players became celebrities.
And, really, whether this television deal was worth it will depend on how often the Dodgers can replicate their World Series run. Do this every other year, maybe deliver an actual championship here and there, and, yes, the memories they create will outweigh the memories that were lost. But they have to be mindful of how they don't have the luxury of becoming lovable losers. If they lose, no one will ever see them.
The Los Angeles Dodgers in the 2017 World Series
On Now
Video: Kenley Jansen, Cody Bellinger, Rich Hill talk about losing Game 7
1:59
On Now
Video: Analysis: Dodgers lose Game 7 and the World Series
11:43
On Now
Video: Yu Darvish talks about using his slider for Game 7
1:34
On Now
Video: Kenley Jansen and others talk about winning Game 6
1:58
On Now
Video: Analyzing the Dodgers Game 6 win
7:26
On Now
Video: Clayton Kershaw on starting Game 5 of the World Series
1:57
On Now
Video: Dave Roberts Talks Rich Hill and Kenley Jansen pitching in Game 6
1:57
On Now
Video: Dave Roberts talks preparing for Game 7
1:26
On Now
Video: Here it is, Game 7, and Bill Plaschke knows who wins
2:22
On Now
Video: Rich Hill talks about Game 6 of the World Series
1:48
Follow Dylan Hernandez on Twitter @dylanohernandez
---
Get our high school sports newsletter
Prep Rally is devoted to the SoCal high school sports experience, bringing you scores, stories and a behind-the-scenes look at what makes prep sports so popular.
You may occasionally receive promotional content from the Los Angeles Times.