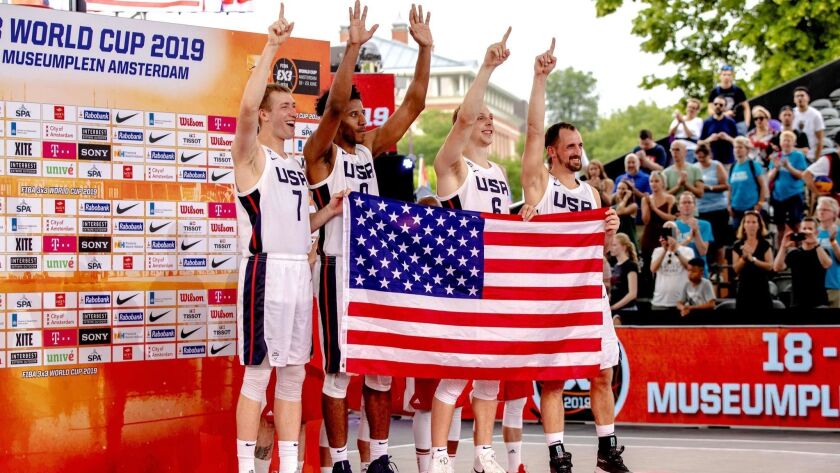 Los Angeles will serve as host for a major three-on-three basketball competition from 2020 through 2023, international officials announced Wednesday.
The FIBA 3x3 World Tour Final will be organized in partnership with the Los Angeles Times Media Group as part of its fledgling L.A. Street Festival.
"We are excited to bring our urban discipline to the next level in North America," said Andreas Zagklis, secretary general of FIBA, the international basketball federation. "This will undoubtedly cement the FIBA 3x3 culture in the build-up to the Los Angeles 2028 [Olympic] Games."
Three-on-three basketball has been growing on the global sports scene and will be added to the 2020 Tokyo Olympics.
With FIBA looking to expand its slimmed-down version of the game in the U.S., The Times previously agreed to sponsor a masters event in L.A. in late September.
Sign up for our daily sports newsletter »
"Basketball is one of the most popular sports in the United States and Los Angeles is an international sports and culture capital," said Dr. Patrick Soon-Shiong, the Times' owner and executive chairman.
The media group originally sought to host a larger competition known as the World Urban Games — a showcase for as many as 14 nontraditional and emerging sports — but ran into disagreements over which disciplines would be included.
In March, it was announced that the inaugural Urban Games would be shifted to Budapest and that the Times would create its own event.
Three-on-three basketball will join esports and breakdancing, among other features, in the lineup for the L.A. Street Festival, which will debut in late September.
Follow @LAtimesWharton on Twitter
---