These players should be in halls of fame of four major sports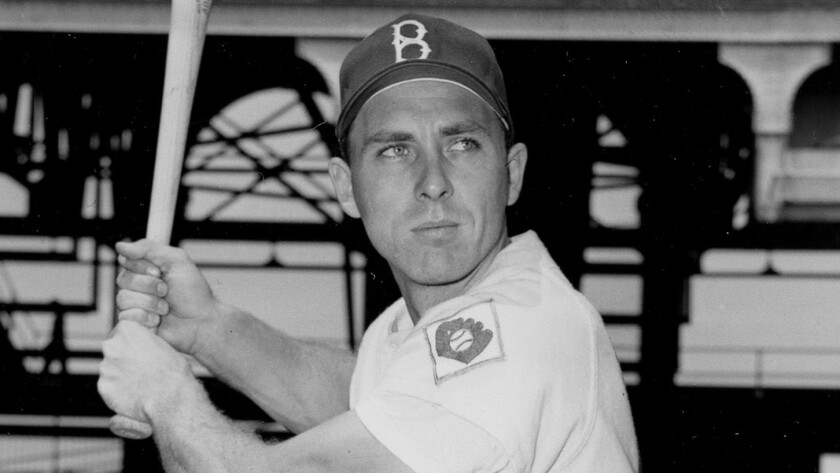 The Baseball Hall of Fame's Golden Era committee announced last month that it had elected no one to the Hall. Dick Allen, Ken Boyer, Gil Hodges, Bob Howsam, Jim Kaat, Minnie Minoso, Tony Oliva, Billy Pierce, Luis Tiant and Maury Wills were the candidates, and none was found worthy.
Must have been an exciting meeting.
On Tuesday, the Hall of Fame announces who has been voted in by the Baseball Writers' Assn. of America on its 2015 ballot. Randy Johnson, Pedro Martinez and John Smoltz are expected to receive enough votes for induction, along with Craig Biggio, who fell short by one vote last year.
But, no matter who makes it, several deserving candidates will be left on the outside looking in. And not just for baseball's Hall of Fame. In fact, you can easily come up with three previously jilted candidates who deserve induction in the Hall of Fame of four major sports.
Baseball
• Gil Hodges: If you look only at Hodges' numbers as a player, 370 home runs, two World Series titles, a .487 slugging percentage, then he is a borderline candidate. But he has one thing going for him that no other borderline candidate has — he managed the 1969 Miracle Mets. And nearly every player on that team would say Hodges was a big reason they won the World Series. If you add his player stats with his managerial career, Hodges belongs in the Hall.
---
FOR THE RECORD: An earlier version of this story stated Gil Hodges won one World Series title as a player. He won two.
---
• Tim Raines: The second-greatest leadoff hitter of all time had the misfortune of playing in the same era as the greatest leadoff hitter, Rickey Henderson. It's human nature to compare them, and Raines comes up a bit short. However, that's unfair to Raines. Looking at his numbers — 2,605 hits, 1,571 runs, .294 batting average, .385 on-base percentage and 808 steals (fifth all time) — those are worthy of the Hall of Fame. Those campaigning for Wills should be campaigning for Raines.
• Don Mattingly: No, not as a manager. But take a minute and compare Mattingly's numbers as a player to Kirby Puckett's. Why is Puckett in and not Mattingly? Because Puckett's career was cut short by an injury? So was Mattingly's. Why penalize him because a back injury isn't as dramatic as a beaning and glaucoma? The things that separate Puckett (playing center field instead of first base, winning two World Series titles) aren't enough to put him in and not Mattingly, who has one league most-valuable-player award to Puckett's zero.
Pro basketball
• Buck Williams: He averaged a double-double in his career and was selected to the NBA all-defensive team four times. He is 13th in games played, 16th in rebounds and 14th in field-goal percentage. Williams also was president of the NBA Players' Assn. for four years.
• Jack Sikma: A seven-time All-Star and member of an NBA title team, Sikma is the only center to lead the league in free-throw percentage, when he shot 92.2% in the 1987-88 season. He also had more than 17,000 points and 10,000 rebounds in his career.
• Sidney Moncrief: Basketball experts always talk about defense, but when it comes to putting defensive specialists in the Hall, they remain strangely silent. Moncrief was a five-time All-Star, five-time NBA all-defensive team member, five-time All-NBA team member and two-time NBA defensive player of the year. He also averaged 15.6 points per game.
Pro football
• Jerry Kramer: An offensive lineman, Kramer was a key member of Green Bay Packer teams that won the first two Super Bowls. He was selected to the NFL's 50th anniversary team in 1969 and is the only member of that team not in the Hall, and was selected a member of the NFL's all-decade team for the 1960s. He has been a Hall of Fame finalist 10 times. How can you be one of the best players in the first 50 years of the league, and one of the best for a decade, and not be in the Hall of Fame?
• Roger Craig: Craig was the overlooked cog in all those great Joe Montana-Jerry Rice San Francisco 49ers teams. He was the first player to have at least 1,000 yards rushing and receiving in the same season, yet he has only made the finalist list once. He is in the top 85 in rushing yards and receptions. According the pro-football-reference.com, three of the most similar players to Craig were Eric Dickerson, Lenny Moore and Leroy Kelly, all Hall of Fame members.
• Charles Haley: A key defensive player of five Super Bowl title teams, Haley was a five-time Pro Bowl selection and first-team All-Pro twice. He had 100 sacks. And did I mention he was a key member of five Super Bowl title teams?
Hockey
• Guy Carbonneau: A three-time winner of the Selke Award as the NHL's best defensive forward, but perhaps Hall of Fame member Brett Hull said it best about Carbonneau in an interview with Times columnist Helene Elliott, herself a hockey Hall of Fame member: "I think at some point they've got to take a look at a Guy Carbonneau and look at his body of work without the numbers and look at what he did as a defensive centerman and a leader and a Stanley Cup winner and numerous Selke awards. At some point, they've got to start putting some players like Guy Carbonneau into the Hall of Fame. So what, they don't have 500 goals. But without them, you don't win championships."
• Dave Taylor: One of the few players to spend his career with one team, Taylor was part of the Triple Crown Line with Marcel Dionne and Charlie Simmer. He finished with more than 1,000 points, is in the top 40 in shooting percentage in NHL history and was a four-time All-Star.
• Rogie Vachon: Quick, who is the best goalie of the 1970s not in the Hall? It's Vachon. He won three Stanley Cup titles with the Montreal Canadiens before joining the Kings and making them a much better team.
---
Get our high school sports newsletter
Prep Rally is devoted to the SoCal high school sports experience, bringing you scores, stories and a behind-the-scenes look at what makes prep sports so popular.
You may occasionally receive promotional content from the Los Angeles Times.