First Hollywood Park stadium scenario would have helped horse racing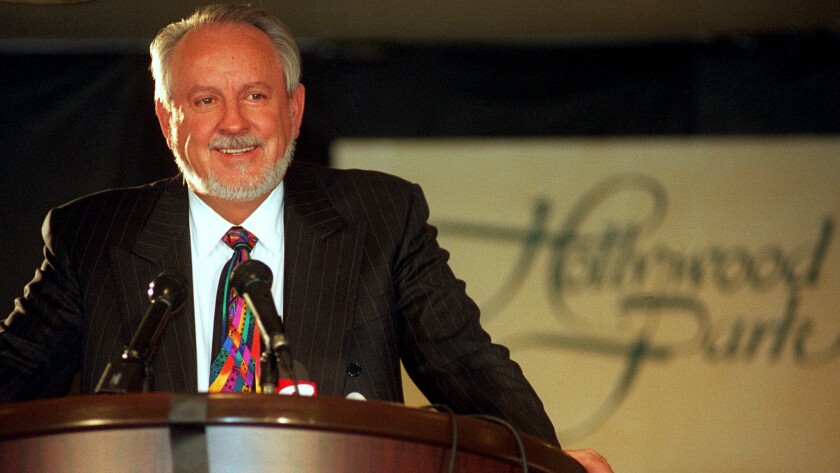 There is no shortage of finger-pointing when it comes to blaming the root causes of horse racing's long slide in this country.
There's the lack of uniformity between states in regard to medication and the perception of cheating.
There's the large takeout that tracks grab from the bettors, in some cases approaching 30%.
There's the early retirement of the sport's stars, such as American Pharoah, because more money can be made in the breeding shed.
And, the granddaddy of them all, competition from other forms of gambling such as slots, casinos, lotteries and even poker.
But there is one other scenario to look at, even if it's for entertainment purposes only: the failure to complete the first NFL stadium proposal at Hollywood Park.
What went wrong in that plan some 20 years ago is well chronicled by The Times' Nathan Fenno in an accompanying story. In short, Raiders owner Al Davis wanted more money to make the deal happen after Hollywood Park owner R.D. Hubbard thought they already had a deal.
If that stadium had been built, the local racing scenario would have been different, but how? It's virtually impossible to play out the what-might-have-been scenarios. But there is no shortage of opinions.
Hubbard, architect of the stadium deal and eternal optimist, thinks the stadium would have been a game changer for racing.
"Hollywood Park would still be in existence," Hubbard said. "We had a whole entertainment complex designed to tie in between the grandstand and the stadium. We were talking about a Universal Studio-type deal as well as football and horse racing.
"I don't think there's any question that horse racing would've been a lot stronger than where it is today. It would have made Hollywood Park extremely profitable. … we would still be in the racetrack business if that stadium had been built."
Hall of Fame jockey Gary Stevens saw that mix of stadium and racetrack as a plus but not a long-term fix.
"It probably would have just delayed what we are going through now," Stevens said. "We have a disorganized racing season in Southern California. Everyone is still getting used to the long season at Santa Anita and the longer season at Del Mar" after Hollywood Park was closed.
The mixture of horse racing and stadiums is not new to Southern California.
Alan Balch, executive director of the California Thoroughbred Trainers and a longtime senior executive at Santa Anita, says tracks and stadiums both need the same thing — a lot of land.
When the late Dodgers owner Walter O'Malley was planning a move to Los Angeles, the suggestion was made that Santa Anita would be a great spot to build a stadium. It was even suggested O'Malley could build a home near the Botanical Gardens because of his love of growing orchids.
"The idea never went anywhere," Balch said. "The stadium would have been located where the [Westfield] shopping center is now. It made sense because of the giant parking lot and that Santa Anita only raced 11 weeks a year in the winter. It would have been an interesting combination."
Balch believes if the original Hollywood Park stadium were built it would have been a positive.
"[Racing] certainly could have been more robust," Balch said. "The whole idea was [these kinds of shared complexes] would provide an ongoing income stream to keep racing financially viable."
Doug Burge, president of the California Thoroughbred Breeders Assn., noted a downside to the Hollywood Park development 20 years ago.
"We used to have a sales pavilion over there before they built the casino, and we had really good sales," Burge said. "When they knocked that down and put the casino in, that changed the whole landscape of sales in Southern California."
The picture of what would have been remains as cloudy as racing's future.
Joe Morris, senior vice president of West Coast operations for the Stronach Group, wasn't here at the time but says there would have been another benefit.
"Hollywood Park would likely have been built in another spot," Morris said. "That track would have closed down and somebody would have built another track. If you go back, property wasn't quite as crazy as it is today. We would have another track."
In the end, Stevens came up with the scenario most everyone can agree upon today.
"I'm actually excited because [when I fly in to LAX] I don't have to look at a former racetrack that is a graveyard," Stevens said. "I'm excited to have a football team."
Follow John Cherwa on Twitter: @jcherwa
Times staff writer Nathan Fenno contributed to this report.
---
Get the latest on L.A.'s teams in the daily Sports Report newsletter.
You may occasionally receive promotional content from the Los Angeles Times.