Long-shot Trojan Nation looking to make a name for himself in Kentucky Derby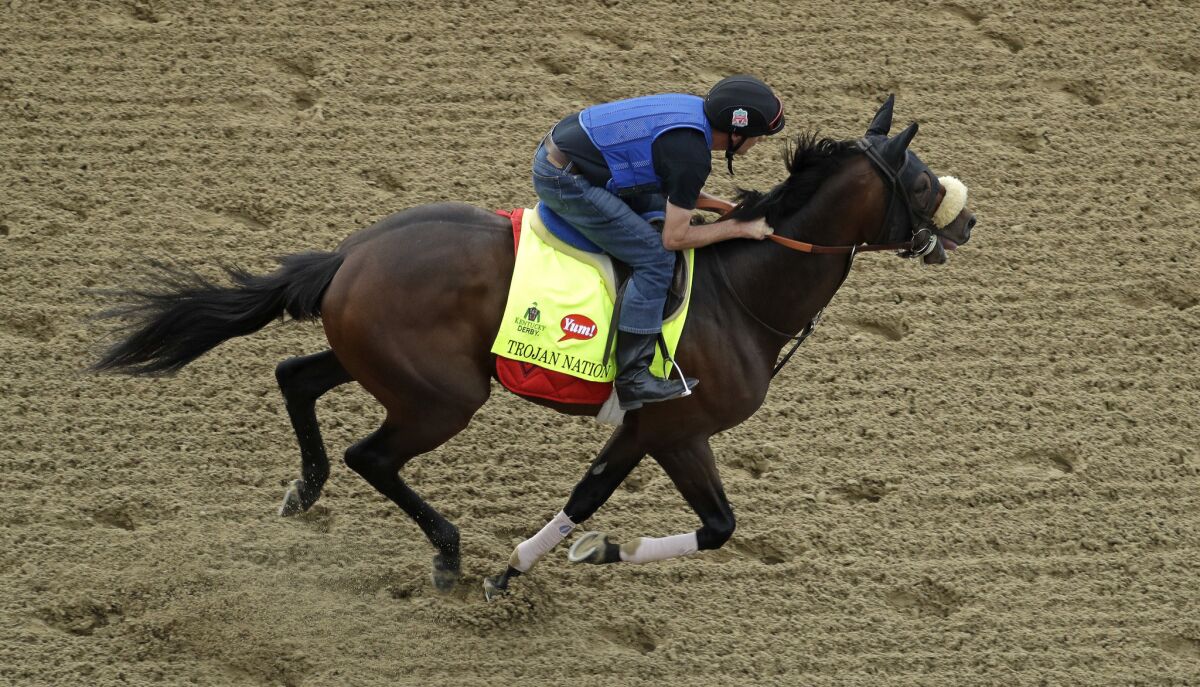 reporting from Louisville, Ky. —
Aqueduct track announcer Larry Collmus calls the Triple Crown and Breeders' Cup races for NBC Sports. He's also considered the best race caller that doesn't work in California.
Here's how he described the stretch drive of the $1-million Wood Memorial about a month ago.
"As they move to the top of the stretch it is Outwork and Matt King Coal and the two of them turn for home together. … And Adventist is closing through an opening on the inside.
"Into the final furlong it is Outwork in front, Adventist trying to go for an upset up the rail. … They will decide the Wood Memorial. Outwork and Adventist. Here's the wire. Outwork and Adventist bob heads under the wire in the Wood."
A classic call by a classic announcer. Outwork won the bob, but there was only one problem. It wasn't Adventist who was second. It was Trojan Nation.
Talk about no respect.
Trojan Nation went off at 81-1 odds, which makes him a horse you wouldn't pay much attention to. He's never even won a race.
"Poor guy," said Aaron Sones, Trojan Nation's co-owner, about Collmus' gaffe. "He wasn't looking for him and he had kind of similar colors to Adventist.
"So many handicappers are hung up on the fact that Trojan Nation is a maiden that they can't get out of their own way. And that's probably what happened to Collmus. … But I was OK with it. I knew it was Trojan moving like a freight train at the top of the stretch even if he didn't."
If Trojan Nation were to be become the first maiden since 1933 to win the Kentucky Derby, the feel-good movie treatments will be flying before the horse gets back to the barn.
There is trainer Paddy Gallagher — need it be said he's Irish — who used to work for Bill Shoemaker, except he's way quicker with the quip.
There is Sones, a sincere as you can find former emergency room doctor, who, if you give him 10 minutes, will convince you his horse will win the Derby.
There is the breeding of Street Cry, a top-of-the line sire who fathered Zenyatta, and Storm Song, a promising mare that sold for $1.4 million in 1997, only to be thrown on the scrap heap at 15 years old and bought by Sones in 2009 for a mere $100,000.
And there is Julie Gilbert and Sones, the wife and husband team that owns Trojan Nation, both UCLA grads, who named their horse after the school's bitter rival.
Gallagher was asked what his mentor Shoemaker might say if he told him he was entering a maiden in the Kentucky Derby.
After a pause that was more contemplative than dramatic Gallagher said: "He might say, 'Don't tell anyone you know me.'"
Sones' response to Gallagher: "What Paddy didn't say was that Shoe would have still happily accepted the mount and then gone and beat everyone else's brain in."
You have to love these guys.
This will not be Gallagher's first visit to the Derby as the lead trainer. He brought Domestic Dispute to Churchill Downs for a 10th-place finish in 2003.
Gallagher, as is his nature, is measured in his praise for Trojan Nation.
"He's a big, good-looking horse," Gallagher said. "He's just growing and maturing. We just try and get along with him."
Sones has an analysis of Gallagher's analysis.
"When Paddy says he's 'doing well,' then he might be the greatest horse on Earth," Sones said. "It showed a lot of courage to run that race in the Wood. I think he's got a shot in this race."
Trojan Nation's friskiness is part of his personality. In fact, this week he tried to bite one of the owners of the farm that raised him.
"Like that aggression," Sones said.
You can count jockey Aaron Gryder among those who believe in Trojan Nation.
"I think I should have won it at the eighth pole," Gryder said of the Wood. "But a horse came over and bumped him. To have a horse show that kind of courage is impressive. He kept on fighting."
Luckily for Trojan Nation, he doesn't have to understand how two Bruins gave him his name, though it's not that complicated.
The horse was named for Gilbert's father, Morty, who died when she was 14 years old. Morty instilled the cardinal and gold in his daughter and this was the payoff.
"It didn't stop me from cheering for the Bruins all those years," Sones said, although he admits to lately losing interest in the basketball team he was once addicted to.
He learned the reality of the rivalry when his brother-in-law, Allen, invited him to a USC football game.
"I got to the game wearing a blue shirt and blue jeans," Sones said. "I didn't know any better. So during the tailgate time, I went to some kiosks and bought a lot of USC apparel.
"I still have the Mike Williams jersey I wore that day. The Trojan fans in football are just more organized than Bruins fans."
Saturday will be Trojan Nation's seventh race and only his second outside Southern California.
It will also be only the second race time he's been ridden by Gryder, who will be in his fourth Kentucky Derby.
"What's great about the Derby is all the variables," Gryder said. "The Wood set up perfect for him, but he also had to take advantage of it. Just like the Derby set up perfect for Mine That Bird [in 2009]. Prior to that, he was a horse you would have thrown out. Trojan Nation is an interesting horse that is improving."
There is no doubt the horse is bred to have the 1¼-mile distance of the Derby. In fact, Gryder had trouble getting him to stop running after the Wood.
Should he do what the bettors will likely view as near impossible, Trojan Nation will have one more racing lesson to be learned: where the winner's circle is located.
Twitter: @jcherwa

Get our high school sports newsletter
Prep Rally is devoted to the SoCal high school sports experience, bringing you scores, stories and a behind-the-scenes look at what makes prep sports so popular.
You may occasionally receive promotional content from the Los Angeles Times.