Former Kentucky Derby contender has an unheard-of legacy in this year's race
REPORTING FROM LOUISVILLE —
Mike Repole opened the news conference on May 6, 2011, looking both shaken and resigned. A dark jacket was pulled over his shoulders, and a blue baseball cap with the words "Uncle Mo" rested low and heavy on his head.
"When I envisioned this press conference," Repole said, "it was supposed to be Saturday night at 7:15, not Friday at 8:45. Todd [Pletcher], about a half-hour ago, scratched Uncle Mo and he will not run in the Kentucky Derby."
The colt had won his first four races, before a disappointing third in the Wood Memorial. Something was going on with the horse but no one quite knew what. Still, he was installed as the favorite for the Kentucky Derby.
He was losing weight and had little appetite, bad signs for a horse. "When you talk about surviving versus racing, I was worried about surviving," Repole said last week.
Repole is back at the Kentucky Derby this week, and so is Uncle Mo, not in the horseflesh but through his progeny.
Uncle Mo has staggered the breeding world with an unheard-of three horses in his first crop of foals making it to the Kentucky Derby.
"I can't remember this strong of a first crop from any stallion," said Pletcher, who will be saddling Outwork, also owned by Repole, in Saturday's race.
"The whole marketplace has caught on to how much potential there is for him as a stallion. I don't ever recall going to sales and [having] so many people talking about such a young stallion."
The star of Uncle Mo's first crop is Nyquist, the undefeated 3-year-old and presumptive favorite for Saturday's race, followed by Outwork, who won the Wood Memorial at Aqueduct. The third horse is Mo Tom, who has won three of seven races.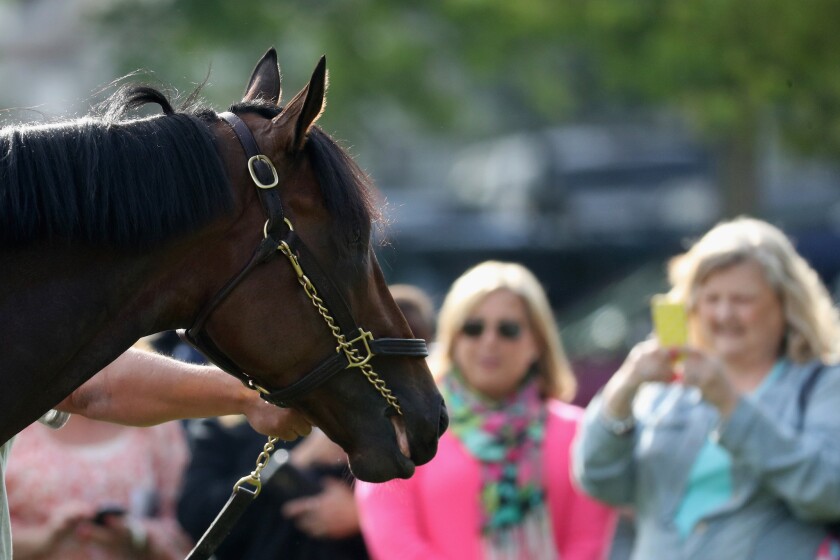 There is even an Uncle Mo filly in Friday's Kentucky Oaks, the female version of the Derby, named Mo' D'Amour.
On Sunday, Uncle Lino became the 13th stakes winner out of Uncle Mo's first crop when he won the California Chrome Stakes at Los Alamitos.
Uncle Mo's initial group of 167 live foals has brought almost $3.7 million in earnings. In sales of his 2-year-olds this year, there have been 11 colts, going for an average of $386,818, and 12 fillies for an average of $197,500.
One colt went for $1.3 million and another for $1 million. Talk about a bargain: His stud fee for that group was only $35,000.
Uncle Mo's stud fees have been very modest at $35,000, $27,500, $25,000 and $75,000 this year. Compare that to a veteran stallion like Tapit, who also has three in the Derby and whose breeding fee is $300,000.
"The fees were set back in November and since then Uncle Mo has only gotten hotter," said Dermot Ryan, the manager at Coolmore Ashford Stud, where Uncle Mo stands.
"It seems like every weekend he has a big winner, so his stud fee is likely to see a big increase next year," Ryan said. "How high it will go will depend on what happens for the rest of the season, but right now he couldn't be doing any better."
Repole, who still has part ownership of Uncle Mo, still wonders what might have been.
Success in the breeding shed "does not make up for his premature retirement, but it does kind of vindicate him and Todd Pletcher," Repole said. "He might have been one of the greatest 2-year-olds of all time. But racing fans never got to see the potential he would have had as a 3-year-old."
Two weeks after Uncle Mo was scratched from the Derby, doctors traced his problem to the liver, and he was diagnosed with cholangiohepatitis. The rare but treatable disease is an inflammation of the bile passages (cholangio) and liver (hepatitis). The cause was never determined.
"There is no doubt in my mind he would have done what American Pharoah did" if he were healthy, Repole said, referring to last year's Triple Crown winner, the first in 37 years
"As a 3-year-old there was this level of greatness and brilliance," Repole said. "He didn't have it just when he was racing but Todd Pletcher saw it every day when he was galloping. You knew you were around greatness; he just had an aura about him."
Despite all the success, there is a knock on Uncle Mo that may be validated or dismissed as soon as Saturday. Uncle Mo never won a race longer than 1 1/16 miles. But then again he never ran a 1¼-mile race — the distance of the Kentucky Derby— until his last race in the Breeders' Cup Classic, where he finished 10th.
Mike Watchmaker, national handicapper for the Daily Racing Form, has Nyquist ranked first but has continually mentioned the horse's distance capability. His comment in the latest DerbyWatch was: "Imposing record, has now won at 9 furlongs, if not quickly. Ten furlongs remains the question."
Of course, the connections of Uncle Mo dismiss any claims the horse doesn't have the distance.
"It's hard to argue he isn't a classic influence when he has three horses qualified for the Derby in his first crop," Ashford's Ryan said. "Just how far they will go is open to debate but class can carry a horse a long way. Most of his progeny seem to be big scopey horses with good minds, so I think they have the right attributes to get a mile and a quarter."
Repole isn't shy about which Uncle Mo horse he will be cheering for on Saturday — the one he owns. Outwork is out of a mare, Nonna Mia, that Repole named after his grandmother.
"It matters a lot" if Outwork wins, Repole said. "I've got to root for my own horse. Losing to a son of Uncle Mo is not going to make me feel any better."
He softened his stance. "I've been a big Nyquist fan for every single start. I root for all the Uncle Mo's."
Repole was scheduled to visit Uncle Mo on Tuesday before heading to Louisville.
"Every time I can, I go see him," Repole said. "I would like to say he knows the sound of my voice, my sounds, my scent. He's always going to be part of the family. He's the biggest pet I've ever had."
Follow John Cherwa on Twitter @jcherwa
---
Get our high school sports newsletter
Prep Rally is devoted to the SoCal high school sports experience, bringing you scores, stories and a behind-the-scenes look at what makes prep sports so popular.
You may occasionally receive promotional content from the Los Angeles Times.