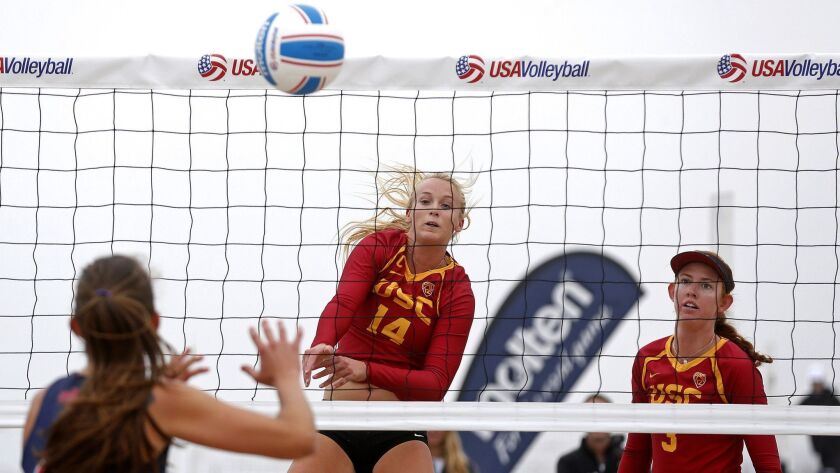 Starting Friday, the Huntington Beach Open will give Kelly Claes her first chance of the beach volleyball season to play near her home, to jump in the water with friends after her match and catch up over dinner.
Every time she competes in Southern California, family members and friends flock to the beach to watch. The 23-year-old USC graduate from Placentia sees them when she stares up at the stands between points. She hears the clanking silver cowbells, with "Kel's bells" painted on them in black, that the children of her high school assistant coach wave as they cheer.
With most of her tournaments taking place overseas, Claes relishes local tournaments like Huntington Beach, which opens the AVP Tour schedule.
This week would be no different, except for one problem — Claes didn't have a partner for a time.
Her regular partner, UCLA senior Sarah Sponcil, would be competing with the No. 2-ranked Bruins in the NCAA tournament in Gulf Shores, Ala. "I really wanna play still," Claes told Sponcil. "I'm gonna go and try and find somebody."
Sponcil was supportive, so Claes began asking around.
Brandie Wilkerson, a Canadian blocker, reached out. The AVP's history and time she spent living in Hermosa Beach made Wilkerson want to compete in the tournament. And she was already friends with Claes. About a month before the Huntington Beach Open, they decided to be partners.
They practiced together Tuesday for the first time.
The 5-foot-10 Wilkerson is a blocker, and so is the 6-2 Claes. They are less experienced at the defensive role, lurking in the backcourt to make digs and set up a partner.
"We chatted about it," Claes said, "and we're like, hell yeah, let's go. Let's have a great time … and we'll figure out defense later."
A couple of days before the tournament, Wilkerson said they still had not perfected their defensive plan. She was not concerned about the lack of practice, or the defensive uncertainty.
"Because neither of us are true defenders, the expectation for the other player to be more than they should be is gone," Wilkerson said. "And so I think that really gives us the freedom to just have fun and play and just be unorthodox — and hopefully throw some people off."
Huntington Beach will also be a homecoming of sorts for Sara Hughes. The USC graduate is from Costa Mesa and grew up training at Huntington Beach. Hughes, 24, will stay at home during the tournament.She expects about 50 loved ones to watch over the weekend.
Claes and Hughes were once USC's most dominant beach volleyball pair, going undefeated as juniors. They helped the Trojans to consecutive NCAA titles and became the youngest team in history to win an AVP tournament, in September of 2017.
The two split in March of 2018, but both have a shot at reaching the 2020 Olympics with their new partners.
When asked if they would ever reunite down the road after gaining more experience, Claes said: "I honestly have no idea. I haven't really thought about it."
Hughes said the same. All of her focus and energy is on her partnership with Summer Ross, she said, and on the Tokyo Olympics.
"I see a lot of growth and potential with [Ross]," Hughes said. "And I love her as a partner."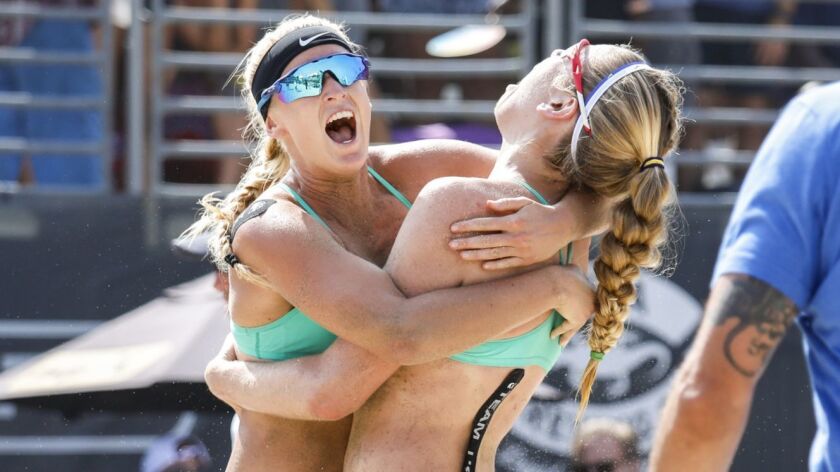 The qualification period for the Olympics began last September and ends in June of 2020, raising the stakes in each tournament. Only two U.S. women's teams qualify. At the start of this week, Claes and Sponcil were the fifth-ranked U.S. team, one spot ahead of Hughes and Ross.
"I think it's in the back of everyone's mind that it's a qualifying year," Hughes said.
Hughes and Ross, 26, prepared with an even more grueling offseason than years before. They hired a personal trainer and conditioned three days a week, on top of five days a week of practice. Their goal, Hughes said, is to excel with consistency.
Sign up for our daily sports newsletter »
"We've just been out there, trying to conquer it together," Hughes said.
Claes began training with Sponcil, 22, in the fall, after splitting with 37-year-old Brittany Hochevar. Claes and Sponcil had practiced together a couple of times, but never competed together until an October tournament in Qinzhou, China.
They connected immediately, sharing fierce competitiveness and a laid-back disposition. They pore over drills in practice but throw a football together afterward, and delight in implementing trick shots into their game. Because they partnered later than most teams, Claes and Sponcil are pushing each other even harder in practices as they aim to improve quickly.
"We wanna get there," Claes said of the Tokyo Olympics, "and we believe we have what it takes. … We wanna take the world by storm."
---