Column: Enormous talent and oversized personality makes Zlatan Ibrahimovic perfect for Los Angeles
If this doesn't work, if Zlatan Ibrahimovic fails to take the Galaxy out of the shadows of this city's sporting landscape, the soccer franchise might as well not sign another big-name foreign player. Because if Ibrahimovic can't make Los Angeles care about the Galaxy, there isn't a player who can.
Literally and figuratively, the 6-foot-5 Ibrahimovic is a towering figure in the world of soccer. He was once was considered the third-best attacking player in the world behind Lionel Messi and Cristiano Ronaldo. A creative, acrobatic and prolific goalscorer with unusually quick feet for a man his size, the 36-year-old Swede has played for several of Europe's most famous clubs, including Ajax, Inter Milan, Barcelona, AC Milan, Paris Saint-Germain and Manchester United.
The enormous talent is matched by an oversized personality that has become rare in professional soccer — or in professional sports, for that matter.
The fiery Ibrahimovic has fought with teammates, quarreled with coaches and exploded on the field with violent outbursts. He is known to refer to himself in the third person and has trademarked his first name in his native Sweden. Asked what a former fiancee received as an engagement present, Ibrahimovic replied, "What do you mean present? She's got Zlatan."
And there was this light-hearted exchange with a reporter before a World Cup play-in series against Portugal in 2014:
Ibrahimovic: "Only God knows who will go through."
Reporter: "It's hard to ask him."
Ibrahimovic: "You're talking to him."
Soccer's romantic culture is forgiving of eccentricities, as imaginative players are viewed as artists who are expected to have defective personalties.
In the case of Ibrahimovic, this combination of talent and quotability made him a global icon. The same traits make it possible for him to not only get the attention of his new hometown but also to maintain it. And that's what this is about. Success here won't be measured by championships — how many people know who won the MLS Cup last year? — but instead by whether he can make himself and the Galaxy a part of the daily sports conversation in a hyper-competitive market.
David Beckham increased the brand awareness of the Galaxy and MLS, but failed to resonate with mainstream audiences beyond that. He was a passer, not a scorer. He didn't have much to say. That being the case, the average sports fan had minimal interest in what he was doing on a week-by-week basis.
Current player Giovani dos Santos was brought in to capture the Mexican and Mexican-American market, but his impact is still pending.
MLS remains a niche league here.
Ibrahimovic has an advantage over Beckham and Dos Santos in that he's a scorer and a talker, which gives him a chance of becoming a regular part of the news cycle.
Ibrahimovic does more than score goals; he scores goals that can't be scored by anyone else. He's scored by weaving through multiple defenders — again, it's unusual for a player his size to be so nimble on the ball — and by back heeling waist-high passes.
He scored four times in an international exhibition match against England in 2012, which included a particularly inventive final strike. As he chased down a clearance from Sweden's end of the field, England goalkeeper Joe Hart emerged from his penalty box to intercept the ball. Ibrahimovic head faked as he would challenge for the bouncing ball, but didn't. Hart, who couldn't use his hands because he was out of the penalty box, panicked and tried in vain to head the ball clear. Ibrahimovic anticipated the mistake and backtracked with his back to goal, scoring from a bicycle kick from 30 yards out.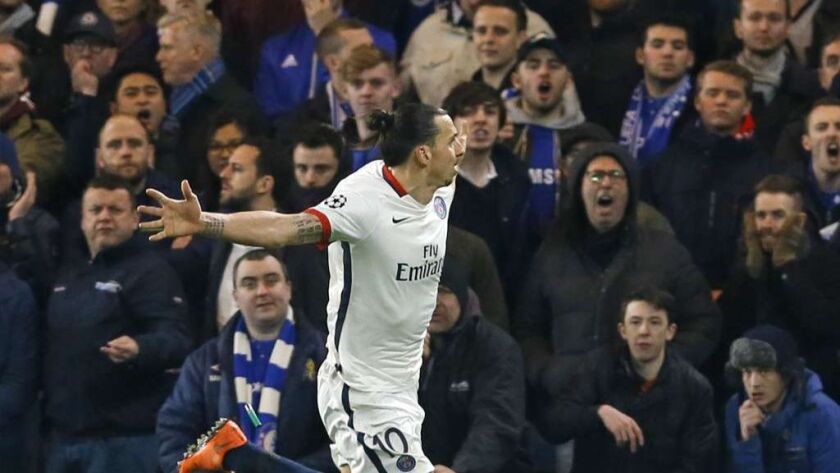 Even with his mobility diminished by age, Ibrahimovic should be able to find the net consistently. In the 2016-17 season, he scored 28 times in 46 games for Manchester United.
The concern is whether he can stay on the field. He missed the last part of that season with United because of a knee injury that required surgery. He returned to United this season, but made only five appearances for the team. For what it's worth, a former teammate was quoted saying Ibrahimovic was sidelined because of problems with manager Jose Mourinho, not his knee.
It will also be important for the Galaxy to let Ibrahimovic be himself, which could require a measure of restraint from the organization. If Ibrahimovic criticizes the team or the coach or the league, let him. That's half of the show.
By adding Ibrahomovic, the Galaxy is going against a league-wide trend. Rather than sign well-known players nearing retirement, most MLS teams are pursuing foreigners who are younger and lesser-known. Many of the league's top players are part of this group, including Diego Rossi of the expansion Los Angeles Football Club and Miguel Almiron of Altanta United.
This youth movement makes sense for a developing league. The primary focus of MLS teams should be on the improving the quality of play and these players are making that happen. The Galaxy should consider following the pack if the Ibrahimovic experiment doesn't unfold as planned.
At the same time, Ibrahimovic is without question worth the gamble. He offers the Galaxy a chance to become important to more than their loyal but small group of fans, to become a greater part of Los Angeles. In their 23rd season, the Galaxy might finally have a player who can transcend its sport.
Follow Dylan Hernandez on Twitter @dylanohernandez
---
Get our high school sports newsletter
Prep Rally is devoted to the SoCal high school sports experience, bringing you scores, stories and a behind-the-scenes look at what makes prep sports so popular.
You may occasionally receive promotional content from the Los Angeles Times.