Seeking to bring 2024 Olympics to L.A., officials work the social angle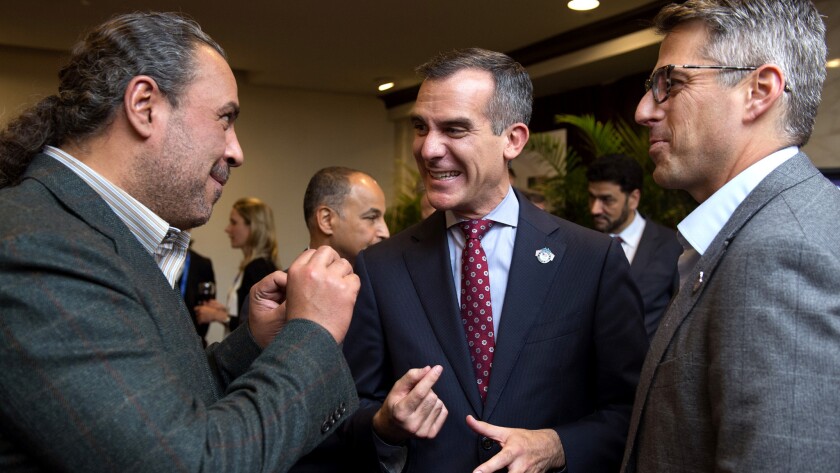 Reporting from Washington —
As midnight approached, Mayor Eric Garcetti lingered near the end of the hotel bar, chatting with a man in a T-shirt and track suit.
There was much nodding and a few laughs as the conversation stretched almost an hour, the mayor spending quality time with his new acquaintance, a Malaysian prince.
"We talked about the school he went to," Garcetti said. "We talked about Scotch."
Such is the business of the Olympics.
With Los Angeles bidding to host the 2024 Summer Games, Garcetti and LA24 Chairman Casey Wasserman spent the week at a downtown Washington hotel, working the fringes of an international sports conference.
The Assn. of National Olympic Committees event attracted about 1,200 delegates from around the world, including dozens of the 100-plus International Olympic Committee members — such as Prince Tunku Imran — who will cast secret ballots to select the 2024 host in two years.
It marked the first time the five bid cities had gathered in one place, the L.A. contingent joined by representatives from Paris; Rome; Hamburg, Germany; and Budapest, Hungary. IOC regulations prohibit formal presentations, but there are no rules against pressing the flesh.
As Garcetti and Wasserman made the rounds, a German bid official circulated at a Wednesday evening reception, and the former chairman of Ferrari, head of the Italian campaign, stationed himself in the hotel lobby Thursday morning.
"It's all part of a very complicated fabric leading up to the decision," said Kevan Gosper, a longtime IOC member who remains on the committee in an honorary position. "The cities would miss an opportunity if they weren't here."
Garcetti likened the experience to hitting the campaign trail, introducing himself to voters, but he wasn't exactly stumping in East L.A. or Canoga Park.
The IOC membership is wildly diverse. Scores of languages echoed through the hotel and attire ranged from sportswear to business suits to colorful garments with ornate, pointed shoes.
"A remarkable group of people," Wasserman said. "This was our introduction."
The race for 2024 began less than two months ago when the IOC announced the field of candidates and set forth an outline for a long, rigorous process. Paris and L.A. are considered the early front-runners.
People have been friendly. I kind of feel like an honorary member of the family.
L.A. Mayor Eric Garcetti, regarding Assn. of National Olympic Committees event
Over the next two years, bid representatives will attend frequent meetings and workshops while developing their blueprints for a 17-day sporting event that must accommodate thousands of athletes in scores of events.
They will not officially present their plans to IOC members until February 2017. This week, they could not hand out glossy pamphlets or have special rooms with big-screen televisions showing artists' renderings.
Instead, they attended ANOC commission meetings, sitting quietly as delegates from more than 200 national Olympic committees discussed finances, ethics and other issues in amateur sport.
"We are here to listen," said Dr. Nikolas Hill, a Hamburg bid leader. "We got some ideas of what they think is most important."
Fringe time was just as important.
Garcetti and Wasserman might be well-known back home but needed to raise their profile within the Olympic movement. The same was true for Italian bid leader Luca Cordero di Montezemolo, a former auto industry and Formula 1 executive.
"I won 19 world championship titles as team manager and chairman of Ferrari," he said. "But I was never involved with the Olympic committee."
It helped that the daily schedule included cocktail parties.
At one of the receptions, Garcetti not only greeted IOC member Tsunekazu Takeda in Japanese but also handed him a business card printed in the language. He talked to former rowers from Italy, El Salvador and Australia about his college experience with their sport.
Bid leaders from every candidate city had conversations with IOC President Thomas Bach and Sheikh Ahmad Al-Fahad Al-Sabah, the ANOC president and influential committee member. There were chance — and not-so-chance — encounters with other IOC members between meetings.
As Montezemolo put it, the conference offered an opportunity "to, how can I say, smell the atmosphere."
Waiting around for brief encounters was not entirely comfortable for successful men who are accustomed to having their days strictly scheduled. Garcetti stole away to conduct other city business, meeting with Vice President Joe Biden and U.S. Secretary of Housing and Urban Development Julian Castro.
His greatest fear — having to chase IOC members down hallways, asking for a minute of their time — did not come to pass. And, after a few days, the cast of characters did not seem as unfamiliar.
"People have been friendly," Garcetti said as the conference drew to a close. "I kind of feel like an honorary member of the family."
ALSO:
Another big game for Griffin in Clippers' chippy win over Mavericks
USC proposes $270 million in Coliseum upgrades
Lakers make quick change, give D'Angelo Russell job of organizing offense
Twitter: @LATimesWharton
---
Get the latest on L.A.'s teams in the daily Sports Report newsletter.
You may occasionally receive promotional content from the Los Angeles Times.