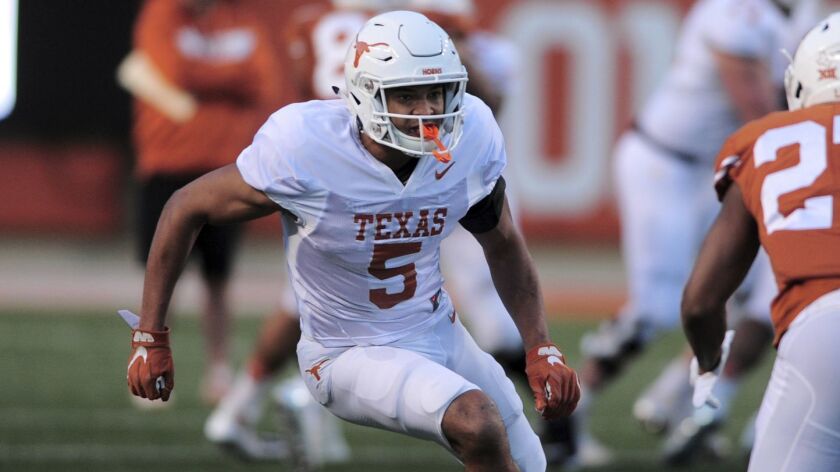 I'm less than a year removed from my 40th birthday and anniversaries like that typically inspire some type of self-reflection.
Am I happy at work? Do I see a future in the relationship I'm in? Would I want to live somewhere else?
The answers to these questions can and often do change over time, but the one constant for me always has been my desire to live in Los Angeles.
I didn't come to this conclusion easily or quickly. In fact, I needed to leave L.A. twice before I realized there's nowhere in the world I would rather be than my hometown.
It was hard not to feel for five-star wide receiver Bru McCoy, who decided to leave Texas and return home last week after just one semester in Austin. This came after the former Santa Ana Mater Dei star transferred from USC to Texas after just two weeks on campus.
I have no idea what it feels like to be a top recruit, but I know what it feels like to be homesick and have a change of heart. I was supposed to go to USC after graduating from Sherman Oaks Notre Dame 20 years ago, but I wanted to leave L.A. and have fun away from the watchful eyes of my parents, so I went to Arizona State. When I informed my family of my decision, I highlighted the fact that Arizona State had the Walter Cronkite School of Journalism, while conveniently downplaying the real allure, which was their top ranking on Playboy's party schools list.
I knew I wanted to come back home midway through my first semester. It had nothing to do with the school. In fact, I loved the university and to this day I still count many of my former classmates and teachers as friends. The problem was it wasn't home, and there was no substitute for that. I wanted to be close to my friends more than anything. It took me leaving to realize that.
My saga didn't unfold publicly under the scrutiny of fans, boosters and social media trolls ridiculing a teenager for being homesick. McCoy's journey from USC to Texas and back to USC again within six months may be unique in the world of college football recruiting, but the same kind of thing happens all the time to students who are away from their families for the first time.
After I graduated from USC, I moved to New York to work at Sports Illustrated. It was a dream job in a dream city, but less than one year in, I knew I wanted to go back to L.A. It had nothing to do with work, which was great, or New York, which is one of my favorite cities in the world. It just wasn't home, and that's where I wanted to be. That doesn't mean I made a mistake. I'm thankful I was able to experience freshman year away from home and live in New York after graduating. Those experiences were invaluable and helped me realize where I want to live for the rest of my life.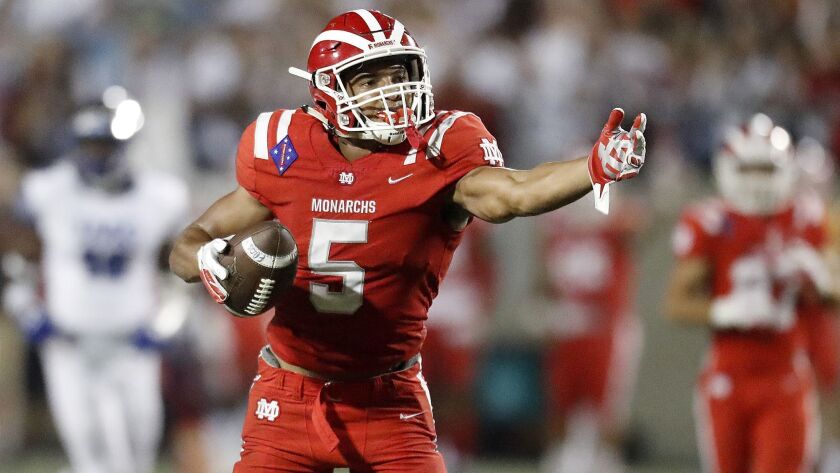 Texas fans might not like it, but McCoy needed to go to Austin for a semester to realize how much he really wanted to be at home and at USC. That's the journey he needed to take to get to where he ultimately wants to go and there's nothing wrong with that.
***
It's hard to say if Kawhi Leonard is homesick, but many around the NBA expect the L.A. native to leave Toronto after this season and sign with the Lakers or Clippers this summer.
Leonard didn't choose to go to San Antonio in 2011. He was selected by the Indiana Pacers and traded to the Spurs on draft night. He also didn't choose to go to Toronto. He was traded to the Raptors by the Spurs last year. This summer, for the first time since he decided to go to go to San Diego State after graduating from Riverside King, the decision is in his hands, and many feel he will follow his heart back to Southern California.
It's a decision that should not be dependent on whether or not Toronto wins a championship. Leonard won a title and was an NBA Finals MVP with the Spurs before requesting a trade. This isn't a short-term decision, it's about where Leonard sees himself living and playing for the rest of his career, and there might not be a better place to do both than near his hometown.
***
The Los Angeles Stadium at Hollywood Park, the future home of the Rams and Chargers beginning in 2020, also will be the host of a new Los Angeles Bowl pitting teams from the Pac-12 and Mountain West. The last time Los Angeles held a bowl game outside of the Rose Bowl was the one-off, charity Mercy Bowl between Fresno State and Bowling Green at the Coliseum. Held in 1961, it was a fundraiser organized in the memory of the 16 Cal Poly football players killed in a plane crash following a game against Bowling Green the previous season. A plaque commemorating the game still hangs in the Coliseum's "Court of Honor."
***
Dodgers catcher Will Smith had a storybook first week with the team after being called up from triple-A Oklahoma City. He selected the best walk-up song possible in "The Fresh Prince of Bel-Air" theme song by the other Will Smith, recorded a hit in his first at-bat and his first home run was a walk-off shot to beat the Philadelphia Phillies on Saturday. He might not have been born and raised in West Philadelphia, but after his debut, he's going to have to hear that line every time he steps up to bat at Dodger Stadium.
---