Column: Listening to Keith Jackson's rhapsodic voice is still quite a treat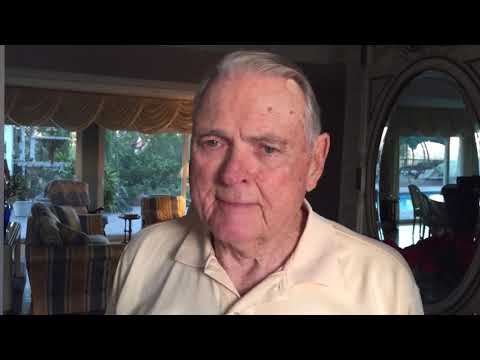 Legendary sports broadcaster Keith Jackson discusses his catch phrases 'Whoa, Nellie' and the 'Grandaddy of Them All.'
Amid these tumultuous times of playoff debates, player suspensions and coaching debacles, the search for the soul of college football brings you to a pristine home on a quiet street in Sherman Oaks.
"Wellll-come," says the stately man in the golf shirt and khakis as he opens a front door into what suddenly feels like New Year's Day at the Rose Bowl or a Saturday afternoon in Tuscaloosa, Ala.
Sitting on the foyer is a vase filled with, yes, roses. Resonating through the air are the lyrical Southern tones that provided the original soundtrack for America's letter-sweater passion.
Whoa, Nellie, Keith Jackson lives here.
"He still has that voice," says Turi Ann, his wife of 63 years.
Keith Jackson is 87, and hasn't announced a game in nearly 10 years, yet, indeed, he still sounds like exactly college football.
To hear him again is to be taken back to your childhood again, sitting in front of the television with a bologna sandwich and a Coke as the Saturday afternoon sun slowly sets on that lawn you just mowed, watching Bo and Woody and Bear come to life through a syrupy ballad that still sounds wonderfully like some kid breaking tackles and sprinting through a weed-choked field in rural nowhere.
It is a voice still so memorable, people still call his home and hang up just to hear his greeting.
"If you're calling the Jacksons, you have succeeded," the voice says. "Help yourself."
It is a voice so familiar, it has been recognized everywhere from Moscow, Idaho, to Moscow, Russia, where American tourists once chased him down because he sounded like home.
"Sometimes when we went out, he would wear a ballcap and tuck it low over his eyes," Turi Ann says. "But eventually he would open his mouth, and everyone would know who it was."
It's a voice that his three children remember from country-style bedtime stories about an invented character named Sam the Bear, a voice whose impact they never fully realized until high school friends would surround them with it.
This accounts for his daughter Melanie being serenaded with, "Whoa, Mellie."
"His voice is almost like singing," Melanie says.
It is voice that will be finally honored formally at the Rose Bowl next month when the stadium's radio and TV booths will be renamed "The Keith Jackson Broadcast Center."
Although Jackson announced seemingly every great college football moment during 56 years of broadcasting the sport, the Pasadena folks consider him their own. He has broadcast more Rose Bowls than anyone, 15, including his final telecast on the memorable 2006 clash between USC and Texas.
It was Jackson who came up with the Rose Bowl moniker "The Grandaddy of Them All." And it was Jackson who actually began his broadcasting journey with Pasadena swirling around in his head. The neighbors of his grandparent's farm in rural Georgia would often complain that they would hear young Keith talking to himself in the cornfields. It turns out, he was calling imaginary Rose Bowl games.
"I was trying to get Walter Mitty over the goal line," he says.
He eventually left the farm where he once rode a horse to school and spent some of his favorite hours riding in a cotton truck. But the farm's homespun wisdom never left him, and he eventually shared it with millions by coining phrases that have become part of college football history.
"Whoa, Nellie," comes from his grandfather, Jefferson Davis Robison, who used the phrase whenever something went wrong on the farm.
"Big Uglies," comes from Jackson's desire to lovingly differentiate working-class offensive linemen from the glamour running backs who received all the attention.
"Most of the big uglies liked the phrase, although there were few who thought about dunking me in the creek," Jackson says.
Jackson not only gave the Rose Bowl its nickname, but he also came up with the phrase that today is commonly used for majestic Michigan Stadium.
"We walked in there one time when it was empty and Keith looked around and said, 'Boy, this is one big house,' " Turi Ann says, and "The Big House" was born.
As Jackson's voice has remained the same, so has the blunt talk and earthy style that made him so endearing to the small-town fans who dominate the sport's landscape.
He still watches college football on Saturday, but does so in a cluttered den with a couple of hidden trophies, some souvenir footballs randomly bunched together on a ledge, and only one photo, of Van Tiffin's 52-yard field goal that gave Alabama the victory over Auburn in the 1985 Iron Bowl.
"I live by what my grandfather once told me about awards," Jackson says. "'If you can't eat it, drink it, cash it or sleep with it, don't worry about it."
But at least Jackson still has his Heisman Trophy vote, right? Nope, he gave it back several years ago when he figured it wasn't right for someone who didn't attend a variety of games to determine the best player. He also renounced his vote on the Associated Press poll when he felt he could no longer properly pick the best team.
"I realized my vote wasn't a true value vote," Jackson says. "I had gotten old, I didn't go and see as many players and as many games, and I wanted to be fair."
Jackson's career has always been a testament to the plain-spoken style that formed the roots of his beloved college game. He remains the antithesis to some of today's look-at-me sportscasters. He was always about looking outward.
"It was my job to amplify, clarify, punctuate, and stay the hell out of the way," he says.
Did you know he was the first announcer on "Monday Night Football"? That lasted a year, ending shortly after a burning ember from Howard Cosell's cigar caught Jackson's pants on fire. The next season,he returned to college football and never looked back.
"In college football, you can taste and feel every element that makes up a life," he says. "Every emotion you can think of is there, available, and is going to find you. Everywhere I went, I was home."
It should only figure that his favorite Rose Bowl was not what you would think. No, it was not that classic Texas victory over USC in Jackson's final appearance, a game that included a blown call that led to a Texas touchdown and the failure of USC to utilize Reggie Bush on the biggest play.
"I don't consider it the greatest game," Jackson says. "Over and beyond the stupidity of the officials, the best player for USC was not in the game when it counted."
One Rose Bowl he loved, he says, was the 1960 victory by Washington over Wisconsin. He loved it because Washington won with a quarterback who was blind in one eye, Bob Schloredt, and a tough two-way player named Ray Jackson.
"They whipped Wisconsin with a bunch of little stuffy guys tougher than doorknobs," he says.
His alma mater isn't some traditional powerhouse, it's Washington State, where he donated $1 million, leading to the broadcast building being renamed Keith Jackson Hall.
His legacy, he says, has nothing to do with his voice.
"I want to be remembered as a good ol' boy who married a gorgeous lady and we had a great life together," Jackson says.
He says it like he's calling a Michigan-Ohio State game. You want to cheer him. You want to hug him. But mostly, you just want to keep listening.
Follow Bill Plaschke on Twitter @BillPlaschke
Get our high school sports newsletter
Prep Rally is devoted to the SoCal high school sports experience, bringing you scores, stories and a behind-the-scenes look at what makes prep sports so popular.
You may occasionally receive promotional content from the Los Angeles Times.