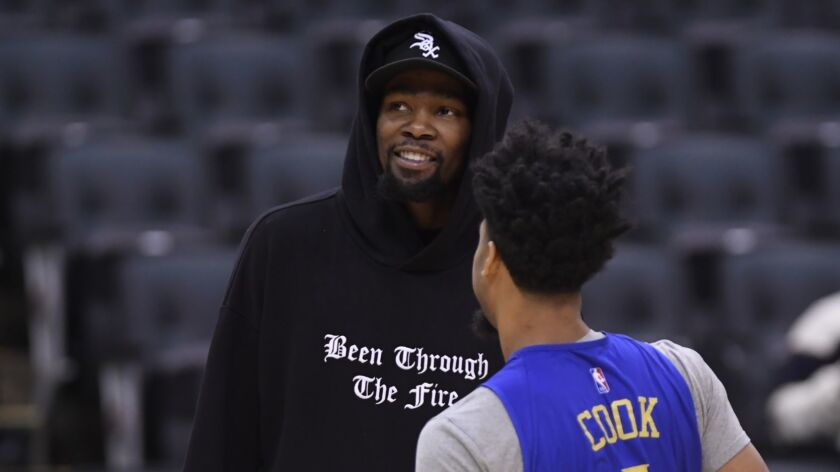 Reporting from Toronto —
Kevin Durant, who has been sidelined with a calf injury for a month, returned for the Golden State Warriors in Game 5 on Monday night in Toronto.
Durant, who was averaging 34.2 points, 5.2 rebounds and 4.9 assists this postseason, went through practice Sunday and a shootaround Monday morning.
Warriors coach Steve Kerr told reporters the plan is to start Durant and play him in short bursts since he doesn't want to put too much burden on him. Golden State is looking to claw back from a 3-1 series deficit against the Raptors.
"One game turns a series," Kerr said.
Durant injured his calf in Game 5 of the Western Conference semifinals. There was initial concern he had injured his Achilles tendon. The team got "good" news later when he was diagnosed with a calf strain, though he hasn't played since.
Durant is the two-time reigning NBA Finals most valuable player.
Sign up for our daily sports newsletter »
The two-time defending NBA Finals MVP averaged 26 points for Golden State during the regular season. Durant's return should give the Warriors a big morale boost heading into the must-win game Golden State needs to keep alive its chances at a third consecutive NBA title.
---