Kings must win with what they have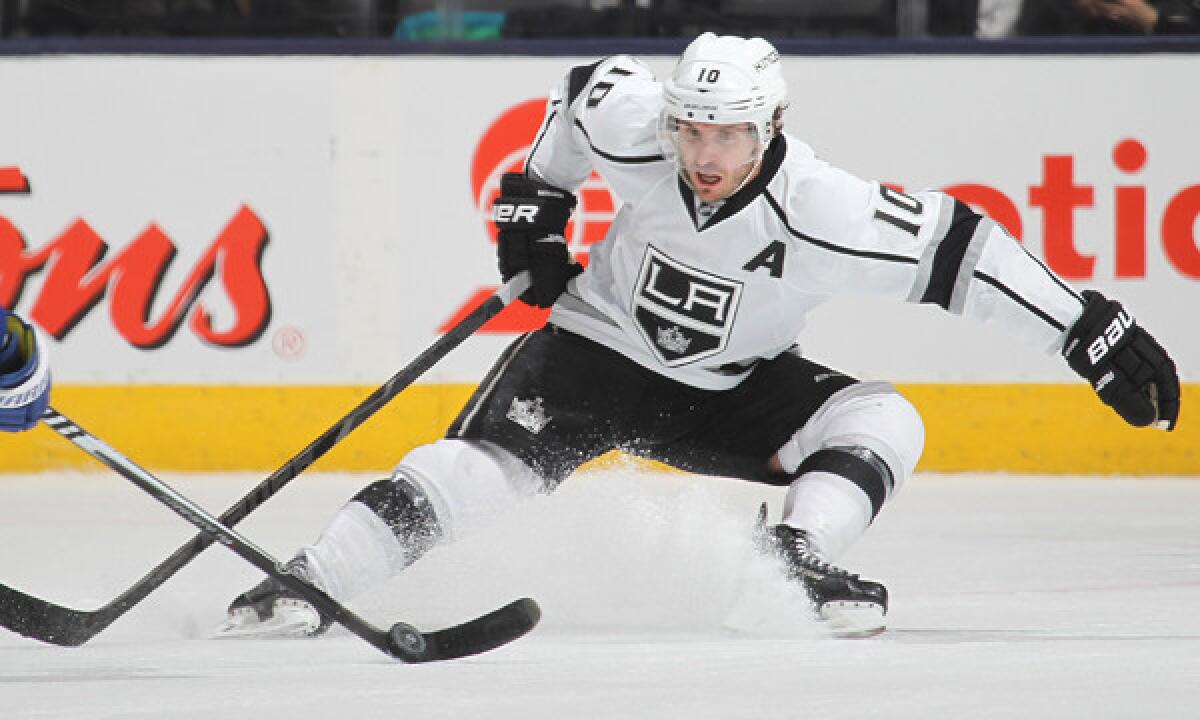 The Kings' rescue squad, armed with goals and assists, isn't going to come from the American Hockey League.
It is going to have to come from within, at least until Kings General Manager Dean Lombardi trades for a top-six forward. Of course, isn't almost everyone trying to do just that?
Youngster Tanner Pearson has been practicing with the Kings this past week, having been called up from their AHL affiliate at Manchester, N.H. The left wing with a nice scoring touch could provide a jolt of energy, maybe even as soon as Monday night against Vancouver, but Kings Coach Darryl Sutter is almost always conservative about young players.
"I would like to get all those guys in tomorrow, but where do they fit? And how could they help?" Sutter said Sunday, a day off for the Kings. "That's the key against your opponent, how can they help?
"It's easy to say, 'This guy scored six goals out in the American Hockey League.' This is a whole different level. We have guys here … Tyler [Toffoli] hasn't scored in 10 games and [Dwight] King hasn't scored 10."
Kings center Mike Richards has become a focal point because his goal-less streak has reached 21 games. Yet Richards has other strengths and is well established.
"Guys ask about [Richards]," Sutter said. "But quite honest, those guys that are trying to find ways into this league, they have to produce more than proven players do. When you are a team that doesn't score a lot, and they're known as that, then they better do it. ... Instead of being concerned with Tanner, I'm more worried about Tyler and [King] … guys like that."
His concerns spill over to the back end. Defenseman Drew Doughty had the Kings' lone goal against Detroit in Saturday's loss, and defenseman Alec Martinez scored against the Boston Bruins on Thursday.
Slava Voynov has three goals and hasn't scored since Nov. 14, a streak of 27 games. Jake Muzzin, who has two goals, last scored at Montreal on Dec. 10 and has not recorded a point since Dec. 14.
"It's been very inconsistent," Sutter said of his offense-minded defensemen. "Hey, it's sort of what we talked about at the start of the year. We're going to play young guys in situations and they're going to have to respond. Or we're going to have highs and lows. That's kind of how it's been."
The Kings have won three of their last 10 games, and start a four-game trip Thursday at St. Louis. They lost all four games of their last trip, including an embarrassing 5-0 loss to the Blues on Jan. 2. To that end, Kings forward Jeff Carter agreed with the assessment that Monday against Vancouver was a must-win game, saying: "Yeah, absolutely."
Sutter didn't buy into that theory.
"I fully understand how everybody wants — for the most part — people want people to fail," he said. "So you protect the players always. Failing is not always losing. So I don't put must-wins on it because if you don't win, you know what? The sky's not going to fall in."
Tonight
vs. Vancouver
When: 7:30.
On the air: TV: FS West; Radio: 1150.
Etc.: Canucks goalie Roberto Luongo, who suffered an injured ankle against the Kings when Vancouver was here on Jan. 4, resumed practicing Sunday. The Canucks are expected to bring three goalies on this trip.
Get our high school sports newsletter
Prep Rally is devoted to the SoCal high school sports experience, bringing you scores, stories and a behind-the-scenes look at what makes prep sports so popular.
You may occasionally receive promotional content from the Los Angeles Times.