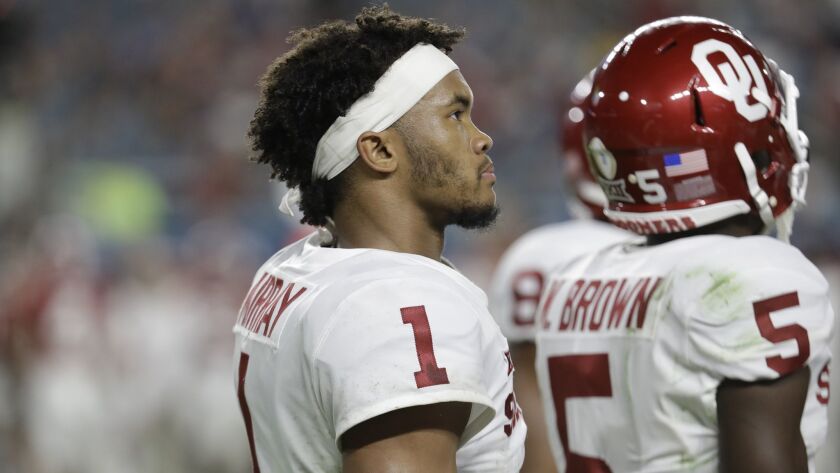 Kyler Murray's size was a concern going into the NFL scouting combine. But it turns out the former Oklahoma quarterback isn't quite as small as we thought .
The 2018 Heisman Trophy winner was measured at 5 feet 10 1/8 inches at the combine on Thursday. That's an eighth of an inch taller than his listed height last season at Oklahoma. And it's an inch or two taller than some people were worried he might actually be.
Murray still is not tall by NFL standards. Seattle's Russell Wilson — who is listed at 5-11 and was measured at 5-10 5/8 at the combine in 2012 — was the league's shortest starting quarterback last season. New Orleans' Drew Brees is slightly taller at 6 feet.
Of course, both those guys are Super Bowl champs, a fact that definitely works in Murray's favor.
"Times have changed," said New York Giants coach Pat Shurmur, who has said in the past he prefers tall QBs. "Quarterbacks come in all shapes and sizes."
Also on Thursday, Murray weighed in at 207 pounds — that's 12 pounds heavier than his listed weight with the Sooners last season (and three pounds heavier than Wilson in 2012). His hand size is 9½ inches; Wilson's hands were 10¼ inches at his combine, but some were expecting Murray to come in well below 9 inches.
Sign up for our daily sports newsletter »
All of this is good news for Murray, who threw for 4,361 yards with 42 touchdowns and seven interceptions last season. He passed up a very promising baseball career to give the NFL a shot, so he's got a lot riding on the upcoming draft.
The Arizona Cardinals have the No. 1 overall pick. New coach Kliff Kingsbury said last fall he would take Murray if he had the top pick, but the Cardinals just drafted Josh Rosen out of UCLA last year. Kingsbury told reporters Thursday that Rosen is the team's quarterback "right now."
Murray is scheduled to speak to the media Friday. It has been reported that he doesn't plan to throw on Saturday, when quarterbacks are slated to take the field for skills demonstrations.
Twitter: @chewkiii
---