Letters: USC fans fighting on after a loss, but not without a few criticisms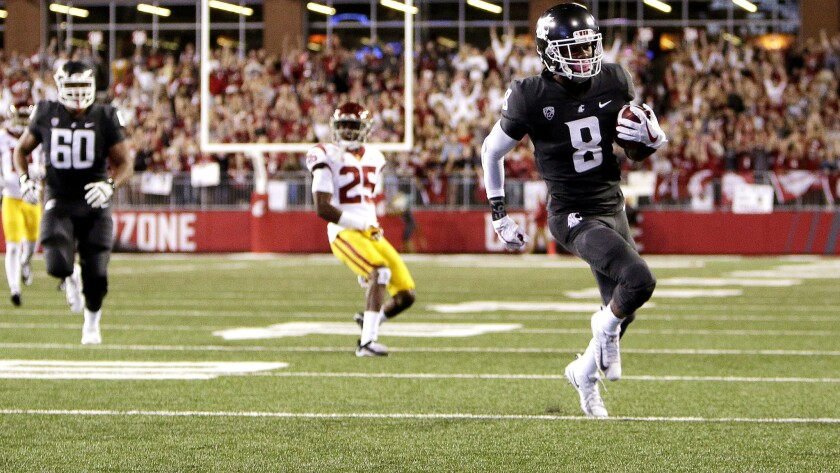 Don't expect any great things from this Trojan team this year so long as Tee Martin remains the offensive coordinator and is setting the game plan and calling plays. It is an embarrassment to think that someone who was a starting quarterback for a championship team has such an inept and ineffective approach to not only the running game, but even more importantly to a creative and dynamic passing game. He manages the game as if he is not there and is not watching what is actually happening on the field.
USC's defeat to Washington State was not to a better team ... it was to a better-coached team.
Mike Loshin
Beverly Hills
::
There is no rule against sending in a linebacker or safety when the opposing quarterback is picking you apart.
Really, you are allowed to blitz in the second half of an important game. Winning teams do lots of it.
Ira Laufer
Beverly Hills
::
If anyone needs an example of a contest where two opposing sides played not to lose, Washington State 30, USC 27 is it. The Cougars just happened to be better at it than the mighty Trojans. When your defense plays like your offense and your offense plays like your defense, bad things can happen.
It's getting to the point where USC looks like UCLA. Time to retool this band of underachievers.
Lawrence Kates
Los Angeles
::
To Sam Darnold:
No Adoreé, No JuJu , No Heisman.
Jim Amormino
Rancho Palos Verdes
And the Bruins
In an article on Sept. 30, Jim Mora stated, "Great competitors and really good teams, they respond in these situations." He was referring to the Bruins' two-game losing streak. One could also state that great competitors and really good teams are NOT ranked 102 in rushing offense, 119 in time of possession, tied for 113 in turnover margin, 113 in punt returns, and 123 in penalty yards per game.
Wonder what would happen if you asked him (or his father) about getting to the playoffs.
Gary Yates
Los Angeles
Analyze this
So reader Jerry Hiller thinks Troy Aikman was a bad choice to analyze the pro prospects of Josh Rosen and Sam Darnold, because his Bruin teams lost twice to USC. Never mind his three Super bowl rings and 15-year career as the top TV analyst, who meets with, dissects and breaks down NFL quarterback play every week.
Darnold proved last week that with a weak offensive line, he can be just as average as the UCLA walk-on forced to play behind a decimated offensive line last year. He has much less zip on his ball than Rosen, despite a nice scrambling ability that's wonderful for college quarterbacks.
At the same time, how much longer do we have to listen to homerKeyshawn Johnson on ESPN radio every day, as if knows it all about college football? Despite stabbing the fake sword into the Coliseum turf for his last game vs. UCLA, he was also 0-2 vs. the Bruins.
Jimmy Sogg
Toluca Lake
Playoff time
Here's a synopsis of the Dodgers' playoff schedule and the season.
Division series: Win- Expected; Lose-Totally surprising, Season-Major Disappointment;
Championship series: Win-Hoped for; Lose- Unforeseen, Season- Disappointment;
World Series: Win-Fabulous; Lose- Underwhelming and "Wait till next year".
Allen J. Schanhaar
Redondo Beach
::
Almost half of my life has passed since the Dodgers last won the World Series in 1988. Few of the current Dodgers were alive way back then. Traveling to away games during that span the Dodgers have flown more than twice as far as Aldrin, Collins and Armstrong did on Apollo 11. The Soviet Union was still a country. It was 10 years before Staples Center was built. It has been long enough, eh?
Kevin Park
Mission Hills
::
As a lifelong Giants fan, I never thought I would be saying this. The thrill of winning the World Series is so unbelievable, so emotional, especially doing it three times in six years, I hope that all Dodgers fans get to share that experience.
Mark Berglas
Huntington Beach
::
Pedro Baez made the postseason roster? Is there juicy gossip or dirt on management that only he knows about?
Mark J. Featherstone
Windsor Hills
The non-playoffs
It's always amazing to me when I see former Angels playing for other teams; they often seem so much more confident, relaxed and successful. When they played for the Angels they seemed rather tentative and unsure. Jeff Mathis and Ervin Santana are the most recent examples. Mike Napoli was another glaring example. It looks like it is not fun to play for the scowling Mike Scioscia; consider how Joe Madden builds confidence in his players and makes the game fun.
David Waldowski
Laguna Woods
::
Mike Scioscia is a nice guy, but selecting him as the best manager in California is a bad joke. Shouldn't one at least pretend to look at overall records? If Arte Moreno weren't so tight with a buck, Scioscia would have been gone years ago.
Ralph S. Brax
Lancaster
Bad move
Sam Farmer details the downward spiral the L.A. Chargers franchise is in, but can anyone be surprised? Owner Dean Spanos failed in getting a new stadium approved in fan-friendly San Diego, then made every marketing mistake possible in his relocation to L.A. Remember his first preposterous plan, to partner with the Raiders on a stadium project to be built on a toxic landfill dump? The StubHub Center experiment has proved that the Chargers cannot even sell 27,000 seats for home games.
Conventional wisdom just several months ago said the San Diego Chargers franchise was worth about $1 billion, but a move north to L.A. would double its value. Just the opposite is true; this franchise is nearly worthless now, save for the NFL television revenues. Dean Spanos has made a staggering billion-dollar miscalculation — not at all surprising.
Jim Regan
Carlsbad
Missing man
The unity shown by the players, coaches and supposedly the owners has been impressive. Colin Kaepernick still hasn't been invited to join a team.
Mark Winters
Sherman Oaks
Not a DJ fan
As DeAndre Jordan comes up for a new contract extension, Clippers' fans ask why the team should give a maximum contract to someone whose skills no longer fit the winning pro game. Wing players who can play multiple positions, shooters who can stretch the floor, and quick guards who can penetrate and kick out, are the currency of the realm in today's NBA. Jordan brings to the floor a giant wing span, huge hair, a congenital inability to hit free throws and a massively inflated ego. None of these attributes, singularly or in combination, is the stuff of which champions are made. I would prefer to see Keith Closs return.
Andrew Rubin
Marina del Rey
On the Balls
Basketball aside, I don't think it was a very wise move for LaVar Ball to yank his son LaMelo out of Chino Hills High in his junior year. Besides missing out on all the social advantages of being in school, LaMelo's basic education could also suffer. Those issues, however, don't seem to have mattered too much to LaVar. But then, rational thinking has never been his strong suit.
Charles Reilly
Manhattan Beach
::
For 40 years, Marv Marinovich set the standard for psycho sports parents. That standard hasn't just been broken by LaVar Ball, it has been obliterated.
Jerry German
Downey
On the clock
I decided to record the game between the Saints and the Dolphins from London. I added 1 hour of recording time. I was able to see most of the the third quarter.
John Broecker
Upland
That's a flag
I guess with a bye week, the UCLA defensive unit will be heading to Target.
Jeff Black
Los Angeles
::
The Los Angeles Times welcomes expressions of all views. Letters should be brief and become the property of The Times. They may be edited and republished in any format. Each must include a valid mailing address and telephone number. Pseudonyms will not be used.
Mail: Sports Viewpoint
Los Angeles Times
202 W. 1st St.
Los Angeles, CA 90012
Fax: (213) 237-4322
Email:
sports@latimes.com
---
Get our high school sports newsletter
Prep Rally is devoted to the SoCal high school sports experience, bringing you scores, stories and a behind-the-scenes look at what makes prep sports so popular.
You may occasionally receive promotional content from the Los Angeles Times.