Letters: Dodgers fans worried about a Series of unfortunate events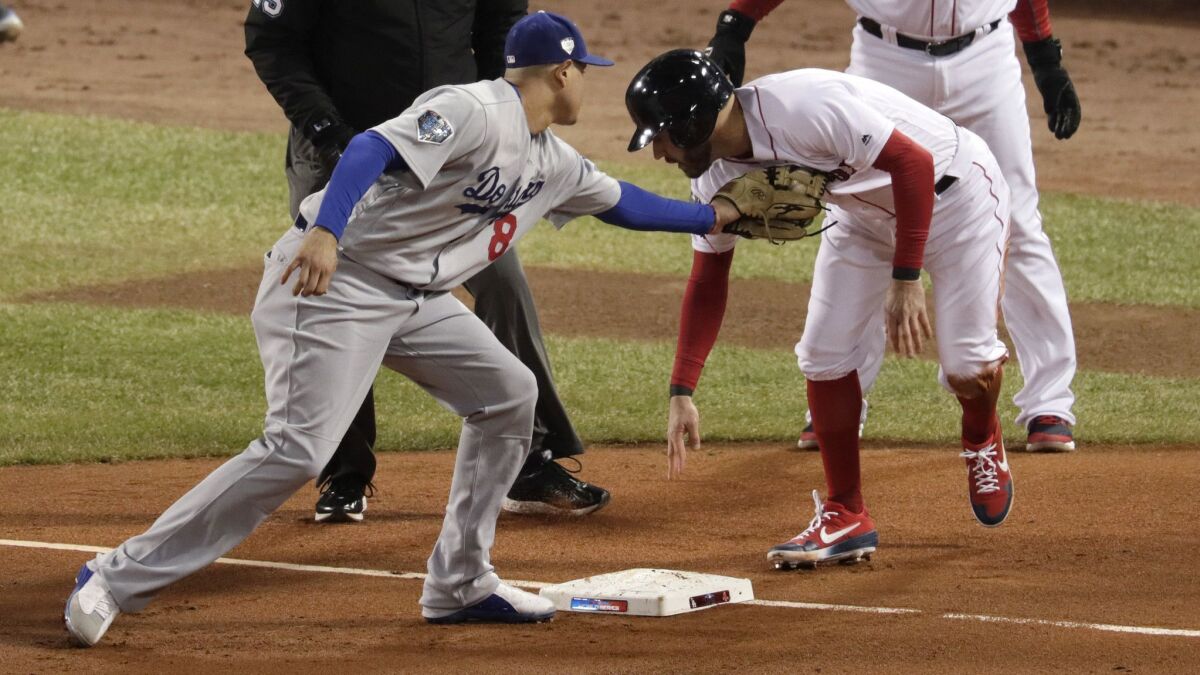 In October, I'd rather have Koufax than Kershaw (and Koufax is 82).
PJ Gendell
Beverly Hills
::
Nothing is certain but death and taxes. Correction. Nothing is certain but Clayton Kershaw wilting in the postseason and Dave Roberts making the worst pitching and lineup decisions.
Geno Apicella
Placentia
::
Had Tom Lasorda applied today's rote and trite sabermetrics logic in the 1988 World Series, a hobbled Kirk Gibson, with only three pinch-hit appearances over the course of the season, never would have left the bench to face the game's top closer who led the league in saves with a signature slider known to completely neutralize left-handed batters. Meanwhile, data analysis informs the team's current robot, er, manager, to sit his four top home run hitters (one the NLCS MVP) on the most important stage not once but twice, both losses.
It's a good thing the Dodgers played baseball, not moneyball, back then or the championship drought could be going on 37 years.
Steve Ross
Beverly Hills
::
It's one thing for metrics and statistics to inform a manager's decision. But as proven yet again in the Dodgers' Game 1 loss, it's a whole 'nother thing — a foolish thing — to take out Pedro Baez, pitching lights out, and replace him with Alex Wood, the most unreliable pitcher in our bullpen these playoffs, because that's what a computer says to do.
Jeff Kandel
Los Angeles
::
It is time we, the Dodgers faithful, faced the fact that this club made it to the World Series not because of, but in spite of, Dave Roberts. The different lineups and constant tinkering with matchups has led to a lack of continuity. He gets my vote for over-manager of the year.
Bud Chapman
Northridge
::
I liked baseball a lot better when they let the best hitters hit and the best pitchers pitch, regardless of the matchups. These playoffs make overmanaging an understatement.
Bennett Beebe
Westwood
::
Dave Roberts knows his stuff but has the instincts of a rosin bag. He manages baseball much like an "artist" paints by the numbers. He should consider swapping that tidy uniform for a sloppy hoodie and go wild. He's becoming the Bud Grant of baseball.
Mario Valvo
Ventura
::
The difference between genius and idiot is really small. Just ask Dave Roberts.
Sol Bialeck
Van Nuys
::
Despite the Dodgers current World Series woes, Wally Skalij's photographs — topped by his great shot of Andrew Benintendi's catch in Game 2 — reflect the fact that he remains one of the best — maybe the best — sports photographers in the business.
Gordon Morris
Glendale
Uncle Charley
Thank you, thank you, thank you Tom Hoffarth for your spot-on article critical of Dodgers broadcaster Charley Steiner. Most of what is in that article I have been saying to anyone who would listen for more than a year now. Dodgers fans deserve better, and I do not say that merely as a fan (who isn't?) of the great Vin Scully.
How is it possible, if Mr. Steiner has spent any amount of time listening to Vin, that he hasn't heard Vin telling his audience how he learned from Red Barber to give the score every 10 minutes without fail, and that Vin has a 10-minute timer to remind him to do so?
Gary L. Platt
Rancho Cucamonga
::
As bad as Steiner may or may not be, I'd rather listen to him than the nauseating, sleep-inducing, boring drone of Joe Davis on the TV end. Trivial dribbling.
Adding Orel Hershhiser's hyper-analytical "color " commentary doesn't help either. I've watched many an inning of Dodgers baseball with the sound turned off when I simply couldn't stand to listen to any more.
Ron Brumel
West Los Angeles
::
The hit piece on Steiner was very hurtful. Why would a columnist write such an unkind piece of fluff that will jeopardize a good man's employment? Cruel.
I appreciate Steiner's humor and fun commentary on these long broadcasts. If you want accuracy, use a computer-generated robot. Charley Steiner is a human being, Tom Hoffarth not so much.
Don Newton
Chino Hills
::
Steiner's joy and love for the game are infectious, as is his humor. I'll not forget his call of a game-ending balk induced by a Dodger runner: "Kiké Hernandez danced down the third base line like a Radio City Rockette." Or when with the team down 15-1: "When we come back for the bottom of the ninth, the Dodgers only need fourteen to tie."
Jordan Chodorow
Los Angeles
LeBron's Lakers
Brandon Ingram, have you ever heard of Wally Pipp? After Pipp took a day off from the Yankees lineup, Lou Gehrig and Babe Ruth became pretty good teammates. Well BI, during your four-game suspension, Kyle Kuzma and LeBron James have become pretty good teammates.
Tom Lallas
Los Angeles
::
It's pretty obvious that Kyle Kuzma is the second-best player on the Lakers. They better start playing him 35 minutes a game, or they will end up losing to the Clippers, even with LeBron.
David Waldowski
Laguna Woods
::
Why does it not surprise me, or any sports fan, that Rajon Rondo acted the way he did on the floor and did not offer even a hint of apology.
I grew up in New England and a diehard fan of their teams even though I have been in So Cal since early '80s. Was fortunate to witness the Showtime era and though I disliked the Lakers, I had much respect for them.
Can't say the same for the Lakers' new guard, a former member of the Celtics, who has had run-ins with just about every coach in his career. He can brag all he wants about winning a ring, but he will never be perceived as a champion.
Steve Walsh
Redondo Beach
::
As someone who lost an eye in childhood, and for many years as an adult wore Kareem-style safety goggles playing pickup basketball, I have a problem with your description of the Chris Paul-Rajon Rondo altercation: "Paul put his finger in Rondo's face, then Rondo punched him in the jaw, and Paul punched back."
What I saw was Paul repeatedly poke his finger in or around Rondo's eyes, at very close range. It was deliberate, dangerous, and cowardly, and far more egregious than "spit flying from Rondo's mouth," which allegedly triggered their confrontation.
A two-game suspension for purposely threatening another player's eyesight? Seriously?
J.M. Wilson
West Hollywood
::
While violence of any kind has no place on a basketball court the NBA should not be surprised that a young player like Brandon Ingram lost his cool while guarding James Harden for an extended period of time. Put a camera on Harden for a whole game and you will see him getting away with grabbing, holding, pushing off from behind while rebounding, fending off and hooking with his free arm, and most of all initiating incidental contact that results in foul calls that few other players get.
Avrumie Schnitzer
Beverly Hills
On the grid
Anyone else notice the Bruins' first victory at the Rose Bowl this year interestingly coincided with the availability of alcohol to the public?
The fans were no doubt feeling as chipper as the players.
Marty Zweben
Palos Verdes Estates
::
I was impressed reading the article that described how the Washington State alumni have organized a system where the Cougar crimson and grey flag has been flown in the background of every "GameDay" for the last 15 years. Being a UCLA alumnus and with a much larger fan base throughout the country, I feel it shouldn't be too hard to copy the idea and wave our new UCLA white flag every week.
Richard Katz
Los Angeles
::
It's amazing how JT Daniels has a great game and the commentary is everywhere. Now when he is six for 16 nothing is said. No comments from JT, barely anything from Clay Helton. An embarrassing showing for USC all around.
Mike Swindell
Palm Desert
By the numbers
The Angels were led to hiring Brad Ausmus, in part, because of his "probabilistic approach to decision making." Forget for a moment, why not just say we wanted an analytics guy? What remains is, how did a commitment to probabilistic decision-making lead to the hiring of a manager with a lifetime 314-332 record with no titles? The probabilistic extrapolation, respectfully, appears unpromising.
Konrad Moore
San Diego
::
The Angels could hire David S. Pumpkins as manager for all I care. If they really want to "improve the fan experience," get rid of that anchor on first base, and sell a decent tasting hot dog!
Jim Fredrick
Manhattan Beach
Love this guy
Reflecting on the early-season performances of our local teams, it's clear that the Kings should fire head coach John Stevens and hire Sean McVay. And the Lakers should fire head coach Luke Walton and hire Sean McVay.
Steve Weinstein
Los Angeles
Good luck
I wonder which I'll see first: a Kings power-play goal or a Dodgers hit with men in scoring position.
Perhaps I am better off hoping for bipartisan cooperation or world peace.
Nick Rose
Newport Coast
::
The Los Angeles Times welcomes expressions of all views. Letters should be brief and become the property of The Times. They may be edited and republished in any format. Each must include a valid mailing address and telephone number. Pseudonyms will not be used.
Mail: Sports Viewpoint
Los Angeles Times
2300 E. Imperial Hwy.
El Segundo, CA 90245
Email:
sports@latimes.com
---
Get our high school sports newsletter
Prep Rally is devoted to the SoCal high school sports experience, bringing you scores, stories and a behind-the-scenes look at what makes prep sports so popular.
You may occasionally receive promotional content from the Los Angeles Times.