Letters: What's up, Doc? Four more years for Roberts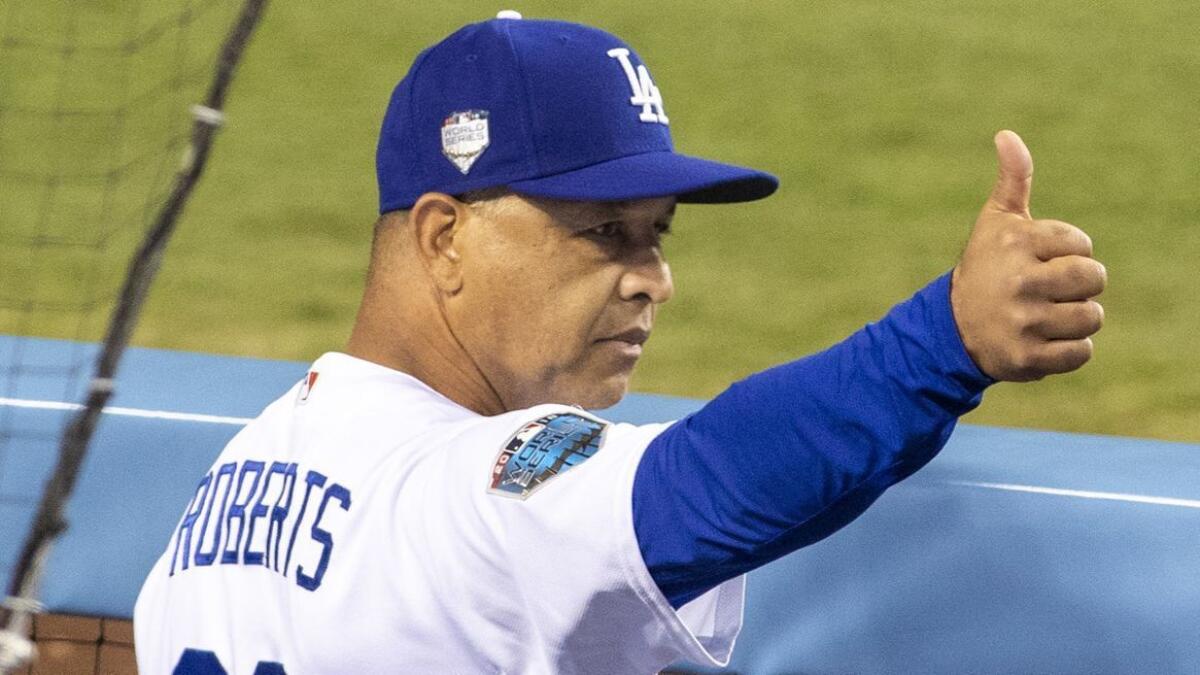 Sorry, but I just can't do backflips over Dave Roberts' contract extension. Roberts used to be a baseball man, but in order to keep his job he became a numbers man.
Bob Sands
La Habra
::
While it's hard to complain about back-to-back World Series appearances, the Andrew Friedman approach to baseball has sucked the joy out of the game for this lifelong (since age 9 in 1965) Dodgers fan.
Combined with the ongoing fiasco of the cable TV deal and the all-analytics, all-the-time approach that causes ever-changing lineups, I find myself with increasingly less interest in the game in general and the Dodgers in particular.
And, I bet I'm not alone.
Charles L. Freeman Jr.
Baldwin Hills
::
Delighted to see Dave Roberts signed for four more years as the Dodgers skipper. I enjoyed Bill Plaschke's very even-handed column on the subject. The last three seasons with Dave at the helm have produced exponentially more joy than sorrow. Back-to-back World Series appearances is a HUGE accomplishment.
Richard Agata
Culver City
::
With Dave Robots 2.0, we'll never know if we have a manager or a puppet as long as Andrew Friedman, the puppeteer, pulls the strings.
George Pobedinsky
West Covina
::
To put to rest all of the arguments for Dave Roberts' analytical decisions based on stats, trends and habits, you just have to remember one thing: Would Roberts have sent up Gibson to pinch-hit in the 1988 World Series?
Bob Paniagua
Susanville, Calif.
Not bowled over
So Texas Tech fired Kliff Kingsbury after going 5-7? I guess some schools don't consider 5-7 acceptable.
Craig Poletti
San Dimas
::
This is the worst college bowl lineup I have ever seen. No. 5 Georgia against four-loss Texas in the Sugar Bowl? In the storied Rose Bowl, the Huskies lost to Cal and Ohio State lost to unranked Purdue! Twice-defeated Washington State gets to play mighty four-loss Iowa State.
Even the playoffs stink: Alabama is favored by almost two touchdowns!
Oh, college presidents will line their pocketbooks all right, but mediocrity has come to college football.
Rich Rhea
Oceanside
::
I've been following college football since the mid-'50s, and while the sport has certainly changed, the one constant has been the NCAA's glacial pace at instituting obviously necessary reforms. It would require just one additional week's play to fit eight teams into the championships. This would not extend the season if the major schools were forced to stop the earlier playing of puff-ball opponents such as Little Sisters of the Poor, or Barely Normal Institute. An obvious, logical move that would be fairer to fans and players alike.
But don't hold your breath.
Michael Jenning
Van Nuys
::
No Pac-12 team was even close to the conversation for the playoffs and only one is in a New Year's Six bowl. The Pac-12 football season ended with a bad call on a Friday night. It was a boring championship game played in a half-empty stadium. AT&T U-Verse has dropped the Pac-12 Networks. When will the grossly overpaid Larry Scott, the most highly compensated conference commissioner, be fired?
Richard Fay
Palos Verdes Estates
::
Regarding Tuesday's column on the beatings Tua Tagovailoa received growing up and the inappropriate treatment of that situation by the ESPN "College GameDay" crew: I was surprised that Tom Hoffarth didn't mention the recent revelation by Adrian Peterson that he still beats his son with a belt to discipline him, notwithstanding his previous suspension for doing just that.
When will these child beaters get it that it is never OK to hit a child? And by the way, why hasn't the NFL taken further action against Peterson? Isn't his statement an admission that the suspension and counseling he supposedly received failed to address the issue?
David Weber
West Hollywood
::
Good riddance to Urban Meyer, who destroyed his own health and disregarded morality and legality in the name of winning at all costs — from getting 17-year-old Aaron Hernandez out of trouble when he severely beat a bartender before even playing his first college football game (that didn't end well, did it?), to ignoring and enabling domestic violence amidst his football family. And good luck with, "re-evaluating my priorities of faith and family."
Suggestion: read a John Wooden book, get more sleep, eat healthy foods, and stay away from big-time sports. We fans have enough blood on our hands having celebrated your teams successes over the years.
Brad Kearns
Woodland Hills
Royal pains
Other than Anze Kopitar, none of the Kings can skate the puck into the offensive zone and accurately pass to a teammate to allow the team to set up their attack for good shots. And players like Jake Muzzin and Tyler Toffoli wildly shoot as soon as they get the puck, often resulting in a turnover.
It's a shame how far this team has fallen since their last title in 2014. From first to worst is not the direction any sports franchise wants to go. It's time to overhaul the roster to acquire the skilled players they need.
Brian Gura
Redondo Beach
::
Having been a Kings fan since the mid-1980s, I have seen bad teams, average teams, and great teams. The 2018-2019 roster is by far the worst. After one-third of the season, they are either dead last or next to last by nearly every offensive metric, with a spotty defense to boot. They are outhustled on virtually every loose puck, and play mostly without passion or much skill. Pro golfers would kill for the minus numbers these guys are putting up.
What is so perplexing is that many of the players on this team won the Stanley Cup in 2012 and 2014. Sure, these guys have aged, but are not nearly supposed to be past their prime. In the meantime, the NHL sped up the game, and the Kings didn't. Sorry, Rob Blake, your 15 minutes are up. Time to rebuild, starting with the GM. This is unwatchable hockey.
Ronald J. Peters
Thousand Oaks
Vic
I had no idea of the trials, tribulations, and battles Vic "the Brick" Jacobs has suffered and persevered through to continue to deliver his wacky, lovable, sincere, and entertaining sports reporting and commentating. Talk about a work ethic!
I, as I'm sure many, many Los Angeles sports fans, wish him nothing but the best, and a full recovery from his debilitating illness.
Get well, soon, Vic! We are all "feelin' you"!
Rick Solomon
Lake Balboa
::
Just when I'm absolutely convinced that Bill Plaschke is an arrogant loudmouth who considers his sportswriting conclusions infallible, leading me to damning him in my conversations with my sports fan friends, he tosses me a totally uncharacteristic curve.
His "Bamboo Strong" column chronicling the lovable, irrepressible, L.A. sports icon, Vic "the Brick" Jacobs' courageous battle against the terrible ravages of his cancer is written with humility, compassion, care and admiration.
Congratulations Bill, you got this one very right!
Joseph F. Paggi Jr.
Pasadena
Toxic?
Kevin Durant said a toxic atmosphere surrounds LeBron James. Judging from the intensity and duration of his dustup with teammate Draymond Green, Durant knows toxicity. He helps create it. He thinks superstars (and their egos) don't want to play with LeBron. He's an expert there too. He left OKC, where attention was more often on Russell Westbrook, and has issues in Golden State, where it's usually about Steph Curry.
When he says he doesn't want attention fluff what he really means is, only if its not directed at him.
Craig Rosen
Los Angeles
::
I used to think that Kevin Durant was smart. My mistake. LeBron is this era's Magic Johnson, the top playmaker, leader (and scorer) of his time. Can you imagine James Worthy passing up playing with Magic? Or Ringo forgoing the Beatles because of Paul McCartney?
Ray McKown
Torrance
::
The guy who joins a championship team so he can win one for himself is criticizing LeBron's "environment"? Glass houses.
Gary B. Ross
Beverly Hills
::
The Los Angeles Times welcomes expressions of all views. Letters should be brief and become the property of The Times. They may be edited and republished in any format. Each must include a valid mailing address and telephone number. Pseudonyms will not be used.
Mail: Sports Viewpoint
Los Angeles Times
2300 E. Imperial Hwy.
El Segundo, CA 90245
Email:
sports@latimes.com
Get our high school sports newsletter
Prep Rally is devoted to the SoCal high school sports experience, bringing you scores, stories and a behind-the-scenes look at what makes prep sports so popular.
You may occasionally receive promotional content from the Los Angeles Times.