Letters: Readers react to the Dodgers big trade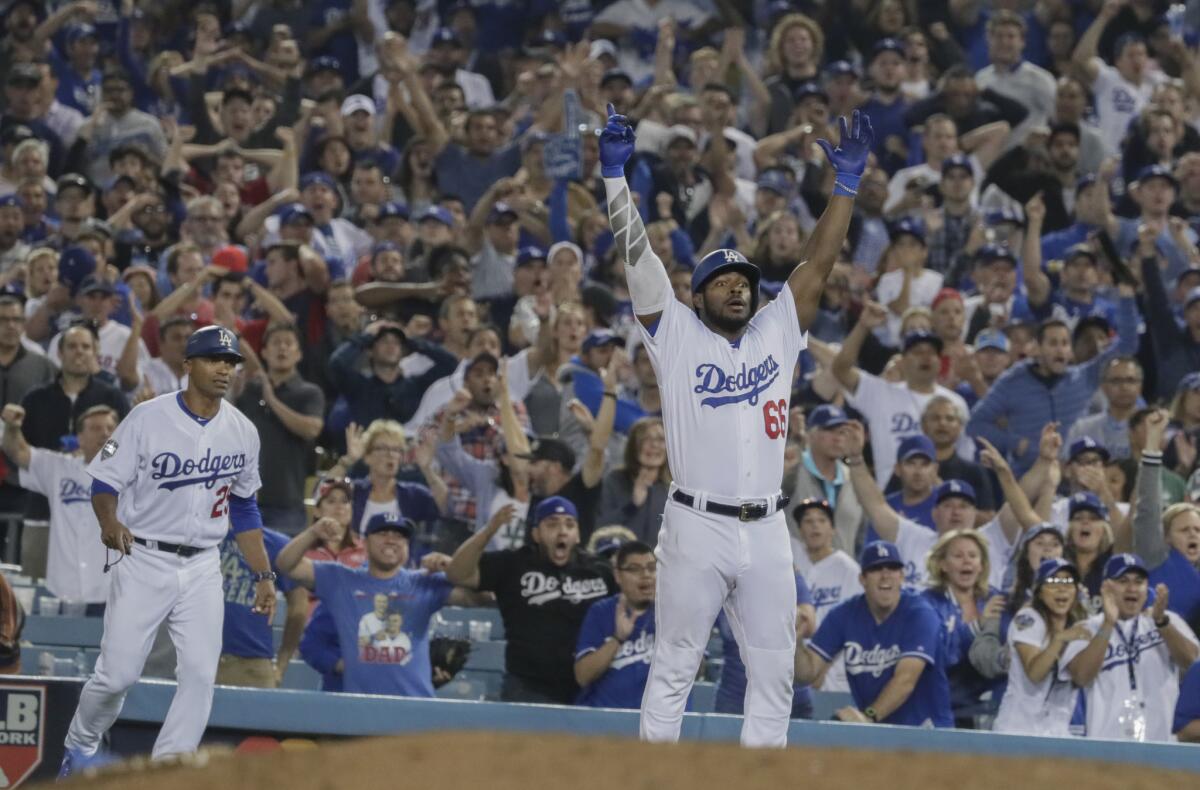 As the Dodger salary dump drive goes into high gear trading Matt Kemp, Yasiel Puig and Alex Wood for a washed-up pitcher and a couple of serviceable prospects, their closest division rivals the Rockies sign a Dodger/Kershaw nemesis who happens to populate the very position they need to upgrade the most: second base. And Daniel Murphy actually signs for a modest salary by today's standards.
So just what is it the Dodger brain-trust has in mind? However, if they sign a Bryce Harper or the equivalent with their new savings, to quote Gilda Radner portraying a hard-of-hearing Emily Litella, "Never mind."
Allan Kandel
Los Angeles
::
I just heard of the trade that sent Puig and Kemp to Cincinnati. That was the dumbest move that the Dodgers have made since dumping Roberto Clemente.
Jonathan Goldstein
La Jolla
How low can the Bruins go?
I have an idea for future sponsors for the UCLA basketball team. I suggest Charmin or Pillsbury because their team is as soft as toilet paper and the Pillsbury Dough Boy.
Richard Katz
Los Angeles
::
While watching a UCLA basketball team full of elite talent lose at home to Belmont last Saturday, it occurred to me that elite coaches have a special quality that is lacking in Steve Alford. They have the ability to convince pampered high school stars that they must continually practice the less sexy aspects of basketball, such as shooting free throws and defending backdoor layups. Most of the Bruins seem to think they are too good for that, which provided us with an ending to the Belmont game that was almost too painful to watch.
Alan Abajian
Alta Loma
::
UCLA should fire Steve Alford and Dan Guererro immediately. The players need to know the school is serious about basketball and serious about the players losing their high school performances and attitudes. Neither Alford nor Guererro seems to have the resources to wake up the team.
Pauley was empty against a unknown Belmont team that stole a win with the back door wide open. We've had enough underachieving basketball seasons.
Richard Kline
Ojai
::
When I used to run marathons, my second-half run was much slower than my first and I knew the reason was that my work schedule did not permit adequate training. Coach Alford said. "I didn't like our energy." It's conditioning, not basketball skills, that is the real problem. 
Art Gittleman
Huntington Beach
Battering the Rams
Perhaps we should check Jared Goff's cellphone records. I suspect he has been taking calls from Jeff Fisher.
Dan Husband
Huntington Beach
::
Rarely does a team play to lose, but teams that have clinched playoff positions simply do not have the same motivation as teams fighting to make them. Byes and home-field advantages aside, I would take the Rams' last two losses with a grain of salt.
David Wilczynski
Manhattan Beach
::
It's easy to blame the Rams' recent offensive woes on Jared Goff, but after almost two years, the league has caught on to Sean McVay's offensive tendencies. The coach needs to rethink the offense — and teach players to step out of bounds when the team is down toward the end of the game and no timeouts.
Rich Sieger
Valley Village
::
Any team worth their salt should not worry about not having home-field advantage. Go Rams!
David Marshall
Santa Monica
Hey, Lakers …
In the spirit of the season, Santa and I want to know why KC Pope isn't in the starting lineup for the Lakers and playing major minutes. The Phoenix Suns wanted him and now the Houston Rockets feel the same way. The reason, coach Luke Walton, is that Pope is the best perimeter shooter on your team and that includes LeBron. The team lacks quality shooters and Pope will at least give you your best chance to win.
Gil Moe
Palm Desert
::
Anyone willing to point out that LeBron can't shoot free throws? Lakers lose by five to the Nets and James goes eight for 13 from the line!
Jack Wishard
Los Angeles
And the winner is...
I nominate Bill Walton to host the Oscars. He can entertain, ramble, freestyle, improvise, get off on a tangent, spew random meaningless facts, talk about bridges along the West Coast, neglect what's happening in front of him and keep the energy going while awards are given out to films no one has seen. Knowing how much I learn in a two-hour Walton basketball broadcast, I can only image the breadth of knowledge that will come from a four-hour Academy Awards show.
Jeff Black
Los Angeles
Old school
For anyone who is student of the game, it is useful to recall that when the Dodgers swept the Yankees in the World Series of 1963, they used the exact same lineup each and every game. These were the Yankees of Mantle, Maris, Howard, Richardson and Boyer fame, and rather than worry about matchups, lefty vs righty, fielding shifts and launch angles, the Dodgers prevailed with excellent pitching, which, as we know, always bests good hitting.
Andrew Friedman and the Dodgers will be best served by putting together a strong rotation with individuals capable of going more than five effective innings. But no worries, because irrespective of what they decide, two-thirds of the L.A. fan base will never be able to see the results.
Bill Waxman
Simi Valley
Fine whines
One "fan" would not have a parade for the Chargers in Los Angeles if they won the Super Bowl.
Others heap scorn and abuse on a Dodgers team that has made the World Series two years in a row.
I've been following sports since the Dodgers were in Brooklyn, and I can't recall a bigger bunch of spoiled brats and whiners than some of those who appear on your letters page each week.
Steve Mehlman
Beaumont
Trojan trouble
It seems that Lynn Swann is urgently trying to justify his retention of Clay Helton by doing some recruiting. It overlooks the fact that USC is a storied program and has always dominated local football athletes recruitment even during the Helton era. The results speak for themselves. The university needs to take a look at both positions and make some changes
James Olsen
Huntington Beach
Last word
Boy, it must be difficult for Bill Plaschke to carry the weight of the world around on his shoulders. For months he told Magic Johnson he would have to resign as president of the Lakers if he didn't sign LeBron James. Now it will all soon start again, what with Kawhi Leonard and Anthony Davis on the market. Even though he supported the Dodgers signing Joe Kelly, he still is demanding they spend hundreds of millions on Bryce Harper. And he has figured out how to get the Rams back on the winning track. Jared Goff has to start playing better. Right now.
Hey Bill take a break over the holidays. You deserve it.
Ralph S. Brax
Lancaster
::
The Los Angeles Times welcomes expressions of all views. Letters should be brief and become the property of The Times. They may be edited and republished in any format. Each must include a valid mailing address and telephone number. Pseudonyms will not be used.
Mail: Sports Viewpoint
Los Angeles Times
2300 E. Imperial Hwy.
El Segundo, CA 90245
Email:
sports@latimes.com
Get our high school sports newsletter
Prep Rally is devoted to the SoCal high school sports experience, bringing you scores, stories and a behind-the-scenes look at what makes prep sports so popular.
You may occasionally receive promotional content from the Los Angeles Times.