From the Archives: Steelers legend Lynn Swann campaigns for governor of Pennsylvania, but he's facing a big deficit
Reporting from WEST CHESTER, Pa. —
Editor's note: Lynn Swann was named the new athletic director for USC, his alma mater, the school announced April 13, 2016.
The four-seat plane wheeled to a stop and out climbed Lynn Swann, the Pittsburgh Steelers legend who's the Republican candidate for governor of Pennsylvania.
He parted ways with the businessmen who'd joined him for the short flight and stepped into the terminal of tiny Brandywine Airport, outside Philadelphia.
It was 9 a.m. His day already was in full swing. In the next 12 hours, he would make fundraising stops in Philadelphia, Bedford County, Fulton County and Pittsburgh, where he would finish the day with a fish fry and a speech.
Those are the kinds of fly patterns he runs these days, exhausting even for one of the greatest deep threats in NFL history. The man with four Super Bowl rings is now reaching for the brass one: the top job in the nation's seventh-largest state.
"Sure, it's a grind," said Swann, 54, angling to be the state's first black governor. "But what statewide campaign isn't? Pennsylvania is a big state."
And Swann's is a big task. He's looking to unseat Democratic incumbent Ed Rendell, a seasoned politician and former Philadelphia mayor who has opened a 14-point lead in the race, according to a Keystone poll released last week.
New USC Athletic Director Lynn Swann speaks at a news conference Thursday in the John McKay Center.
(Mark Boster / Los Angeles Times)
Former Pittsburgh Steelers wide receiver Lynn Swann, shown in September 2015, has been named USC's new athletic director.
(Gene J. Puskar / Associated Press)
Pro Football Hall of Fame enshrinee Lynn Swann, left, stands with his presenter, former Pittsburgh Steelers' teammate John Stallworth, during the ceremony in August 2001 in Canton, Ohio.
(David Maxwell / AFP/Getty Images)
Retired Steelers wide receiver Lynn Swann at Heinz Field in Pittsburgh before the opening game against the Miami Dolphins in September 2006.
(Al Messerschmidt / Getty Images)
In May 2006, Lynn Swann accepts the Republican nomination in the race for Pennsylvania governor. Swann lost to the incumbent, Edward Rendell.
(William Thomas Cain / Getty Images)
Pro Football Hall of Famer Lynn Swann sports a Steelers bowling ball during a Super Bowl celebrity bowlling event on Jan. 28, 2009 in Tampa, Fla.
(Scott Boehm / Getty Images)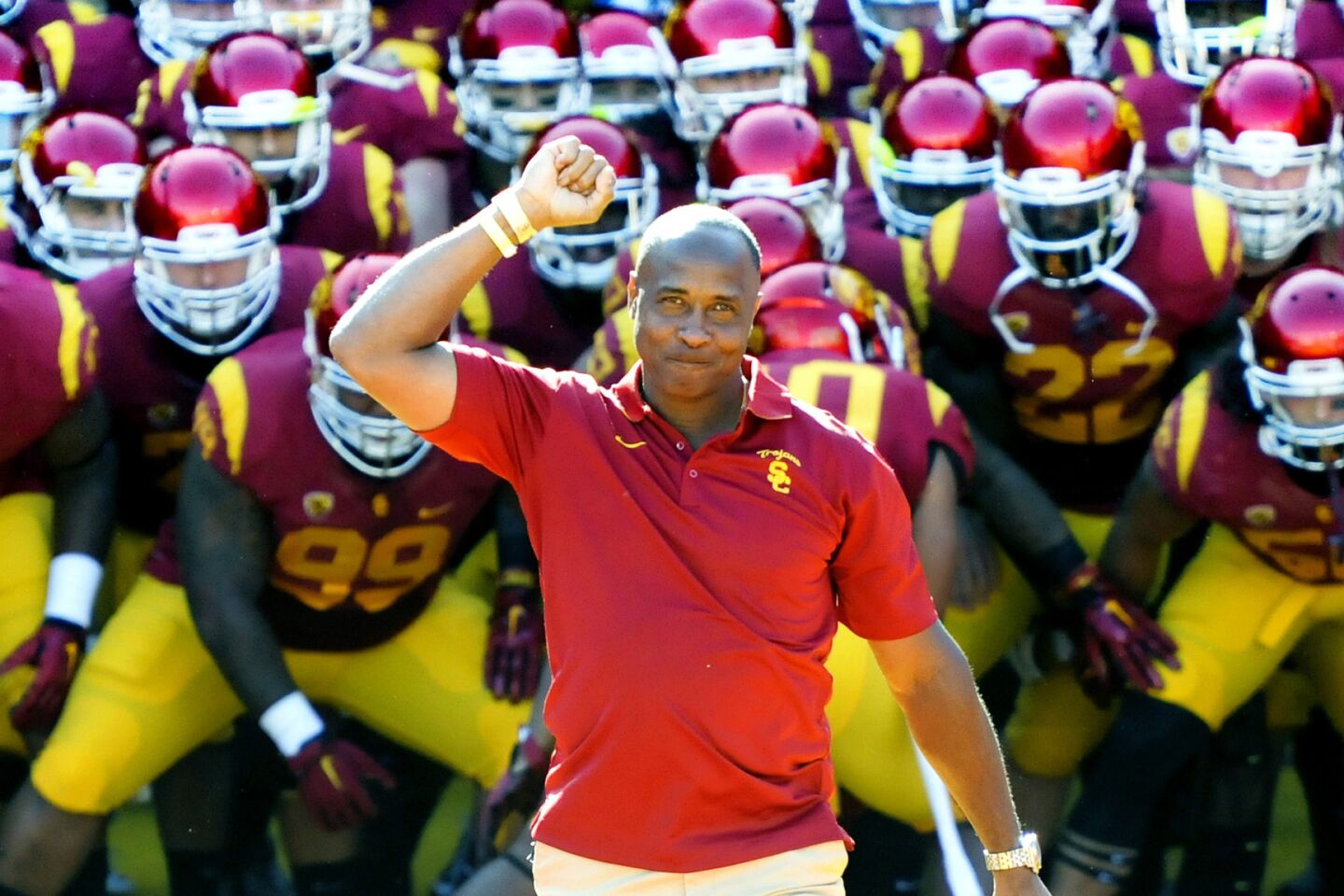 Lynn Swann prepares to lead the USC football team onto the field at the Coliseum for a game in 2014.
(John McGillen / Associated Press)
Lynn Swann, a member of Augusta National Golf Club, greets Tom Watson before the par-three contest at the Masters on April 10, 2016.
(Andrew Gombert / EPA)
Dr. Charena Swann touches the hand of her husband, Lynn Swann, he was being introduced as the USC's new athletic director April 14 in the John McKay Center.
(Mark Boster / Los Angeles Times)
USC President Max Nikias, right, introduces Lynn Swann as the school's new athletic director on April 14.
(Mark Boster / Los Angeles Times)
The Swann-Rendell showdown features footballs political and actual. The issues aren't only Republican vs. Democrat and Roe vs. Wade ... but Steelers vs. Eagles.
Swann is among Pittsburgh's most popular sports stars; Rendell is such a devout Eagles fan that he provides postgame television commentary each fall Sunday. Rendell has been a season-ticket holder for more than 30 years.
Swann, who said he entered the race because of "a need for different and better leadership," is far behind in campaign fundraising. He has raised $3.3 million, compared with Rendell's $17.2 million. Moreover, Swann is a political novice, having never run for public office.
"What we've got going here is two celebrities with rock-star appeal," said G. Terry Madonna, director of Franklin & Marshall College's Center for Politics and Public Affairs in Lancaster, Pa. "And Ed is Clinton-esque in his ability to campaign and raise money."
Rendell also has a popular Pittsburgh ally in Franco Harris, former star running back for the Steelers and neighbor of Swann's in the posh Sewickley Heights area of Pittsburgh. Harris, who accepts the label of "liberal Democrat," has said he plans to raise money and speak at benefits and on television on behalf of Rendell, 62.
In a recent interview with Bloomberg.com, Harris said he and Swann had always been close.
"But right now, I feel there needs to be a change in the direction from where our national administration has taken us and where the Republicans in the state government want to take us," Harris said.
Swann's reaction?
"Rendell can't campaign on his own," he said. "He needs help from other people because people realize he hasn't done a great job. And so in an effort to try to win and have a better image now in the western part of the state, he's calling on other people to shore up his bad image."
The surveys don't necessarily reflect that. The most recent Keystone poll, conducted in the last month by Madonna's school, had Rendell with a lead of 49% to 35%. Rendell, who led by only three points in the February poll, began a statewide TV advertising campaign in recent weeks, touting his accomplishments. His favorability rating has climbed to 48%, the highest since March 2005. Even so, some political analysts are expecting the race to tighten as the November election nears. The candidates are running virtually unopposed in Tuesday's primary.
"For Rendell to keep that gap widening, he's got to stay on the air," said Jennifer Duffy, editor of the nonpartisan Cook Political Report. "That's a pretty expensive proposition, even for a guy with millions of dollars. This is not the race Rendell thought he'd have. I think he expected a much easier run."
Duffy said Swann received a boost in the polls when the Steelers won the Super Bowl, if only because it made him a must-have interview.
"I think he was on TV, talking about the Super Bowl, every day of the week before, and a couple of days after," she said. "You can't buy the kind of exposure he got."
Swann, a former USC standout who retired from football in 1982 after nine NFL seasons, worked for years as a sideline reporter on ABC college football. He was host of "Battle of the Network Stars" and "To Tell the Truth," played himself in "The Waterboy" with Adam Sandler and "The Last Boy Scout" with Bruce Willis, and still is frequently asked about his guest appearance on "Mister Rogers' Neighborhood."
He served for two years as chairman of Big Brothers and Big Sisters of America, and was appointed by President George W. Bush as chairman of the President's Council on Physical Fitness and Sports. He also served on the corporate boards of Hershey Foods and H.J. Heinz.
"When I woke up in the morning, I wasn't waking up and saying, 'Today, I want to be governor of Pennsylvania,' " Swann said. "Probably in the last 10 years, I woke up saying, 'I'd like to be Bill Gates.' "
Ever since college, Swann said, his friends have urged him to run for office. In 2004, around the time he started introducing President Bush at reelection rallies, he began to think about his potential as a politician.
He decided to run for governor because "this is the best opportunity to help Pennsylvania. The governors I've talked to have told me that being governor of a state was the best job they ever had. Because you can have a real impact, you can get things done, you can turn things around."
Swann has had his share of cover-your-eyes fumbles along the campaign trail. The Philadelphia Inquirer reported in February that he had not voted in 20 of 36 state elections during the last 18 years. A few days earlier, Swann had appeared on ABC's "This Week" and was unsure on some issues he could face as governor.
He was under the impression, for instance, that abortion would automatically become illegal if the Supreme Court overturned Roe vs. Wade. Host George Stephanopoulos corrected him, saying it would be up to each state to make its own abortion laws.
"That mistake clearly halted whatever progress [Swann] was making in trying to prove that he's a candidate of broader appeal and depth of understanding than a former athlete/sportscaster," said Clay Richards, who runs the Pennsylvania survey for the Quinnipiac University Polling Institute in Hamden, Conn.
According to Richards, almost 60% of the state's black voters live in and around Philadelphia and have traditionally voted for Rendell, first for mayor, then governor.
"It's a politician they clearly see as someone who identifies with their needs," Richards said. "Whereas, Swann as a governor is suspect in that respect because of his party affiliation."
Swann shrugs off the suggestion he's somehow under-qualified.
"They talk about being light on the issues?" Swann said. "Well, that's something they want to throw out because you haven't served in office before. But there are two approaches to that. If you look at our current governor, for all his political experience, he hasn't accomplished much as governor. So his experience hasn't really held him well."
As for trailing in the polls at this point, Swann doesn't seem overly concerned. Fresh in his memory -- and in that of millions of Steelers fans -- was a certain NFL team that stumbled through the regular season before hitting its stride when it counted most.
"That," Swann said, "is our game plan too."
ALSO
USC picks Lynn Swann as new athletic director
The time is right for Pat Haden to step down as USC athletic director
Pat Haden's biography: Highlights from the soon-to-retire USC athletic director's career
Get our high school sports newsletter
Prep Rally is devoted to the SoCal high school sports experience, bringing you scores, stories and a behind-the-scenes look at what makes prep sports so popular.
You may occasionally receive promotional content from the Los Angeles Times.