Macklemore, Pete Carroll are in a mutual admiration society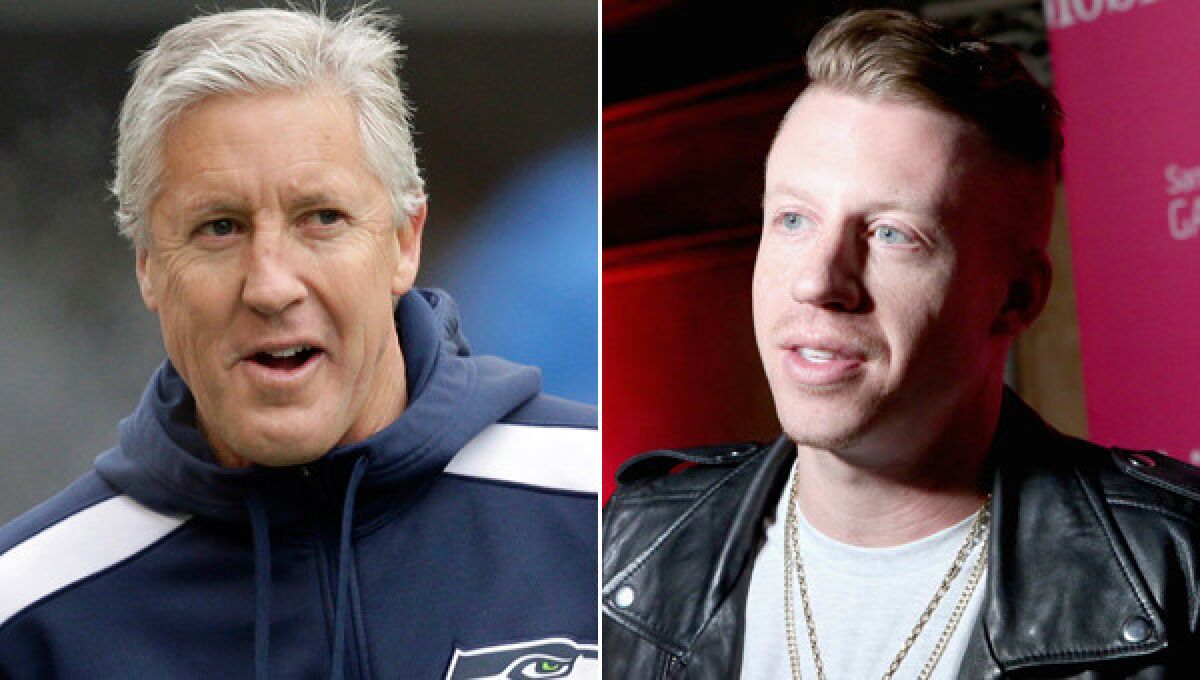 SEATTLE — One of the world's most popular hip-hop artists stood on the sideline of his beloved Seattle Seahawks last Sunday before their NFC championship game against San Francisco.
"I grew up in Seattle, and I've been a Seattle sports fan my entire life," said Ben Haggerty, known by his stage name, Macklemore. He wore a vintage Seahawks jacket and shiny high tops that had the psychedelic sheen of a hologram sticker.
"There's a mutual respect" between musicians and athletes, he said in an interview with The Times. "I go into each performance like an athlete. I'm prepared. I'm physically fit to the utmost, and it's a performance. It's just like going into a game. For people who devote their life, and sacrifice everything and take it 100% seriously with dedication, there's parallels all over the board."
Haggerty, 30, has become friends with Seahawks Coach Pete Carroll, 62, who reached out to him last year after falling in love with Macklemore's music. Carroll bought an album and spent much of last season playing it on an endless loop in his Seahawks office. Typically, the coach has his sound system cranked so loud his secretary has to turn it down when he steps out of his corner office.
"He immediately resonated with the music," Haggerty said. "He's somebody who's 62 years old, but looks like he's 45, and acts like he's 30. He's just a cool coach and down-to-earth person."
The connection was made after Carroll heard and liked one of Macklemore's songs on the radio, and asked his assistant, Ben Malcolmson, to research the artist.
Said Carroll: "When [Malcolmson] told me he's from Seattle, I said, 'Really? If he's in Seattle, let's get ahold of him. Ask him if he wants to come to practice sometime.'"
A couple of days later, Carroll was at WaMu Theater in Seattle, catching Macklemore's kickoff show for his Heist Tour.
"It was packed," the coach said. "They were growing crazy — thousands of people — singing his songs. Everybody knew every word of his songs. They loved him. He announced that night that his song, 'Thrift Shop,' had just made it to No. 1 on iTunes. All that happened within three days. I thought, this guy's awesome.
"I walked down into a team meeting and asked, 'Has anybody ever heard of a group called Macklemore?' Two guys raised their hands. Nobody knew him in our little world. And [15] months later, here he is."
Haggerty, who is also a friend of Seahawks such as quarterback Russell Wilson, safety Earl Thomas and linebacker Bobby Wagner, sees parallels in his rise up the music charts and the Seahawks getting to Super Bowl XLVIII.
"We're in the upper-left part of the country, and it is forgotten," he said.
"It's never been associated really with hip-hop music. And the fact that we've had the year that we've had, kind of a breakthrough year, brought the attention up to Seattle and defined Seattle as a place of not only grunge music and coffee and rain, but a place of great hip-hop music. And also great football, top-tier athletes here in Seattle and the greatest coach in the NFL. So it all kind of happened at the same time."
Get our high school sports newsletter
Prep Rally is devoted to the SoCal high school sports experience, bringing you scores, stories and a behind-the-scenes look at what makes prep sports so popular.
You may occasionally receive promotional content from the Los Angeles Times.