Column: Arash Markazi: My takeaways on L.A., its sports teams and its fans
I am bad in social situations. I usually forget to introduce myself at the beginning of a conversation, I used to sneak out to the bathroom when it was time to go around the class and say our names on the first day in grade school and I'll often leave long voicemails that go unanswered because I fail to say who I am at the start.
Maybe this has something to do with having a first name that is fairly common in Iran but is often confused with an uncomfortable skin condition in the United States. Let's just say my classmates reminded me of this on a fairly regular basis when I was younger. Kids have a way of reminding other kids of these things.
This is a long-winded way of awkwardly introducing myself as I begin my third week on the job as a Page 2 columnist with The Times. Some of you will like me. Some of you will hate me. Some of you will like me and grow to hate me and vice versa depending on what I write. So I figured now is as good a time as any to figure out where you stand by telling you a little about myself and what I believe in.
First off, I am against the notion that a team that was born in Oakland and spent all but 13 of its 60 years in existence there represents this city in any way. I don't expect Raiders fans in Los Angeles to stop cheering for their team just because Los Angeles now has two NFL teams but the Raiders deserted L.A. 25 years ago and have had nothing to do with this city since moving back to Oakland. Please stop acting like a Bay Area team that was trying to share the same stadium as the dreaded San Francisco Giants this year represents Los Angeles. They don't and neither does any other team from the Bay Area.
*********
The NFL in Los Angeles will be a success. Whenever you leave a market for 21 years and lose an entire generation of fans, the success of the team (or teams) coming into the market will always be a long-term play. The Rams will be fine. They averaged 72,995 at the Coliseum through their first three seasons back and are building a strong fan base. For those who think Los Angeles is a "Raiders town," the Silver and Black averaged 51,013 at the Coliseum in their last three seasons in L.A.
**********
I wish the Chargers had found a way to stay in San Diego. Not only do I think that's where they belong after being there for 56 years but it gave me and so many others an excuse to make the trip down to one of the most beautiful cities in the country every fall. That said, I'm going to give the Chargers a fair shake in Los Angeles. This is a city of transplants and who am I to tell the Chargers, who were born in L.A., to get out of town? They came here to find fame and fortune like so many before them. Sure, the odds might be against them and they might be staying at someone else's house while they struggle to find new friends in a new city but as long as they're paying rent and working hard, they deserve a chance.
********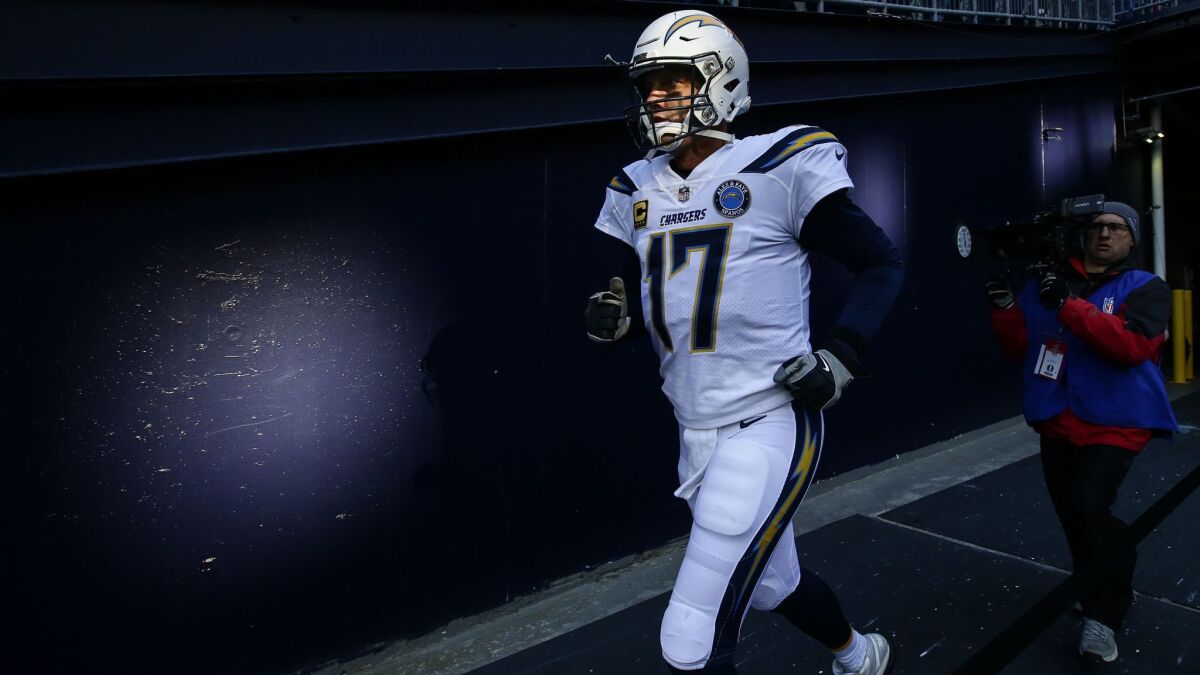 Speaking of San Diego, the Clippers moved to Los Angeles from San Diego 35 years ago. For Lakers fans still calling for them to move back, that would be almost 30 years longer than their brief stint down south. The Clippers are a part of the Los Angeles sports fabric at this point. If you're younger than 40, you've only known a Los Angeles with the Clippers. You don't have to like them if you're a Lakers fan but I'd love to see the city embrace this rivalry instead of pining for the other team to relocate.
********
The best professional sports rivalry in the city is in Major League Soccer with LAFC and the Galaxy. There is a clear A side and B side with the NBA, NFL, MLB and NHL teams that reside in the Southland and I would have expected the same in MLS with an expansion team coming into a region occupied by a franchise that has won a league-best five MLS Cups but LAFC has carved out a solid fan base and there might not be a more passionate bunch than the "3252" at Banc of California Stadium. The only criticism I have of LAFC fans is when they claim the Galaxy play in Carson and not L.A. Carson, just like Long Beach, Inglewood, Compton, Santa Monica and others are part of Los Angeles County. You don't need to live in Downtown L.A. to be in L.A. and the Galaxy have lived in L.A. since 1996.
*********
I love that Los Angeles sports fans don't settle for mediocrity or blindly throw money at a bad product as if it is their civic responsibility like they do in other cities. You don't have to pay the teams you support as if it's your rent. No one's going to evict you or repossess your Nick Van Exel jersey if you don't like the current product on the floor and choose to spend your time and money on other things. Other cities label this as "fair weather." I call it smart. Los Angeles sports owners know they need to produce a good product if they want to turn a good profit. Sports is the only form of entertainment where having a discerning eye when it comes to spending your disposable income is viewed negatively.
*********
There are only two professional teams in Los Angeles immune to down years. This is and will forever be a Lakers and Dodgers town and every other team is vying to be a distant third. The relationship between those two teams and this community is unbreakable at this point. This may be a fickle town but not when it comes to this city's love affair with the Lakers and Dodgers after what they've done over the last 60 years. The Lakers have played in the NBA Finals 25 times and won 11 titles in Los Angeles while the Dodgers have played in the World Series 11 times and won five titles here. No other pro teams have topped that level of success and therefore no other pro teams in the city are so beloved.
*********
All sportswriters have an inspiration for doing what they do and mine, growing up in L.A., was legendary Los Angeles Times sports columnist Jim Murray, who won a Pulitzer Prize for Commentary in 1990 and was named national sportswriter of the year 14 times. This column is an homage to Murray, whose first column for The Times ran on Feb. 12, 1961.
Get our high school sports newsletter
Prep Rally is devoted to the SoCal high school sports experience, bringing you scores, stories and a behind-the-scenes look at what makes prep sports so popular.
You may occasionally receive promotional content from the Los Angeles Times.