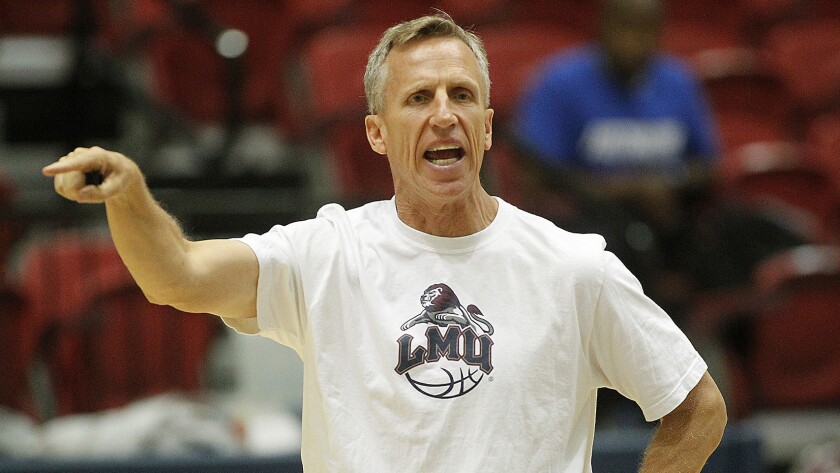 Mike Dunlap lives life as a series of challenges, something of an ongoing self-improvement project. He is a poet, an ultra-marathoner and an aspiring mountain climber who states emphatically that he will make a go at Mount Everest.
Dunlap's coaching career has been a journey to higher knowledge, a search for a moment of clarity. He has coached at small, medium and large colleges, overseas, and recently in the NBA with the Charlotte Bobcats (now Hornets). He has held 12 jobs in 35 years, but continues to seek that moment.
"I'm still on this quest," he says, adding that he hopes it ends where it began, at Loyola Marymount.
"Perhaps his Mount Everest will be here at LMU, trying to turn this program around," said Athletic Director William Husak, who hired Dunlap as basketball coach in March.
It would be a steep climb. Loyola Marymount finished last in the 10-team West Coast Conference last season, and the Lions have not played in an NCAA tournament since 1990.
Dunlap, 57, believes his system, founded on an aggressive press defense, can turn the program around. Foremost, he is a teacher. During practices, he halts the action to pose questions and provide guidance. And discipline often means early morning runs that are notorious among former players.
Michael Jordan was so impressed that in 2012 he hired Dunlap — then an assistant coach at St. John's — to guide the Bobcats.
Dunlap inherited a 7-59 team, improved it to 21 wins, but was fired one year through a two-year contract after the team concluded he was not a good fit. The Bobcats declined comment through a team spokesman, but some players were reportedly unhappy with his intense style. Early on, Dunlap had his team employing a full-court press, which is all but unheard of in the NBA.
The year, Dunlap said, was a failure — and also immensely valuable. Another learning experience.
The day he was fired, Dunlap said, he drank champagne with his wife and decided to devote the next year to his many basketball curiosities. He visited Tom Thibodeau of the Chicago Bulls, Mike Krzyzewski at Duke and Roy Williams of North Carolina.
"He's one of the great question askers," Husak said.
Dunlap was raised in Alaska, staying up past curfew with a Magnavox to his ear, straining to listen to games from the basketball world below.
His father was a doctor who started his clinic in a log cabin in Fairbanks.
"It's a tough place to live over a protracted period of time," Dunlap said. But it gave him a love of life on the margins.
After junior college, Dunlap played one season for Loyola Marymount but was cut after a coaching change. He just kept coming back to practice anyway, though, and was added back to the roster by Christmas of his senior year.
After earning a degree in English, he stayed at LMU as an assistant coach and sought to learn from masters like John Wooden and Pete Newell.
His first head-coaching job came in 1989 at Cal Lutheran in Thousand Oaks, a Division III school where he quickly figured out how to make a big advantage out of a smaller-than-regulation home court: he blasted the heat (blaming a faulty aging furnace) and sweated out opponents with a furious, pressing defense.
After that, he coached professional basketball in Australia for three years, starting in 1994, and then at Metro State in Denver, where he won two Division II national championships (2000 and 2002) in 10 years.
When George Karl offered an assistant's job with the Denver Nuggets in 2006, Dunlap at first resisted. But again, he realized there was more to learn, so he took it.
"Almost every meeting we had he would use a word I'd have to go to the dictionary to find out the definition of," Karl said. "He kind of has a catalog of information that he gets to a lot faster than most assistant coaches."
Husak observed a Metro State practice and decided then he wanted to bring Dunlap back to LMU. But for years the timing never worked.
When the job opened this time, Dunlap listed the reasons he thought the program had been unsuccessful. Are you prepared, he asked Husak, to make changes?
Husak said yes. Dunlap then asked for a long-term contract, and Husak said yes to that too, though neither the coach nor the school would reveal the terms.
Dunlap said he wants to put down roots at LMU. Early on, he has relied on his resume and far-flung personal connections to land international recruits.
"Sometimes we go to the gym and he says, 'This is Michael Jordan's drill,'" said Petr Herman, a freshman forward from the Czech Republic.
As his team worked on an inbounds play at a recent practice, Dunlap told the players, "San Antonio does this better than anyone."
Dunlap explained the philosophy behind each play and scheme. Afterward, he asked scout team players how it felt to play against a new defense.
"A lot of coaches that I've been with, they tell you how to do it, but they don't tell you why you're doing it," said David Humphries, a junior guard from Australia.
The team fell silent during each break in the action. Dunlap is intense and demanding, and a transgression could mean running — often at dawn, and often with Dunlap.
He calls it shared suffering, and it shows both parties must take responsibility.
Dunlap is an avid runner. He has run a 100-mile race through the Sierra Nevada mountains.
"I think somebody challenged him and told him he couldn't do it," Husak said. "And he just decided that he thought he could."
Everest, and the rebuilding projects he seeks, offer similar challenges.
"Why did I coach in the NBA? Because it's hard to do," he said. "And I wanted to see if I could do it.
"Why Everest? Because it's really difficult. That's it."
When he can, Dunlap also writes poetry. He is no Maya Angelou, though, so he toils knowing he won't reach perfection.
It is the process he enjoys. He spends months rewriting, crumpling papers, trimming lines, refining.
In the end, he says he understands himself better.
In that way, his poetry is like his basketball. He adds what he learns to a lifetime of knowledge. Then he moves on to the next poem.
---