Column: Mikey Garcia's pursuit of boxing immortality could take him into dangerous territory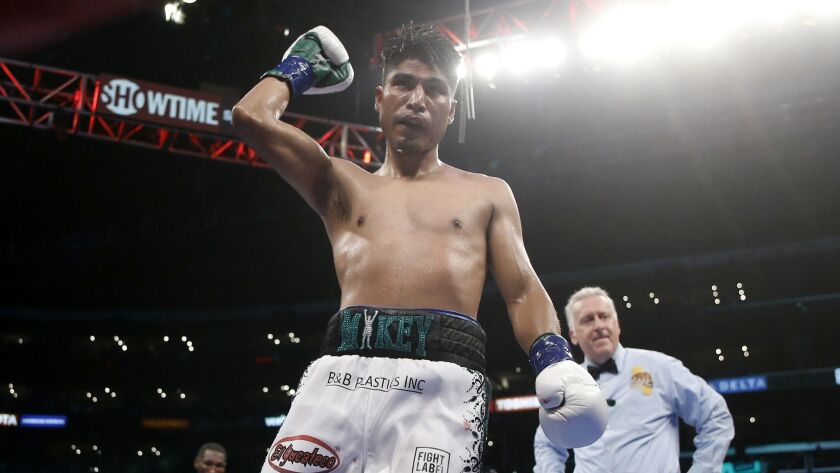 As his older brother wrapped his hands for a training session in their Riverside gymnasium, Mikey Garcia imagined a boxing fan in the distant future naming the greatest fighters in history.
Muhammad Ali. Ray Leonard. Oscar De La Hoya. Manny Pacquiao. Floyd Mayweather.
Garcia added a final name to the list: his own.
Ignore for a moment the hypothetical fan's appalling omissions of Henry Armstrong, Ray Robinson and Roberto Duran. Look past the equally outrageous inclusion of De La Hoya. Focus instead on the scope of Garcia's ambition.
The Oxnard-born Garcia (39-0 with 30 knockouts) is on a quest for boxing immortality.
Asked how he wants to be remembered, Garcia answered unequivocally, "One of the best to ever lace up gloves."
In what has been a dangerous sport, pursuits of greatness have become especially hazardous in recent years, requiring ambitious fighters to scale up weight classes to take on opponents who are larger and stronger than themselves. This reality explains why the 31-year-old Garcia will be fighting 12 pounds above his natural weight class on March 16 to challenge 29-year-old welterweight champion Errol Spence Jr. (24-0, 21 KOs).
Boxers are measured by their opponents. Ali was defined by Sonny Liston, Joe Frazier and George Foreman, similar to how Leonard was legitimized by Wilfredo Benitez, Tommy Hearns and Duran.
But as boxing drifted into the cultural margins and its talent pool diminished to unprecedented levels, the small handful of elite fighters have encountered difficulty in finding similar-sized opponents who share their gifts. With few exceptions — middleweights Canelo Alvarez and Gennady Golovkin come to mind — a fighter today has to move up in weight to find a rival who will give him an opportunity to leave a permanent mark in the sport.
Take Garcia's example. If Garcia isn't the best fighter in the world at any weight class, he's in the top three. He's a four-division champion, but still hasn't encountered an opponent who has forced him to unleash his entire arsenal.
"I know I'm much better than people still think," Garcia said.
Relatively recent stars such as Mayweather and Pacquiao have had the luxury of testing themselves at their natural weight categories, Mayweather against Diego Corrales and Pacquiao against Marco Antonio Barrera, Juan Manuel Marquez and Erik Morales. Mayweather and Pacquiao bulked up in search of more lucrative paydays. Garcia is doing it to prove he is worthy of being mentioned alongside them.
Sign up for our daily sports newsletter »
"I could have taken other fights for the same amount of money," Garcia said. "It has nothing to do with finances. It's legacy."
If Garcia was fighting 30 years ago, he could have established a legacy by taking on fellow lightweights Julio Cesar Chavez, Pernell Whitaker, Jose Luis Ramirez, Greg Haugen and Edwin Rosario. The 135-pound division currently offers Garcia no such competition, save for maybe Vasyl Lomachenko, who has moved up from his more natural 126-pound category for the same reason Garcia will be fighting as a welterweight. Considering that Lomachenko would be the smaller fighter against Garcia, Lomachenko's promoters appear reluctant to make that fight.
"I think it is unfortunate, yes," promoter Richard Schaefer said.
Garcia's brother and trainer, Robert, estimates Spence could outweigh Garcia by 10 to 12 pounds on the night of their fight. This isn't like switching from the Eastern Conference to the Western Conference in the NBA or even moving from Nippon Professional Baseball to the major leagues in the U.S.. This isn't a game. There is a very real risk of permanent damage, or worse.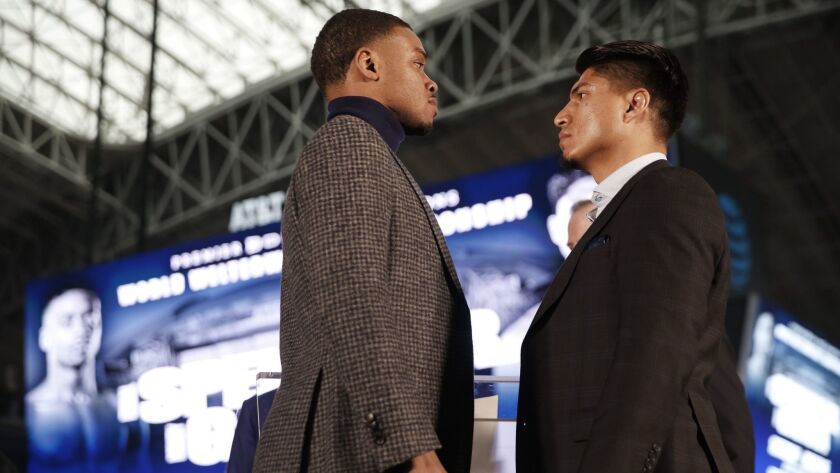 "I still don't think it's a good idea," said Schaefer, who nonetheless made arrangements for the fight to be staged in AT&T Stadium outside Dallas and broadcast on Fox's pay-per-view arm.
The dangers of what Garcia is attempting were on display last year when he defeated Sergey Lipinets to win a version of the 140-pound junior-welterweight championship. Garcia was smaller, but clearly the superior fighter. But as much as Garcia unloaded on Lipinets, he couldn't stop him and settled for a decision victory. Over the 12-round contest, Garcia absorbed some punishing blows from the Russian. The fight demonstrated the reason weight classes exist.
"He was probably the strongest guy I had faced up until then," Garcia said.
Rather than become a reference point for why he shouldn't venture further up, however, that fight convinced him he could take on the hard-punching Spence, who is half a head taller than Garcia and has knocked out 21 of his 24 opponents.
Garcia was reluctant to acknowledge that the absence of competition at 135 pounds is what forced him to fight at 147 pounds.
"I think a big trend started with Manny Pacquiao moving up so many weight classes, and other reporters or analysts won't give credit to a certain fighter unless he moves up in weight because they compare everything to Manny Pacquiao or De La Hoya or Mayweather," he said.
Garcia mentioned how some fighters in previous eras created legacies by dominating a weight class for an extended time. What he neglected to say was that those long-reigning champions encountered superior opposition than what would be possible today.
Reminded how much deeper every division was 30 years ago, Garcia replied, "I know."
"Look, times change. Also, a fighter's goals change," Garcia said. "At one time, when I was first starting, when I was first champion, I wanted to be undisputed champion so I could hold all the belts and no one else could say they were champion. Then you realize the boxing business, the politics, get involved and it's not very likely you can accomplish all that. So your goals change. And you want to move up weight class. Then you want to fight for a different title.
"Every fighter has a different agenda. Every promoter has a different agenda for their fighter. Every manager has a different agenda. So things change all the time."
Have they ever. In another time, his burden would have been to take on the likes of Duran. Today, in order to prove he is a great lightweight, Garcia has to defeat the consensus No. 1 welterweight in the world.
What Duran accomplished over his seven-year reign as lightweight champion was more difficult. What Garcia is attempting to do is more dangerous.
Follow Dylan Hernandez on Twitter @dylanohernandez
---
Get the latest on L.A.'s teams in the daily Sports Report newsletter.
You may occasionally receive promotional content from the Los Angeles Times.