In baseball, buying American can be cheaper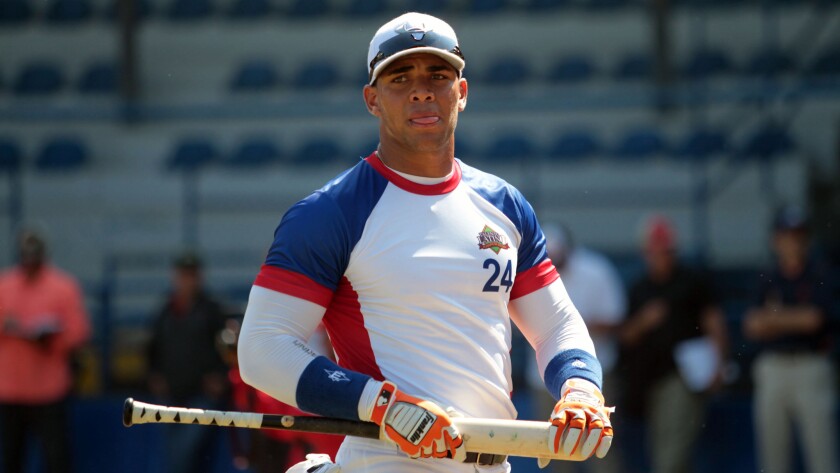 Dansby Swanson, selected by the Arizona Diamondbacks with the top pick in last week's baseball draft, is 21. The signing bonus recommended for Swanson by Major League Baseball: $8.6 million.
Yoan Moncada was 19 when the Boston Red Sox signed the Cuban infielder in February. His bonus: $31.5 million.
The Moncada signing rankled small-market teams, irritated that a financial powerhouse could afford not only the high bonus but also the 100% tax — roughly doubling the total cost — that went with it.
The deal also angered major league players, aggravated by a system in which an amateur player can add millions to his bonus simply because he was born outside the United States.
"It's not right that a Cuban 19yr old gets paid 30m and the best 19yr old in the entire USA gets prob 1/6th of that," Tampa Bay Rays pitcher Drew Smyly wrote on Twitter. Smyly later said he was criticizing the system, not Moncada or the contract he got.
Baseball introduced its draft in 1965 — Dodgers broadcaster and former outfielder Rick Monday was the first pick of the first draft — as a way to curb bidding wars and allow each team a fairer shot at high school and college talent. In recent years — in concert with the players' union — baseball has limited how much each team can pay its draft picks each year.
The league assigns each pick — or "slot" — a recommended value. The team can sign a player for more than slot value but must make up for that by signing other players for less. Otherwise, the league assess fines and/or the loss of draft picks.
Commissioner Rob Manfred has advocated extending the draft to cover players such as Moncada, and the owners are expected to propose an international draft next year, when they negotiate a new labor agreement. The union does not represent amateur players, but changes to the draft must be negotiated because free-agent compensation involves draft picks.
Scott Boras, the agent whose draft-defying strategies prompted much of the push to limit spending on amateur players in the United States, wondered how owners could claim to implement a worldwide draft.
"Is it the Venezuelan and Dominican draft?" Boras said.
The draft currently covers high school and college players in the U.S., Canada and Puerto Rico. Mexican amateurs generally are signed though arrangements with Mexican League clubs, and Japanese and South Koreans almost always sign with a pro club in their home country before considering a contract with an MLB club.
Ben Badler, the international baseball expert at Baseball America, said it is not known whether the Cuban government would allow Moncada or other teenagers to participate in an international draft.
"They're still going to want to keep their league up and running," Badler said.
It also unclear whether all baseball executives want an international draft, even if their owners might enjoy the cost savings.
Dayton Moore, the general manager of the small-market Kansas City Royals, said he and his scouts relish the opportunity to uncover a raw player and sign him immediately. The Royals signed catcher Salvador Perez from Venezuela for $65,000 and ace Yordano Ventura from the Dominican Republic for $27,000, he said.
"It's great motivation for your scouting staff," Moore said. "I don't feel like we get beat on evaluation of talent. I don't feel like we get beat on work ethic. I don't feel like we get beat in the home [visit].
"Economically, it's hard to compete and win in some of these negotiations. But we don't want to make excuses for our market. If someone else signs Moncada, good for them."
However, until a kid from San Pedro, California, can make the same as a kid from San Pedro de Macoris in the Dominican Republic, there is the appearance of inequity.
"I see both sides," Dodgers pitcher Brandon McCarthy said. "We haven't really pushed that as a union. That's sort of the bed we've made.
"But you can see it's annoying. A superstar American kid has a slotted draft bonus and an international kid makes a decent big-league contract straight away."
In 2009, before baseball limited how much owners could pay drafted players, Stephen Strasburg came out of San Diego State as one of the most decorated pitchers in college history. The Washington Nationals signed him for $15 million, the most money guaranteed to a drafted player.
Strasburg could have received much more if he could have negotiated with any team, not only the Nationals, who obtained exclusive rights by drafting him. In January, the Nationals spent $210 million on free-agent pitcher Max Scherzer.
Scherzer, 30, earned his deal by pitching well for seven seasons in the major leagues. But Strasburg might have been a better investment at 21, when the Nationals signed him out of college. Statistics show players generally are most successful in their 20s, not their 30s, but Strasburg was not a free agent.
"Can you imagine what he would have gotten?" Dodgers ace Clayton Kershaw said. "He would have got what Scherzer got."
Twitter: @BillShaikin
---
Get our high school sports newsletter
Prep Rally is devoted to the SoCal high school sports experience, bringing you scores, stories and a behind-the-scenes look at what makes prep sports so popular.
You may occasionally receive promotional content from the Los Angeles Times.