Reporting from wimbledon, england —
It's a Wimbledon weekend for the ages — and the ageless.
Roger Federer and Serena Williams, both 37 and born 49 days apart, are headed back to their respective singles finals and further etching their names into the tennis history books.
Williams, who has won seven Wimbledon singles titles, will play Simona Halep on Saturday.
But Friday belonged to Federer, as he defeated longtime rival Rafael Nadal in a stirring four sets, pumping his arms to the pristine blue sky like pistons as the Spaniard's last shot sailed long. The final tally in the three-hour match: 7-6 (3), 1-6, 6-3, 6-4.
"I won a lot of the important points in the third and fourth sets," Federer said. "There were some brutal rallies in key moments that went my way. I think those might have made the difference today."
Federer, playing Nadal at Wimbledon for the first time since their legendary 2008 final, will play defending Wimbledon champion and No. 1-ranked Novak Djokovic in the final Sunday.
Djokovic advanced earlier in the day with a similarly grueling victory over another Spaniard, Roberto Bautista Agut, 6-2, 4-6, 6-3, 6-2.
"Federer, we all know how good he is, but especially here," Djokovic said of the eight-time Wimbledon champion. "This surface complements his game very much. He loves to play very fast. Takes away the time from his opponent. Just doesn't give you any same looks. He just rushes you to everything."
No two men have met each other more in major championships than Federer and Djokovic, who will square off for the 16th time. They have no secrets.
Serena Williams will play Simona Halep in Wimbledon final »
"I think the moment you've played somebody probably more than 15 times, especially in recent years also a few times, there's not that much more left out there," Federer said.
"At the end of the day, it comes very much down to who's better on the day, who's in a better mental place, who's tougher when it really comes to the crunch."
The capacity crowd at Centre Court was spent after edge-of-your-seat rallies in virtually every game, and overspent as limited tickets available on the open market were going for $7,500 or more.
The Royal Box was filled with celebrities such as actors Hugh Grant and Jude Law, golfers Nick Faldo and Gary Player, and Bear Grylls, star of the reality show "Man vs. Wild."
The latter was especially appropriate because this was a match of survivalists.
It was grace versus grit as the balletic Federer and the tireless Nadal, a bundle of raw intensity, slugged it out from the baseline, leaving everyone in the venue breathless. During the quiet moments between points, spectators would randomly pierce the silence with calls of "Go Rog!" and "Go Rafa!" — a new spin on R&R for two friends, rivals, and giants of the sport.
"I didn't receive well today," Nadal said. "When that happens, he's in advantage. He's in control of the match."
Federer, who improved to 12-1 in Wimbledon semifinals, has achieved his 31st Grand Slam final and has extended his lead atop the all-time list for most finals appearances in men's singles for a Grand Slam tournament.
Wimbledon is Federer's most successful Grand Slam event in terms of titles won (eight), matches won (101), and finals reached (13). Pete Sampras and Boris Becker are second with seven appearances
Federer is bidding to become the second player to win nine singles titles. Martina Navratilova is the only person to have achieved that milestone, winning nine singles titles between 1978-90.
What's more, at 37 years, 340 days, Federer aims to become the first man in the Open era to win five Grand Slam titles after turning 30. He's currently tied with Rod Laver, Ken Rosewall, and Nadal, all of whom have four.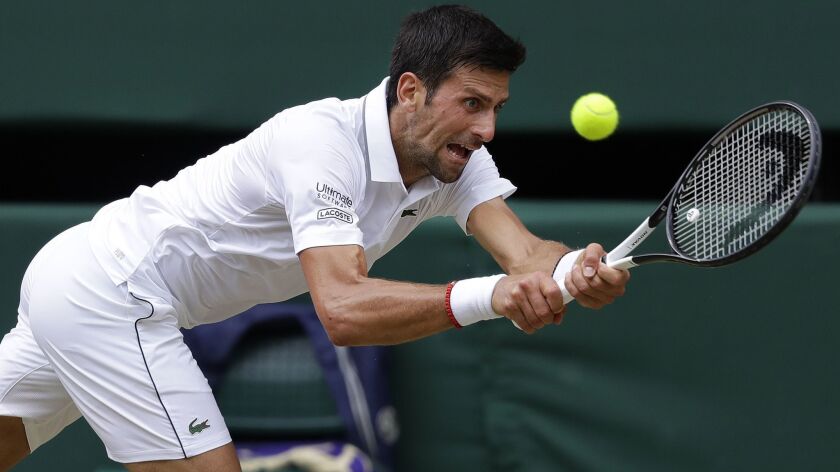 Asked how difficult it is to recover in time for Sunday, Federer conceded: "Age kicks in."
"I know it's not over yet," he continued. "There's no point to start partying tonight or get too emotional, too happy about it, even though I'm extremely happy … If it was the end of the tournament, it would be very different right now. I'd be speaking very different, feeling very different. There is, unfortunately or fortunately, one more."
Nadal still holds a 24-16 overall record against Federer, including 10-4 in Grand Slam events.
"I think at the end of the match, I started to play much better, no? But was late …," Nadal said. "I think he played aggressive, he played a great match, and just well done for him."
After his post-match news conference, Nadal made his way to a corner of the room to quietly thank some behind-the-scenes Wimbledon workers. It was a simple but respectful gesture. He figures to be back, but he clearly understands how hard it is to get that far.
---