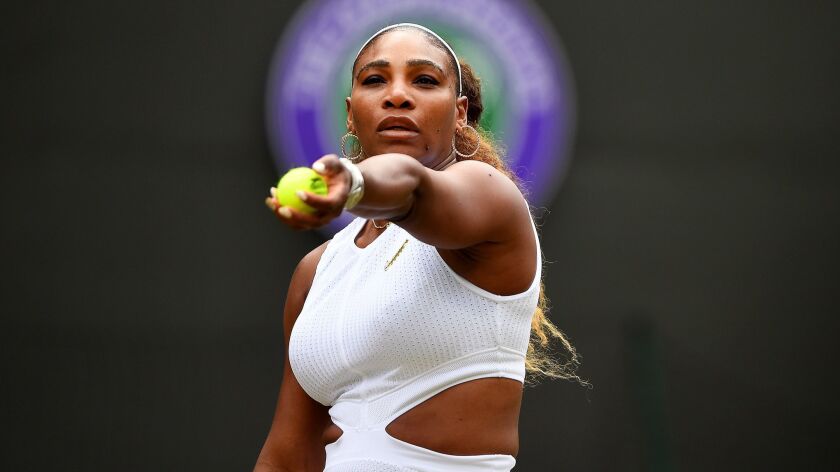 Reporting from wimbledon, england —
Serena Williams starts with a fury — witness her sizzling serve — but lately has finished with a whimper.
That's how it has been on the biggest stages in the past year, with meek finales, meltdowns, or medical issues in each of her last four major championships.
Yet again, a record-tying 24th Grand Slam title is within reach.
"Now, I'm in a different place," said Williams, who Saturday will play Simona Halep in the Wimbledon women's singles final. "I'm just more calm."
It's obvious why she feels at home. She has won singles here seven times, second to Martina Navratilova's nine, and the only woman with more Grand Slam appearances than Williams' 72 is her sister, Venus, with 83.
Sign up for our daily sports newsletter »
As well as she has played, seventh-seed Halep is making her first appearance in a Wimbledon singles final and is 1-9 against Williams. That hasn't dampened the spirit of the Romanian star.
"I believe that I have my chance to win against her," Halep said. "Of course, I respect a lot what she has done and what she's doing. But now I feel stronger mentally facing her. We will see what is going to happen. It's a big challenge for me."
Halep has to be emboldened by the failure of Williams in recent majors to finish what she had started.
At Wimbledon a year ago, Williams was still recovering from a difficult childbirth. She reached the finals but was easily brushed aside by Angelique Kerber, 6-3, 6-3.
Williams had 24 unforced errors to five by Kerber, and said, "I feel like I have a ways to go."
Two months later, in the finals of the U.S. Open, Williams was outplayed by 20-year-old Naomi Osaka, and was penalized for a coaching violation, smashing her racket, and calling the chair umpire a "thief."
"I went back to L.A. the next day after covering that," recalled ESPN's Pam Shriver, who won 21 Grand Slam doubles titles with Navratilova. "The next four days — at my kids' school, the country club, the market — I've never had an incident in tennis talked about as much as that one was. It was crazy."
At this year's Australian Open, another implosion. In the quarterfinal round, Williams had a 5-1 lead in the third set against Karolina Pliskova and, despite four match points, still wound up losing. She suffered a rolled ankle but never sought the help of a trainer.
Williams battled knee and ankle injuries throughout the spring, and was knocked out of the French Open in the third round by unseeded American Sofia Kenin. It was the earliest exit in a Grand Slam by Williams in five years. She stayed in France for medical treatment.
Because of illness and injury, Williams had played just 12 matches this year heading into Wimbledon. She said she has been feeling better, however, and has rediscovered her legs, which has helped with her serves.
Among women, Williams is the tournament leader in both aces (45) and fastest serve (122 mph).
"The serve is back as a supreme weapon, because I think the knee's not hurting her," Shriver said. "So I think she feels a lot more comfortable on the court knowing that this iconic, greatest weapon in women's tennis is back in a pretty stable place.
"It's the greatest serve in terms of power, placement and disguise. It's like a pitcher: Does he tip his pitches? She doesn't tip her pitches."
It's clear that Williams can start the fight. Now, she's ready to prove once again she can finish it.
---