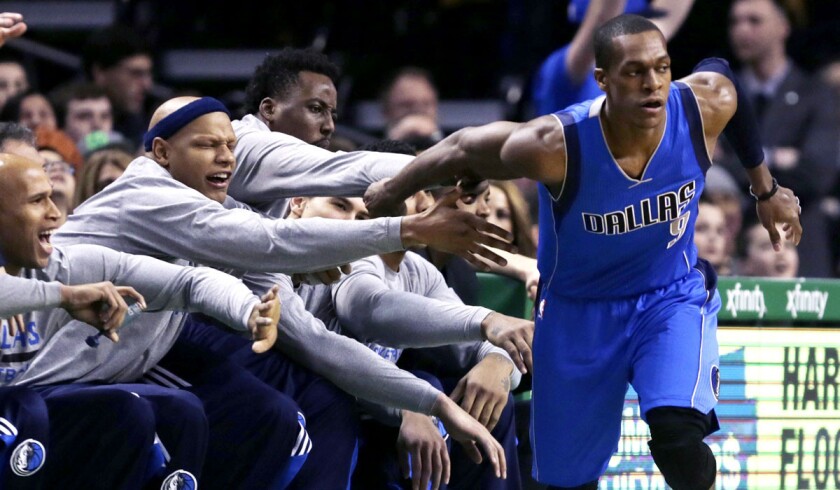 The Boston fans had never seen Rajon Rondo in an opponent's uniform before. They'd never seen a game like this from him, either.
The former Celtics point guard scored a career-high 15 first-quarter points, finishing with a season-best 29 in his return to Boston to lead Dallas to a 119-101 victory Friday night. Rondo also had a career-high five 3-pointers and finished with six rebounds and five assists.
"Obviously, it was a special day," the four-time all-star said after his first game in the TD Garden since he was traded to Dallas last month. "I'm emotionally tired. I'm physically tired, and I'm drained."
Monta Ellis scored 22 points, Dirk Nowitzki added 17 and Tyson Chandler had 16 rebounds to help the Mavericks to their fourth consecutive victory. But the tone was set when Rondo scored Dallas' first 10 points, with the usually weak outside shooter hitting his first four 3-point attempts and his first seven shots in all.
"He obviously had his best game as a Maverick," coach Rick Carlisle said. "It's extremely difficult to come back in this situation and play the way that he did. … He showed a lot of class with the way he played."
--Associated Press
::
Mike Dunleavy Jr. missed his first game since joining the Chicago Bulls in 2013. His consecutive games played streak ended at 115 when a sprained right ankle kept him out of the game Saturday night against the Celtics.
The ankle isn't doing well," said Dunleavy, who sustained the injury in a 106-101 victory over the Denver Nuggets on Thursday. "I hoped to play. I don't know how long it's going to be, but I'm having a tough time with it right now. So it could be a little bit of time.
"I never want to miss a game. But it's really not close right now. I just can't play. It's disappointing. I'm not happy about it but there's nothing you can do except get treatment and try to get better."
--Wire reports
QUOTES OF THE WEEK
Vintage dunk
When 38-year-old Kevin Garnett threw down an alley-oop dunk Monday against Sacramento, his Brooklyn Nets teammates all celebrated. After the game reporters asked Garnett about his ability to still dunk at his age. "Oh stop it," he joked. "Are you serious? Hey listen, I know I am like 150 in dog years. But I can actually dunk the ball. God, do I look that bad out there?"
Three-tweets
Dallas Mavericks forward Charlie Villanueva has been getting a little more playing time, and he has been taking to his Twitter account, @CVBelieve, to talk about his three-point shooting: "Had a conversation with my right hand. I asked how will you do in the 3pt contest? Hand replied, #BelieveinCharlie."
Love fest
For the next two weeks, the Cavaliers are expected to rely on All-Star forward Kevin Love to provide more offense because LeBron James will be sidelined with knee and back injuries. "I think you got to look at this as a glass half full," Love said. "I know that our best player is out, our leader is out, but it's a chance, an opportunity for other players to step up. Myself included."
—Broderick Turner
GAME OF THE WEEK
Chicago at Washington
When: Friday, 5 p.m. PST. TV: ESPN.
It has the makings of another exciting game between two of the NBA's best teams and two of the top young backcourts. It starts with All-Star point guards, Chicago's Derrick Rose and Washington's John Wall, plus two talented shooting guards, Chicago's Jimmy Butler and Washington's Bradley Beal. In the first meeting between the teams last month, Rose had a game-high 25 points, including six of the Bulls' eight points during their winning rally late in the fourth quarter. Wall had 18 points, including 10 when the Wizards scored 12 consecutive points in the final quarter.
—Broderick Turner
---