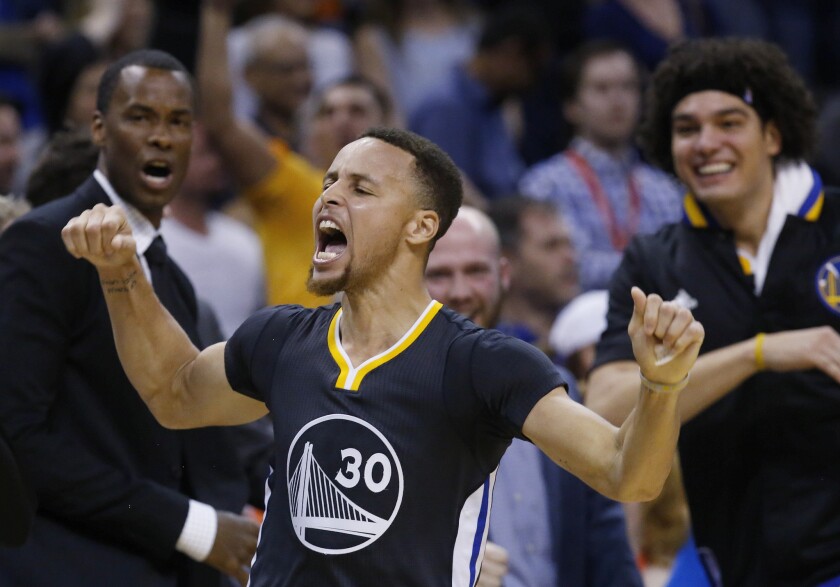 Golden State guard Stephen Curry is listed as questionable for the Warriors' home game with the Atlanta Hawks on Tuesday because of a sprained left ankle.
Curry, who leads the league in scoring at 30.7 points a game, was injured Saturday in a game against Oklahoma City. He missed about six minutes of the game, but returned to hit the winning shot in overtime. He has three straight 40-point games and is considered a heavy favorite to repeat as the league's most valuable player.
Curry's ankle was worse Sunday and he didn't practice Monday. "If I'm good enough to play and not put myself in jeopardy of making this thing nag me for two weeks, three weeks, I'll play," he said.
Etc.
Cleveland Cavaliers point guard Mo Williams will be sidelined for at least the next two weeks with an injured left knee. Williams has been bothered by soreness in his knee for much of the season and did not travel with the team for weekend losses at Toronto and Washington.
::
The San Antonio Spurs signed 39-year-old guard Andre Miller four days after the oldest player on an NBA roster was waived by the Minnesota Timberwolves.
::
Guard Beno Udrih was waived by the Miami Heat, a move that could help the team get back under the luxury-tax threshold. Udrih had surgery to repair a foot injury last week, and is expected to need three months to recover. If he is claimed by another team by Wednesday, the Heat would have the flexibility to add another player in the coming days and still remain below the tax line. If Udrih is unclaimed, a buyout would likely take effect.
---