Some state college basketball coaches share in profits of 'buy' games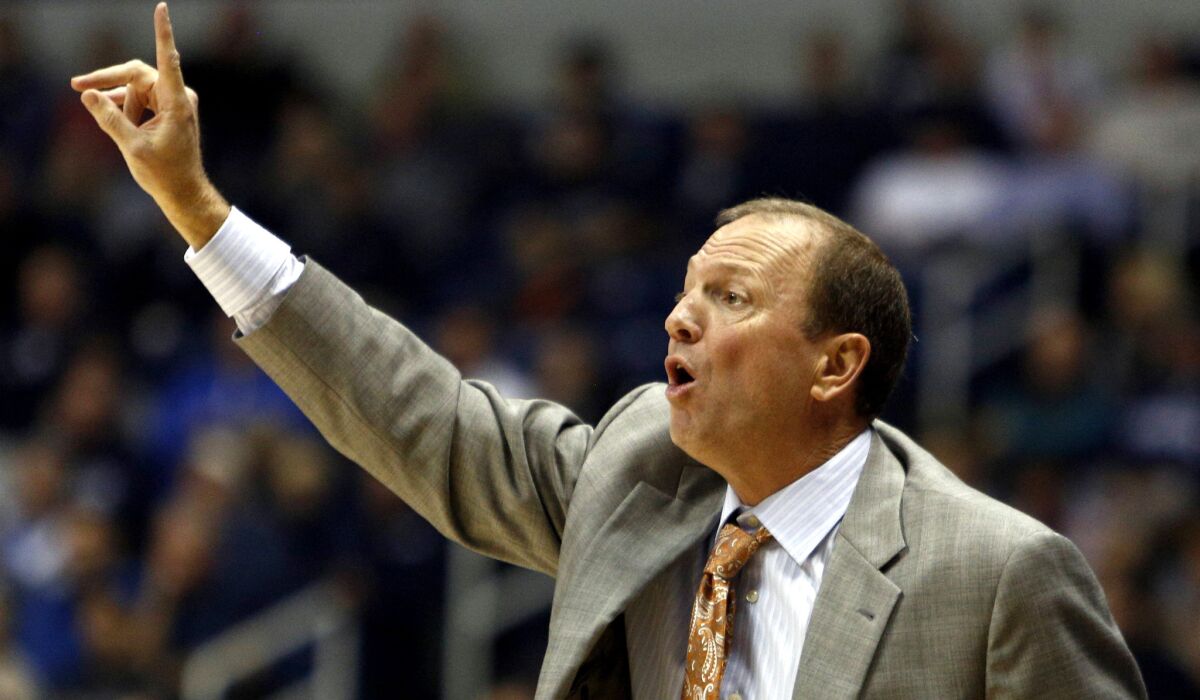 As he looked ahead to the 2011-12 basketball season, Vic Cegles, the athletic director at Long Beach State, had a problem.
His men's basketball coach, Dan Monson, had led Long Beach State to a Big West Conference title the prior season and now Monson was getting job overtures from other schools.
Yet as a state college, Long Beach State couldn't afford the $800,000 or so annual salary needed to keep Monson, who earlier had made his name building the Gonzaga basketball program.
So Cegles came up with an alternative. In addition to Monson's salary, Long Beach State would give Monson a cut of the hundreds of thousands of dollars the 49ers receive each year from other schools that pay to play Long Beach State in nonconference games.
"I just had to find a creative way" to retain Monson, Cegles said. "I can't get additional dollars from the state. We felt he was worth the investment."
Monson's contract is another twist on how some state schools offer contracts with various financial incentives to pad their basketball coaches' salaries. Facing stiff competition for highly regarded coaches but constrained by state budgets, schools such as Long Beach State give the coaches a share of outside revenue to keep them on campus.
The contracts for Cal State Fullerton basketball Coach Dedrique Taylor and UC Irvine basketball Coach Russell Turner, who also compete in the Big West, likewise provide them income related to paid-game revenue. Other schools around the country, such as the University of Rhode Island, have used such revenue to supplement their coaches' salaries.
But Long Beach State is unusual in how it gives Monson such a sizable share of paid-game revenue. And his contract casts light on the little-publicized use of paid games, known in college basketball as "buy" or "guaranteed" games.
Schools with strong teams typically will pay $50,000 to $100,000 to lesser-ranked opponents to play a nonconference game at the stronger school's home venue. (Such games also are scheduled in college football.)
The stronger schools do that to almost guarantee a home victory before their conference play begins, and the weaker schools such as Long Beach State accept the games — even though they often lose — for the added cash and to give their programs added national exposure and a higher standing in the NCAA.
"It's not uncommon for schools to pay coaches a combination of salary and a share of various other revenue streams, whether they're buy games or revenue from apparel sponsors or other revenues," said Mark Levinstein, a lawyer with Williams & Connolly in Washington whose work includes college coaching contracts.
Long Beach State had five buy games this season from mid-November to late December — at Xavier, UCLA, 17th-ranked Texas, Syracuse and 10th-ranked Louisville. The 49ers lost all five games by an average of 16 points, and their overall nonconference record was 6-10.
The games generated $385,000 in revenue for Long Beach State, of which the school kept $100,000 and the remaining $285,000 went to Monson, Cegles said.
Monson's base salary is $341,562 and he has a retention bonus of $110,000. His contract includes other incentives, but his total compensation is capped at $800,000 a year, according to Long Beach State documents that were released after a request from The Times.
By comparison, UCLA basketball Coach Steve Alford earns $2.6 million a year. At USC, Coach Andy Enfield's salary is private like the college, but he's thought to earn more than $1 million a year.
Schools such as Long Beach State "need to find other ways to compensate the coach in order to be competitive and attract a better coach," Levinstein said.
Yet Monson's contract also raises questions about a potential conflict of interest, an issue first reported by the UT-San Diego. Is Long Beach State scheduling buy games based on what's best for the school or based on how much the school and Monson can earn while having their players endure long-distance trips that nearly always result in a loss?
Monson denied there's a conflict. "I feel insulted . . . that I would ever schedule a game for my own personal gain," he said.
"I'm not ashamed of my contract," Monson said. "The school doesn't have the kind of money for a salary to keep up with what other schools maybe are paying and [the contract is] their way of doing that."
Cegles said that "in terms of student welfare, we're not abusing our kids by any means." In fact, he said, "the kids you recruit today, they want to play those [stronger] teams. Playing these games is critical for recruiting."
Monson noted that in Long Beach State's buy game against UCLA, the Bruins paid $45,000 to Long Beach State compared with the $70,000 to $90,000 paid by the other schools this season.
"If I was scheduling games for the pure money of it, I'd get a lot more money going somewhere else besides UCLA," Monson said. "I play that game because that's a great game for Long Beach State. It's a place where all our players grow up wanting to play at."
At Cal State Fullerton, meanwhile, Taylor's contract states the coach gets half of the proceeds of the highest grossing buy game, after deducting the team's travel costs, in addition to his base salary of $200,004. The school declined to disclose those proceeds for Taylor this season, but it probably was $20,000 to $40,000.
"We depend on the revenue that comes in from the buy games to help our budget, so it was a little bit like revenue sharing" with Taylor, Cal State Fullerton Athletic Director Jim Donovan said.
At UC Irvine, Turner earned a $60,000 bonus because the college received at least $210,000 from four buy games this season. His bonus climbs to $100,000 next season if the buy games generate at least $275,000 for the school.
Cegles said playing buy games also helps boost Long Beach State's rating percentage index, or RPI, a measure that helps determine a team's ranking within the NCAA and possible tournament play. "Even if you lose [buy games], your RPI can go up because you're playing a Syracuse, a North Carolina," he said.
Monson agreed that Long Beach State's nonconference games are about "trying to elevate our program by playing the best schedule possible."
But Monson also acknowledged his cut from the school's buy games helps alleviate a concern he had when analyzing whether to coach at Long Beach State or go elsewhere, namely that "I can't lose money taking this job."
Times staff writer Zach Helfand contributed to this report.
Twitter: @PeltzLATimes
---
Get our high school sports newsletter
Prep Rally is devoted to the SoCal high school sports experience, bringing you scores, stories and a behind-the-scenes look at what makes prep sports so popular.
You may occasionally receive promotional content from the Los Angeles Times.