NCAA tournament preview: South Region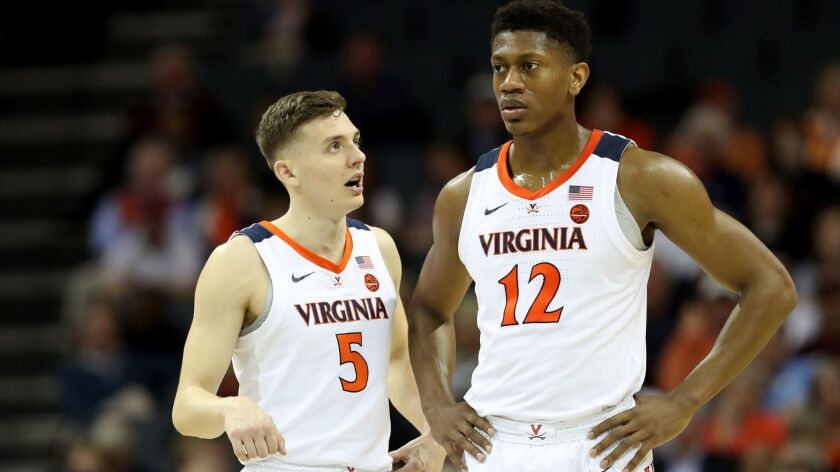 A look at the NCAA tournament's South Regional:
TOP SEEDS
[ 1 VIRGINIA ] Coach Tony Bennett and many of his players still remember last season, when the top-seeded Cavaliers lost to No. 16 seed Maryland Baltimore County in the first round.
[ 2 TENNESSEE ] The Volunteers finally have a team that looks capable of making a run to the Final Four if they can avoid missteps like last season's loss to Loyola-Chicago.
[ 3 PURDUE ] The Boilermakers made it to the Sweet 16 in each of the last two seasons under coach Matt Painter. If guard Carsen Edwards is physically sound, they could go deeper.
[ 4 KANSAS STATE ] The Wildcats feature players who made it to the Elite Eight last year, but star forward Dean Wade is nursing a foot injury that kept him out of the Big 12 tournament.
CINDERELLA SEARCH
In 2015, 13th-seeded UC Irvine lost to No. 4 seed Louisville by two points. This time, coach Russell Turner's 13th-seeded team has chance to get past Kansas State.
TOP PLAYERS
De'Andre Hunter, guard, Virginia
Hunter could not play in last year's tournament because of a broken wrist. The 6-foot-7 swingman averaged 15.1 points this season and was voted Atlantic Coast Conference defensive player of the year.
Grant Williams, forward, Tennessee
Williams, who averaged 19.2 points, was voted the Southeastern Conference player of the year for the second year in a row, the first player since Corliss Williamson in 1995 to achieve that feat.
Carsen Edwards, guard, Purdue
Edwards was among college basketball's top players for two-thirds of the season but slumped down the stretch, possibly because of a back injury. Purdue's early exit from the Big Ten tournament might have given him time to heal.
NCAA tournament preview: West Region »
NCAA tournament preview: East Region »
NCAA tournament preview: Midwest Region »
RIM SHOTS
Gardner-Webb already has won competition for best location: Boiling Springs, N.C. The small school that as a junior college produced Hall of Famer Artis Gilmore is making its first tournament appearance.
Villanova has won two of the last three titles, and the Wildcats are back in the hunt despite losing four players — Mikal Bridges, Dante DiVincenzo, Omari Spellman and Jalen Brunson — to the 2018 NBA draft.
St. Mary's is on a hot streak after upsetting Gonzaga in the West Coast Conference final. Former Gaels player Mahershala Ali also is doing well, having won two Academy Awards in last three years.
HOW THEY MATCH UP
Friday | Columbia, S.C.
16 Gardner-Webb (23-11, Big South champion)
vs. 1 Virginia (29-3, at-large)
Kyle Guy and De'Andre Hunter lead Virginia, which lost twice to Duke and to Florida State. D.J. Laster scored 32 points for Gardner-Webb in the conference tournament title game.
::
9 Oklahoma (19-13, at-large)
vs. 8 Mississippi (20-12, at-large)
Breein Tyree and Terence Davis lead a four-guard offense under first-year Ole Miss coach Kermit Davis. Christian James and Kristian Doolittle are top players for Oklahoma.::
Friday | San Jose
12 Oregon (23-12, Pac-12 champion)
vs. 5 Wisconsin (23-10, at-large)
Ethan Happ leads Wisconsin, which returns after missing the tournament last year for the first time since 1998. Oregon's Payton Pritchard scored 16 points in the Pac-12 title game.
::
13 UC Irvine (30-5, Big West champion)
vs. 4 Kansas State (25-8, at-large)
Kansas State star forward Dean Wade might be doubtful because of a foot injury. Irvine guard Max Hazzard and forward Jonathan Galloway lead Anteaters, who have won 16 in a row.
::
Thursday | Hartford
11 St. Mary's (22-11, West Coast champion)
vs. 6 Villanova (25-9, Big East champion)
Villanova guard Phil Booth and forward Eric Paschall are tournament veterans. Guard Jordan Ford leads St. Mary's, which upset Villanova in the second round in 2010.
::
14 Old Dominion (26-8, Conference USA champion)
vs. 3 Purdue (23-9, at-large)
Guard Carsen Edwards, who averages 23.5 points, is the top player for Purdue. Guard B.J. Stith averages 16.9 points for Old Dominion, making its first appearance since 2011.
::
Friday | Columbus, Ohio
10 Iowa (22-11, at-large)
vs. 7 Cincinnati (28-6, American Athletic champion)
Guard Jarron Cumberland averages 18.4 points for Cincinnati, which is playing about 100 miles from campus. Point guard Jordan Bohannon and forward Tyler Cook lead Iowa.
:
15 Colgate (24-10, Patriots League champion)
vs. 2 Tennessee (29-5, at-large)
Grant Williams and Admiral Schofield lead Tennessee, which lost to Auburn in the SEC title game. Rapolas Ivanauskas, a 6-foot-10 forward, helped Colgate win 11 in a row.
---
Get the latest on L.A.'s teams in the daily Sports Report newsletter.
You may occasionally receive promotional content from the Los Angeles Times.