NCAA tournament preview: Midwest Region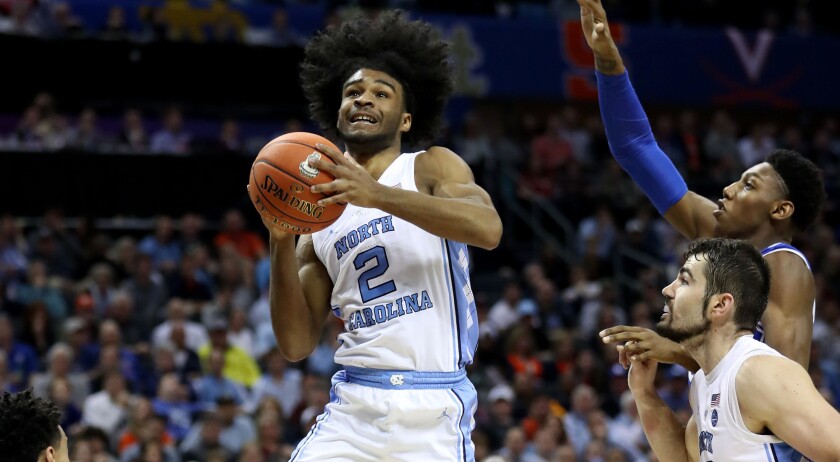 A look at the NCAA tournament's Midwest Regional:
TOP SEEDS
[ 1 NORTH CAROLINA ] The Tar Heels play at one of the fastest paces in the country with freshman point guard Coby White (16.3 points, 4.1 assists per game) running the show.
[ 2 KENTUCKY ] Stanford graduate transfer Reid Travis combines with youngsters PJ Washington, Nick Richards and EJ Montgomery to give the Wildcats one of the top frontcourts in America.
[ 3 HOUSTON ] The Cougars earned their highest seed after going 16-2 in the AAC and getting quality nonconference wins against Louisiana State, Utah State and Oregon.
[ 4 KANSAS ] It's the first time since 2009 that the Jayhawks are not a No. 1 or No. 2 seed. Their 14-year streak of Big 12 titles ended after losing top players Udoka Azubuike and Lagerald Vick.
CINDERELLA SEARCH
The Wofford Terriers are the highest-seeded Southern Conference team since Appalachian State was a six seed in 1979, and they are dangerous. They make 41.6% of their three-point attempts, ranking second in the country.
TOP PLAYERS
Dedric Lawson, forward, Kansas
The 6-foot-9 forward can play inside and outside. He's averaging a double-double with 19.1 points and 10.3 rebounds in his first year of eligibility after transferring from Memphis.
Fletcher Magee, guard, Wofford
The two-time Southern Conference player of the year already passed Stephen Curry and JJ Redick on the all-time three-pointers made list. He needs three more to break the record held by Oakland's Travis Bader.
Matisse Thybulle, guard, Washington
His father calls him "the angel of chaos" because of his disruptive nature on the court. The Pac-12 defensive player of the year is the first Division I player in 20 years with 100 steals and 70 blocks in a season.
NCAA tournament preview: West Region »
NCAA tournament preview: South Region »
NCAA tournament preview: East Region »
RIM SHOTS
Mountain West player of the year Sam Merrill of Utah State might be the most dynamic guard you've never heard of, averaging 21.2 points and 4.2 assists while making 90.7% of his free throws.
Four of the 16 teams enter with double-digit win streaks, topped by Wofford's 20 consecutive victories that stretches to Dec. 19.
Ohio State lost seven of 10 to close out the season, but three consecutive losses came with forward Kaleb Wesson suspended. He was the team's top scorer in 16 of the first 26 games but none of the final seven.
HOW THEY MATCH UP
Friday | Columbus, Ohio
16 Iona (17-15, Metro Atlantic Athletic champion)
vs. 1 North Carolina (27-6, at-large)
The Gaels have won 10 in a row after a 7-15 start, but earning No. 11 will be much more difficult against a Tar Heels team that averages 86.1 points.
::
9 Washington (26-8, at-large)
vs. 8 Utah State (28-6, Mountain West champion)
First-year coach Craig Smith led the Aggies to their first Mountain West championship and a return to the NCAA tournament for the first time since 2011.
::
Thursday | Salt Lake City
12 New Mexico State (30-4, Western Athletic champion)
vs. 5 Auburn (26-9, Southeastern champion)
The Tigers have one of the top backcourts in the country with Jared Harper and Bryce Brown. They face an Aggies team that rotates 13 players.
::
13 Northeastern (23-10, Colonial Athletic champion)
vs. 4 Kansas (25-9, at-large)
Kansas has to defend the three-point arc to avoid an upset. Northeastern shoots more than 25 three-pointers a game. Four Huskies made 55 or more from deep this season.
::
Friday | Tulsa, Okla.
14 Georgia State (24-9, Sun Belt champion)
vs. 3 Houston (31-3, American Athletic champion)
The Panthers look to repeat 2015 when they upset No. 3 seed Baylor. They'll need to get leading scorer D'Marcus Simonds out of a shooting slump.
::
11 Ohio State (19-14, at-large)
vs. 6 Iowa State (23-11, Big 12 champion)
The Cyclones are a potential bracket buster because of their fickle nature. They are 6-3 against top 25 opponents, but also lost to bad West Virginia and Arizona teams.
::
Thursday | Jacksonville
10 Seton Hall (20-13, at-large)
vs. 7 Wofford (29-4, Southern champion)
The region's most intriguing first-round game features a battle between shooting guards Fletcher Magee (Wofford, 20.5 points per game) and Myles Powell (22.9).
::
15 Abilene Christian (27-6, Southland champion)
vs. 2 Kentucky (27-6, at-large)
Two Wildcats programs with much different NCAA tournament histories: Kentucky has eight national titles in 58 appearances; Abilene Christian makes its first appearance.
---