Column: MVP John Scott and new format win praise at NHL All-Star game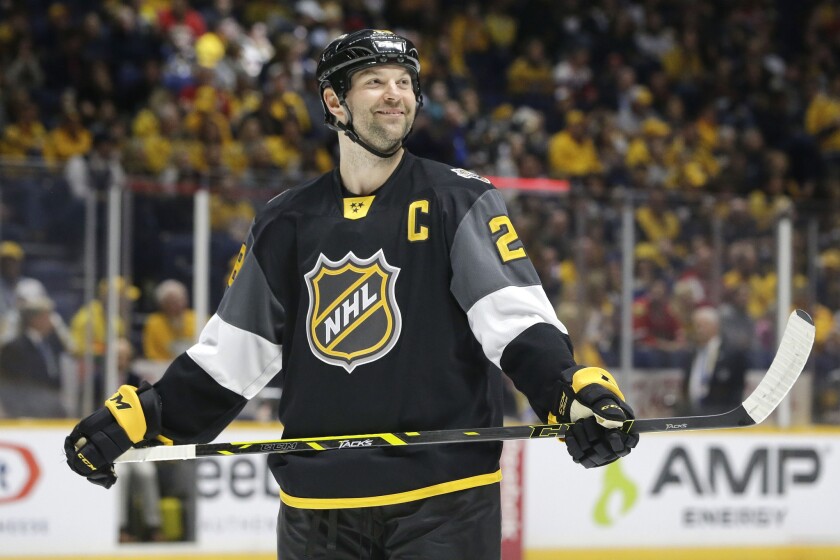 from NASHVILLE —
The least likely All-Star was voted the most valuable player of the NHL's first venture into three-on-three play at its midseason showcase, proving that the worst intentions can sometimes have an unimaginably good outcome.
A ride that began when enforcer John Scott was jokingly promoted as the Pacific Division captain in fan voting ended Sunday with Scott hoisted on players' shoulders while the crowd at Bridgestone Arena chanted "MVP!" in his honor. Scott, who had declined requests from the NHL and Arizona Coyotes to withdraw — and wasn't sure he'd play after he was traded to Montreal and sent to the minor leagues — won a car in fan balloting and the respect of teammates and opponents after the Pacific Division defeated the Atlantic, 1-0, to win the mini-tournament and split a $1-million prize.
"We wanted to win for him," said Ducks right wing Corey Perry, who scored the only goal in the finale, on a setup from Daniel Sedin. "It was great. Everything that happened this weekend and what he went through, to have him here, that was tremendous. He really enjoyed it and I think the fans really embraced it."
If Scott was chosen as a joke because of his five goals and 542 penalty minutes in 285 NHL games, his class and on-ice effort turned a potentially ugly situation into a heartwarming story. It's no wonder he had difficulty getting his arms around all that had happened.
"It still really hasn't sunk in," said Scott, who was set up by sympathetic teammates for two goals in the Pacific squad's preliminary game, a 9-6 decision over the Central Division. "This is probably one of the better weekends of my life."
His emergence as a folk hero was as enjoyable and unbelievable as the NHL finding an entertaining format that pleased players, fans and coaches.
Teams representing the Metropolitan and Atlantic divisions faced off in the first 20-minute, three-on-three game, and they were tentative while they figured out how to pace themselves. The Atlantic rallied to win, 4-3, on goals by Florida's Aaron Ekblad and Montreal's P.K. Subban.
The pace picked up in the other preliminary game. Scott scored twice in the Pacific squad's 9-6 win, both times assisted by former San Jose teammate Brent Burns. Kings goaltender Jonathan Quick and Ducks goaltender John Gibson each gave up three goals on a total of 17 shots. Kings defenseman Drew Doughty scored an empty-net goal in the game, which set up the Pacific-Atlantic matchup in the finale.
Overall, the new format won players' praise. "It was more competitive than in a five-on-five All-Star game. As we were moving the puck around and having fun it was pretty fun to play," said forward Claude Giroux of the Philadelphia Flyers and the Metropolitan Division.
Goalie Cory Schneider of New Jersey and the Metropolitan team agreed. "I thought it was probably a little more competitive than in past years," he said. "I think it fits well… It's more speed and wide open. I felt like we were playing the same game we play during the regular season, which is what they wanted. So hopefully the fans are enjoying it.
"Maybe we need more goal-scoring. We'll go to two-on-two next year."
Let's not go that far.
Once players got the hang of things and began to sniff a prize of almost $90,000 each, their intensity increased. "The first game was more fun, and when guys make it to the finals you want to go out there and put your best foot forward," Gibson said. "You don't want to come all this way for nothing, so you try maybe a little harder than in the game leading up to that."
That was clear in the finale, in which Quick made 10 saves and Gibson made seven. And for once, Kings and Pacific Coach Darryl Sutter smiled about a goal by Perry of the rival Ducks.
"That was a pretty good trio there, Drew and Daniel and Corey," said Sutter, whose son, Christopher, helped behind the bench and gave Scott a huge hug afterward.
"Once you get to that last period, it's hard for the guys. I think the pace was really good for the league and you've got to give all the players in the game a lot of credit for that. I think this was really good. It was awesome."
For Doughty, the style was nothing out of the ordinary. "It was just kind of a typical Pacific Division win, to score a goal and then shut the other team down after that," he said, laughing.
Doughty and his teammates quickly left for a flight to Los Angeles for practice Monday and a game at Arizona on Tuesday, but Scott isn't sure what's next for him besides the imminent birth of twins to him and his wife, Danielle. "I don't know if this changes anything for me as far as my career," he said. "I hope it does."
As the NHL learned, sometimes change can be good.
Twitter: @helenenothelen
---
Get the latest on L.A.'s teams in the daily Sports Report newsletter.
You may occasionally receive promotional content from the Los Angeles Times.