UC Irvine carries the pressure of being Southland's only team in NCAA tournament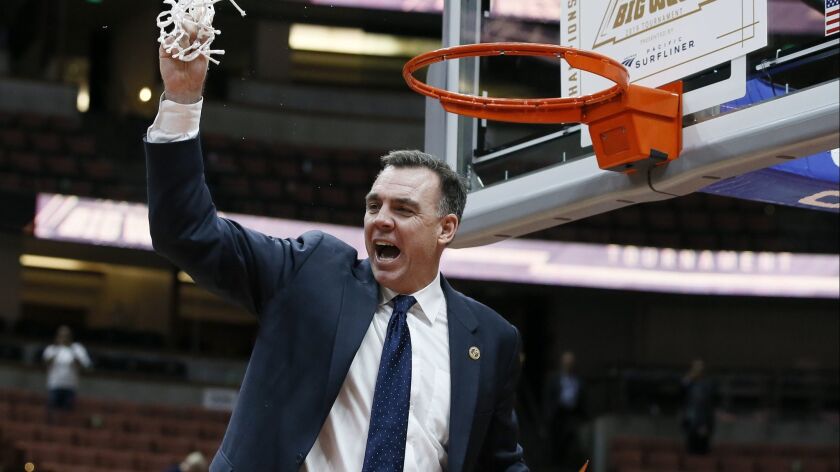 They are one of only five teams in America to have won as many as 30 games.
They're in the NCAA tournament, which is more than UCLA can say. And USC. And Stanford and Cal too.
They are just one of two teams from California to advance, and they beat the other — St. Mary's — on the road in late November.
"It did occur to me a few weeks ago that we might be the best team in the state," said Russell Turner, coach of the UC Irvine Anteaters. "Not wanting to brag about it, but maybe we should make a big belt that I can wear around until someone can take it from us."
There's as much pride as there is passion in Turner's voice, and both are as genuine as the hoarseness with which he speaks.
This is a man who believes in his players and his program so unfailingly that the Anteaters could sit at the top of any bracket arranged by confidence, even as they enter the tournament as a No. 13 seed.
Last week, Turner characterized his team's status relative to California's four Pac-12 entrants thusly: "At this stage, we're clearly better."
On Sunday, after Irvine learned it would be facing fourth-seeded Kansas State on Friday in San Jose, Turner was asked by a school booster about the Wildcats and their injured big man, Dean Wade.
The two-time all-Big 12 first-team player recently has been slowed by a foot problem, his availability for the game in question.
"When he sees (Irvine forward) Jonathan Galloway," Turner said, "his foot is going to start hurting more."
The coach laughed and, noticing a reporter standing nearby, crowed with delight, "Write that!"
The words — delivered in full rasp — sounded more animated than arrogant, Turner, a day later, in the quiet of his second-floor office, praising the Wildcats and noting that their coach, Bruce Weber, has been to the national title game — with his Illinois team falling to North Carolina in 2005.
If he is guilty of anything, it's of being overwhelmingly sold on his players and the 16-game winning streak they've built on defense, rebounding and unselfishness. Turner and the Anteaters simply are convinced.
Cinderella might have a slipper made of glass. But this one also has a belief made of iron.
"I do have confidence in our players, in our program, in our staff," Turner said. "I believe you've got to have an edge that you create to perform at your highest level. I'm OK with doing a thing or two to create that.
"It could come back and bite us, I guess. When I started talking about us being the best team in California, that took some [guts] too. But here we are. Maybe we even gain some energy from that, some confidence from that.
"A lot of people hold themselves back by not believing. I'd rather make the mistake of believing too much in who we are and the guys we have.
"In the position I'm in and the position our players are in, you know, we could go get blown out in this tournament. But, on the flip side of that, we could go out and do something really special."
Turner, 48, is in his ninth season at Irvine, his first head coaching job. He previously was an assistant, most notably at Wake Forest and Stanford and then with the Golden State Warriors.
Before he arrived, UC Irvine had produced five 20-win seasons dating to the mid-1960s. Turner's Anteaters have won at least 20 games in six of the past seven years.
They're about to appear in their second NCAA tournamentver, the other coming under Turner in 2015, when they went to Seattle and, as a No. 13 seed, lost in the final minute to Louisville 57-55.
Sign up for our daily sports newsletter »
"There was just elation back then for having done something that was made to feel impossible or cursed or something," Turner said. "Now, I think we feel like this is what we can do and really could and should do.
"That's one of the best things I feel about my time here. We've changed the mentality toward our program, the perception and mentality. We've been able to sustain some success. That's hard."
On the back wall of his office, sitting over his right shoulder, there's a photo of Steph Curry surrounded by Turner's first team at Irvine. It was taken in the locker room following a victory.
Curry, who, at the time, was 22 and not yet Steph Curry, was in town for a Warriors game against the Lakers. He drove down to see one of his old Golden State assistants.
Lightly recruited out of high school, Curry played collegiately on the Davidson team that rode magic and his scoring to the 2008 Elite Eight.
Turner hung the photo as an eye-catcher for recruits and a reminder of the potent blend that is hope and hard work.
This week, Curry's grinning face looks down and offers even more.
"He got better than anyone ever imagined and became the best player in the world," Turner said. "Every guy we've got has that same dream. We're now in the same place as a team. We've earned our opportunity to compete on this stage. If we can go out and capture the moment, who knows what we could do?"
Twitter: @JeffMillerLAT
---
Get the latest on L.A.'s teams in the daily Sports Report newsletter.
You may occasionally receive promotional content from the Los Angeles Times.