Exaggerator wins Santa Anita Derby impressively for the Desormeaux brothers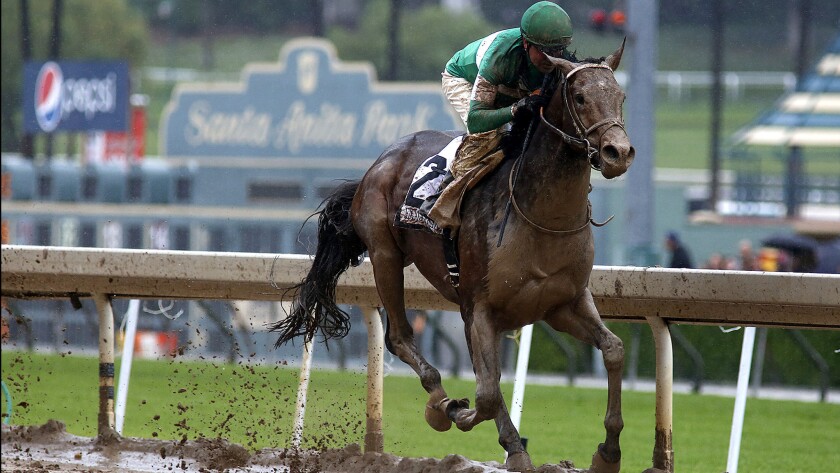 Trainer Keith Desormeaux was worried about his horse Exaggerator after a disappointing third in the San Felipe Stakes a month ago. He even speculated that the horse might be only a miler, rather than a colt capable of running the 1 1/4 miles of the Kentucky Derby.
Saturday, the colt showed his trainer that his fears were greatly misplaced with a stirring rally to win the $1-million Santa Anita Derby by a widening 6 1/4 lengths. By winning the 1 1/8-mile race over a strong field of eight, he put himself squarely in the middle of the Kentucky Derby picture.
"Did I have any doubts as they were going up to the gate?" Desormeaux asked. "No doubt, I had doubts. We had a good pace to run at in the San Felipe, but not a really fast pace. Today, we had a great pace scenario and he took full advantage."
Mike Smith hustled San Felipe winner Danzing Candy out of the gate and took him to the lead, running a fast opening quarter of 22.15 seconds. He prevailed down the backstretch as Exaggerator was rallying from as many as 20 lengths back over a muddy track.
With the horses approaching the top of the stretch, the crowd of 27,821 was seeing something special as Uncle Lino pulled even with Danzing Candy. Exaggerator, weaving between horses, was gaining ground at a spectacular rate. As the horses entered the stretch it was clear that Keith's brother Kent was riding the horse to perfection and confidently guided him to his fourth win in nine starts.
Mor Spirit finished second, followed by Uncle Lino and Danzing Candy. Exaggerator paid $8.80, 3.60 and 2.80.
Excited as Keith Desormeaux was, the win put him on point with a topic he likes to dismiss: what this means to the Desormeaux family to possibly be only the third trainer-jockey brother combination to run in the Kentucky Derby.
"The family thing is second," Keith said. "It's business. It's not only business, it's the ultimate goal to me as a horseman. So to accomplish that with a client that invests in me with a horse and to bring him along and get to this point is extremely gratifying.
"The thing with Kent being a brother and being along for the ride is icing on the cake."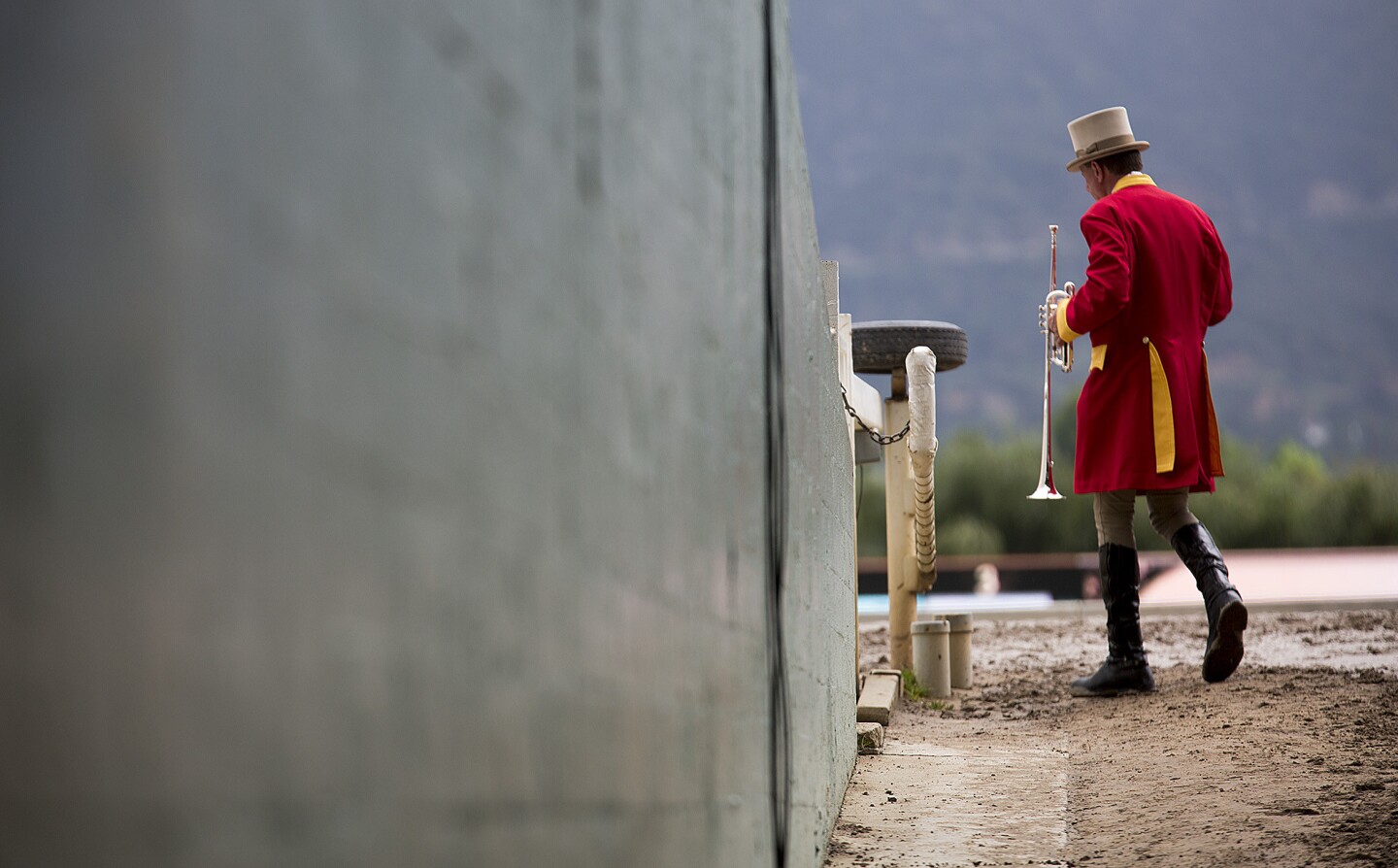 Track bugler Jay Cohen walks out to play at Santa Anita Park on April 9, 2016, the day of the Santa Anita Derby.
(Brian van der Brug / Los Angeles Times)
Dawn Burghardt of Palm Springs wears a festive hat at Santa Anita Park on April 9, 2016.
(Brian van der Brug / Los Angeles Times)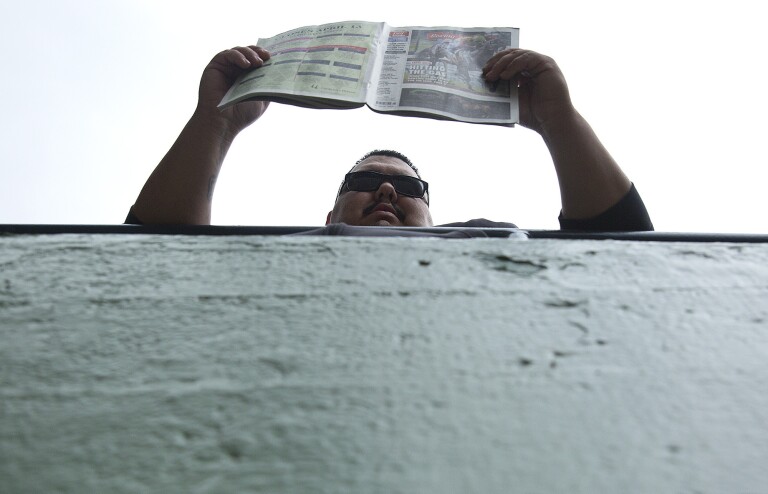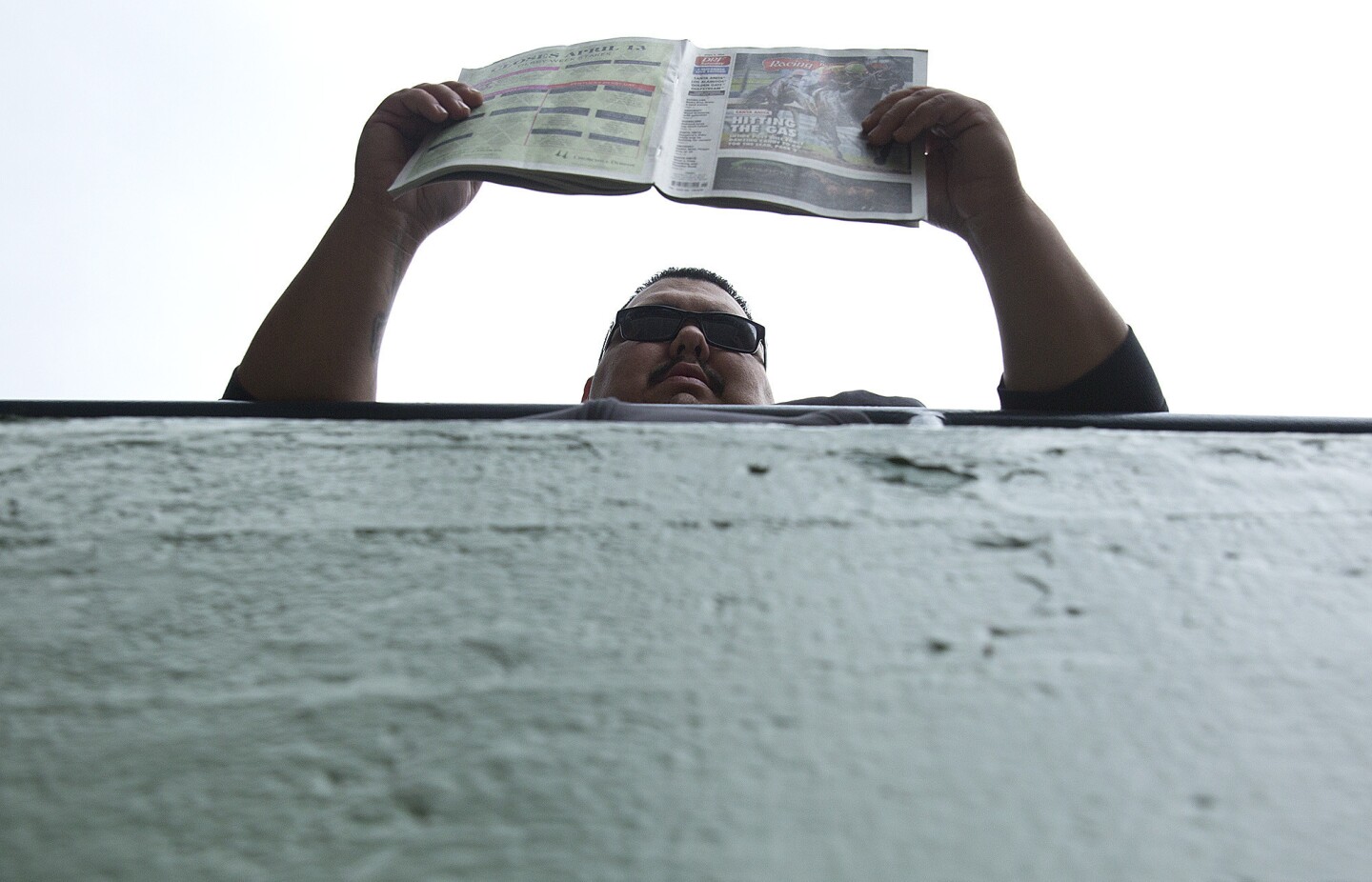 Andrew Berdin of La Puente looks over his racing form at Santa Anita Park on April 9, 2016.
(Brian van der Brug / Los Angeles Times)
Horses race on a sloppy track at Santa Anita Park on April 9, 2016.
(Brian van der Brug / Los Angeles Times)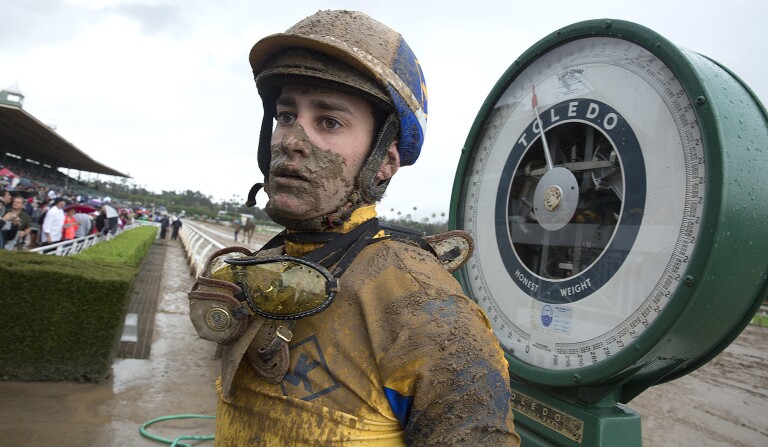 Jockey Flavien Prat weighs in after a muddy race at Santa Anita Park on April 9, 2016.
(Brian van der Brug / Los Angeles Times)
Heather Seiden of Sacramento wears a tiny hat during her visit to Santa Anita Park on April 9, 2016.
(Brian van der Brug / Los Angeles Times)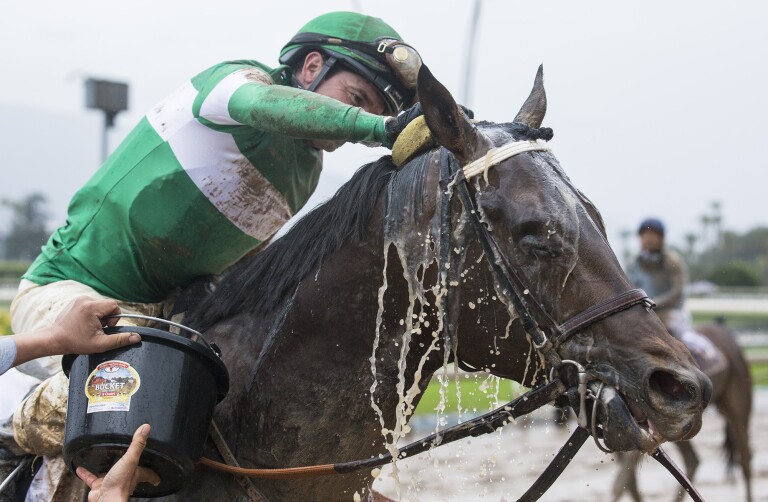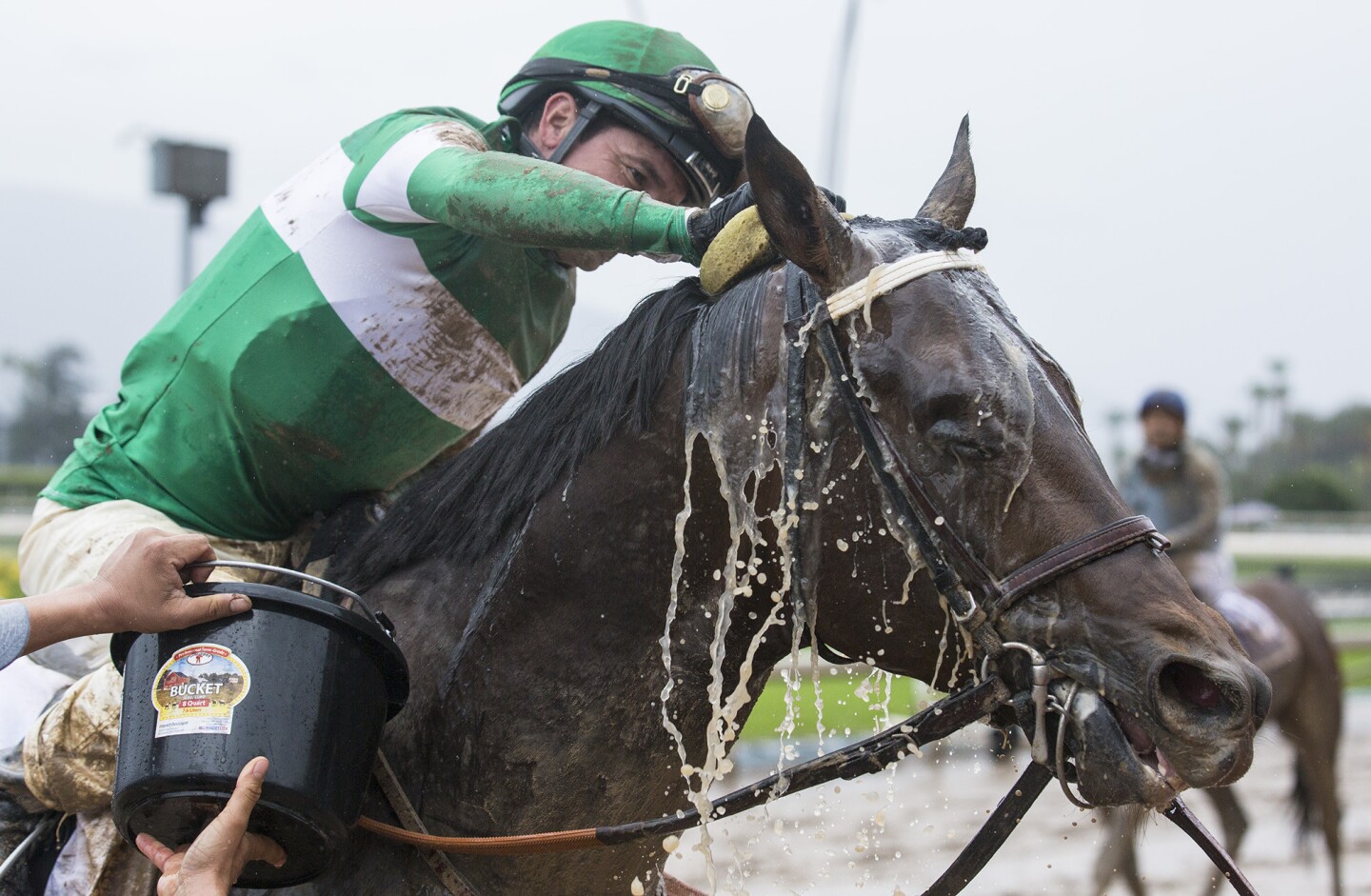 Jockey Kent Desormeaux helps wash a muddy Exaggerator after their winning run in the Santa Anita Derby on April 9, 2016.
(Brian van der Brug / Los Angeles Times)
Kent, who told The Times earlier this year that if he and Keith were in the Kentucky Derby he would be crying in the post parade, starting gate and at the eighth pole, was still trying to figure it out.
"I don't think it has soaked in yet," Kent said after winning his third stakes of the day. "I'm pretty much in shock."
He also won the Providencia Stakes aboard Decked Out and the Thunder Road Stakes on What A View.
Arcadia wasn't the only place where Exaggerator's win was being celebrated. There were also some happy times in Maurice, La., population less than 1,000, the Desormeaux family home.
"When I saw that horse coming I was screaming and hollering like I was there," said mom Brenda.
"This is just beyond words for a mom and dad," she said of her No. 1 and 2 sons teaming up to go to the Kentucky Derby. "I don't know how to explain it. It's a miracle, a once-in-a-lifetime event. It's something you dream about. We're just beside ourselves."
Brenda said she had received "a ton of [congratulatory] calls from the metropolis of Maurice."
She and her husband Harris were planning to continue the celebration by chowing down on a bunch of boiled crawfish, with the usual corn, potatoes and veggies.
And they'll be at the Derby in a month.
"We weren't sure until today, but we're packing our bags now," Brenda said.
The Desormeaux family has been at the Kentucky Derby for all three of Kent's wins, and a lot of Derbies in between. As for Keith, this will be his first as a trainer.
When asked about his plans to ship Exaggerator to Kentucky for the May 7 race, he answered a question with a query.
"I don't know if you missed the part about me being in my first Derby," he said to laughter.
"We have no plans. We'll probably call up Mr. Art Sherman [California Chrome's trainer] and [Bob] Baffert's probably too busy to give me advice. I'll call up a couple of those guys and get my instructions."
Keith is actually too smart to not have a plan, which he eventually revealed.
"At this point it seems like the best way is going in on top of the race, Monday or Tuesday, gallop him over the track, school him in the paddock. Keep it simple."
With Saturday's dominating win, Keith Desormeaux and Exaggerator's lives are going to be anything but simple.
Follow John Cherwa on Twitter: @jcherwa
---
Get our high school sports newsletter
Prep Rally is devoted to the SoCal high school sports experience, bringing you scores, stories and a behind-the-scenes look at what makes prep sports so popular.
You may occasionally receive promotional content from the Los Angeles Times.