After UFC 190 win, Ronda Rousey says she wants to fight Miesha Tate next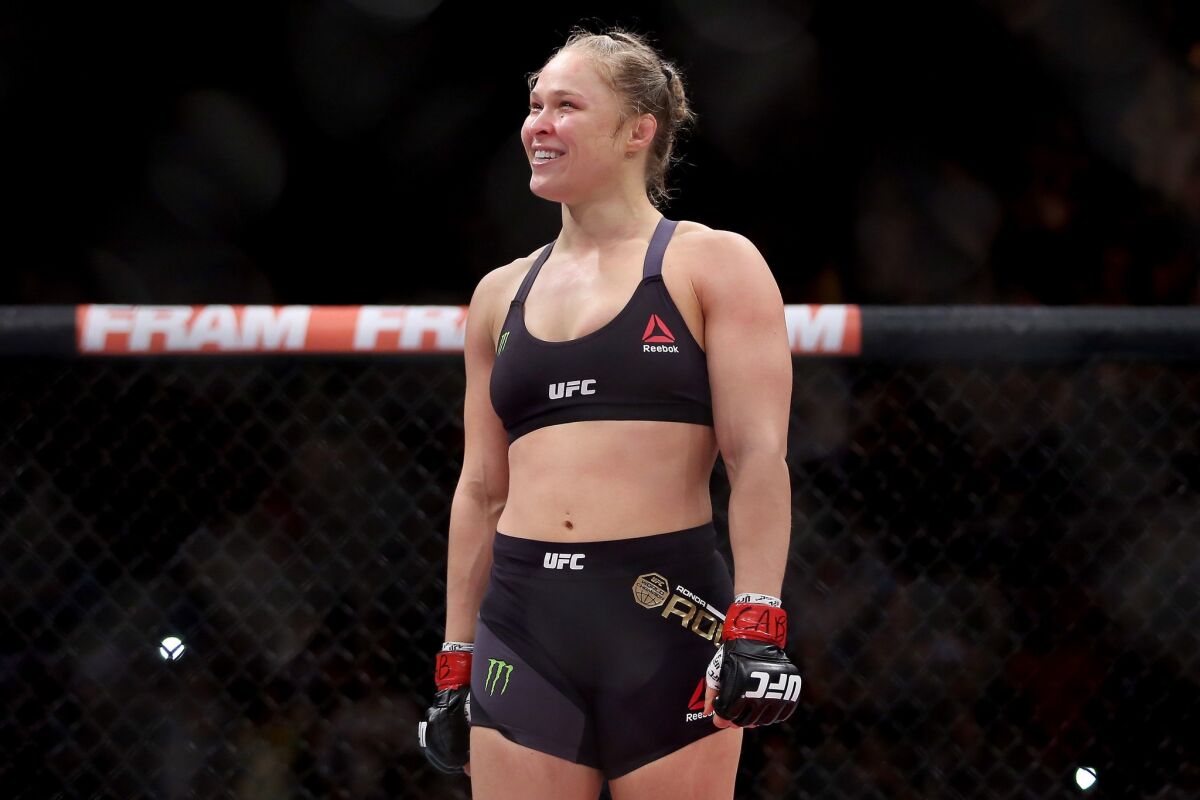 Ronda Rousey's continued dominance of women's mixed martial arts begs for someone to bring a stiffer challenge, and the next to try – for a third time -- is expected to be Miesha Tate.
Venice's Rousey (12-0) has already beaten Tate twice, but after the Ultimate Fighting Championship women's bantamweight champion needed just 34 seconds to knock out previously unbeaten Brazilian Bethe Correia Saturday night in Rio de Janeiro, Tate (17-5) is the most qualified 135-pounder.
Following Rousey's victory, she told Fox Sports 1 she'd like to fight Tate on the Jose Aldo-Conor McGregor featherweight title card that is being negotiated for Dec. 5 at Cowboys Stadium in Texas.
UFC Chairman Lorenzo Fertitta confirmed to The Times in text messages late Saturday that he is seeking to place Rousey-Tate together with Aldo-McGregor on a card that would be expected to shatter UFC live-gate and pay-per-view records.
RELATED: UFC 190 results
RELATED: Professional wrestler 'Rowdy' Roddy Piper dead at 61
RELATED: Ronda Rousey dedicates fight with Bethe Correia to late 'Rowdy' Roddy Piper
Rousey said in her post-fight television interview that she "was willing to go longer," with Correia.
But that wasn't to be, as Correia wilted with clean right and hard left-handed punches to the face, followed by a knee to the body and a decisive short punch to the temple that sent her crumpling head-first to the canvas.
"You don't see women knock women out like that," UFC President Dana White told Fox Sports 1. "She can do it all. Ronda just gets better every time she fights. … Ronda is an absolute beast."
Rousey has needed just 64 seconds to finish her last three opponents, and 11 of her 12 fights haven't gone past the first round. Tate took her to the third round in 2013.
"I feel it's a challenge. I want to silence every criticism one at a time, and I think I silenced one tonight," Rousey said after Correia remained defiant until the defining blow.
While the UFC retains the rights to a possible fierce Rousey challenger, Cris "Cyborg" Justino, White repeated late Saturday that he wants "Cyborg" to fight once at 135 pounds before he matches her against Rousey.
"I prefer who makes weight and doesn't do drugs," Rousey said in the television interview. "The fight's there for 'Cyborg.' She can make 145 pumped full of steroids. She can move down to 135 without 'em. I'm not going anywhere.
"I don't know why people act like I have so much to prove when she's the one who has to prove she can fight legitimately."
So Tate, after a convincing victory in Chicago over Jessica Eye a week earlier, beckons.
"That's what the fans want to see, she's the No. 1 contender," Rousey said. "She's going to get beat again, but … beating up Miesha seems to be good for both of our careers, so why not do it again?"
White struggled to answer how any of his women's fighters can solve Rousey, 28.
As for "Cyborg," White said, "she didn't make the weight yet."
"The day ['Cyborg'] makes the weight and does what she wants to do, that fight's on," White said. "You think I don't want that fight to happen? I think that fight does 2.5 million [pay-per-view] buys. She needs to compete at that weight, and then she can come right here and fight Ronda."
MORE ON RONDA ROUSEY:
Is Rousey too violent for Walmart?
UFC's Rousey shows she's up for any challenge
Ronda Rousey's bond with Mike Tyson shows in their meeting
Rousey jabs Floyd Mayweather Jr. with domestic violence joke
Car that Ronda Rousey once lived in goes up for auction on Ebay
Get our high school sports newsletter
Prep Rally is devoted to the SoCal high school sports experience, bringing you scores, stories and a behind-the-scenes look at what makes prep sports so popular.
You may occasionally receive promotional content from the Los Angeles Times.