Olmos makes family proud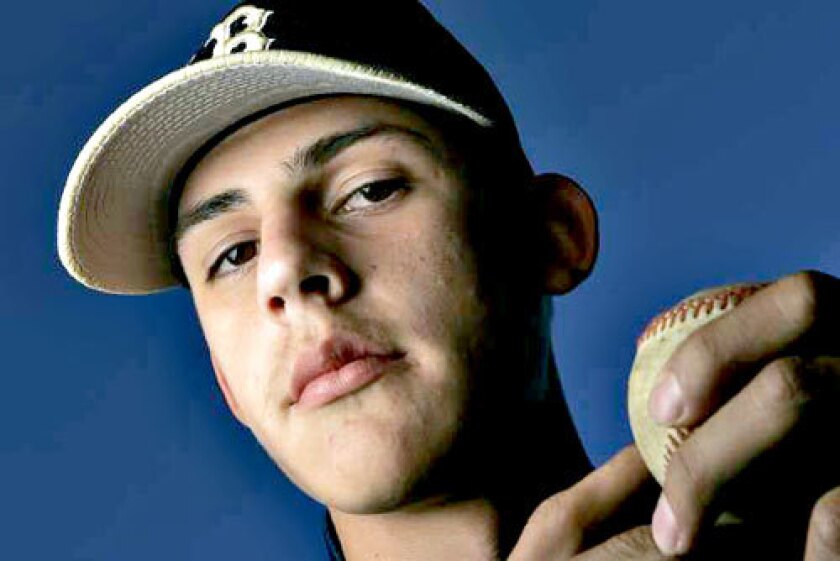 With temperatures in the 90s, Jesus Olmos spent last Wednesday building a fence. Almost every hour, while sweating and full of dirt, he thought about his son, Edgar.
"This is the biggest day of my life," Jesus said. "My son is going to be the first to go to college."
Edgar, a 6-foot-4 pitcher at Lake Balboa Birmingham, signed a letter of intent with Arizona that day.
Jesus never made it past the fourth grade in Mexico. His wife, Marisela, stopped her formal education in the fifth grade.
They came to the U.S. as teenagers, married and worked to create opportunities for their family. Jesus started a landscaping and gardening business. The couple have three children.
Edgar, the oldest, entered Birmingham as a 5-5 freshman in 2004.
"He was a kid we kept because he was left-handed and said he could pitch," Coach Matt Mowry said. "All of a sudden, six months later he's 5-9. Then he's 6-2 and 6-4."
And there was something else about Olmos.
"He's got great family values," Mowry said.
Olmos was told repeatedly by his parents to pay attention to his education.
"When I was in middle school," Olmos said, "my dad was always saying, 'If you're going to try out for the Birmingham baseball team, you have to keep your grades up. You might be good, but if you're the best and don't have grades, you're not going to go anywhere.' "
Last season as a junior, Olmos started to mature physically. He threw a no-hitter against Carson. He struck out 15 batters in a tournament game in Las Vegas. During the summer, he got invited to the Area Code Games in Long Beach and struck out eight batters in four innings. College scouts took notice, and Arizona won the recruiting battle.
"I think he's going to be one of the most dominating pitchers in the area," Mowry said.
Olmos is almost a foot taller than either of his parents. Cousins call him "a lanky giraffe." No one knows where his height comes from, though five of his mother's brothers are taller than 6 feet.
"I kept growing and kept growing and I'm still growing," Olmos said.
On Saturdays, he usually helps his father by mowing lawns or picking up tree limbs. And, if any punishment is needed, there's always the threat of more tree trimming.
"Hey, if you don't do this, you're going to go work for me," his father has told him.
Olmos smiles, "And even if I did good, he was like, 'OK, but I still want you to help me.' "
On Wednesday, Olmos was so excited he actually wanted to wake up early and go to school.
"I got ready real quick. 'Mom, I got my letter of intent, let's go,' " he said.
Meanwhile, his father spent the day working and dreaming about what all parents hope for -- a better future for their children.
"I was thinking how he's going to do at the university and all the good things that are going to happen to him," Jesus said.
There were lots of alumni basketball games scheduled this week, and none should have been more entertaining than Tuesday night's girls' game at Granada Hills Kennedy.
Coming out of retirement were the DeCree sisters, Toya, Fonda and Diane, all of whom were All-City selections at Kennedy during the 1980s. Toya Holiday is the mother of UCLA-bound Jrue Holiday of North Hollywood Campbell Hall, and Jrue was wondering if his mother and aunts still have a shooting touch.
"I heard they're all mad ballers," he said. "I couldn't beat my mom until I was 12. I heard all my aunts were good. It's going to be exciting and funny because I know they're all out of shape."
On the day before Thanksgiving, the football players at Los Angeles Jordan ought to give thanks to their coach, Elijah Asante. If parents want their sons to learn something about football and life, Asante is the coach to do it.
He wore a suit and tie to every Jordan game this season, paying tribute to old-time NFL coaches, such as Hank Stram and Tom Landry. He benched his standout quarterback in the first half of his team's playoff opener for disciplinary reasons, determined to get his point across about commitment. He had his players, some of whom were in tears, clapping for Woodland Hills Taft after the Toreadors left the Jordan field with a playoff victory Thursday.
With his simple but influential steps, Asante is building character and making a difference.
---
Get our high school sports newsletter
Prep Rally is devoted to the SoCal high school sports experience, bringing you scores, stories and a behind-the-scenes look at what makes prep sports so popular.
You may occasionally receive promotional content from the Los Angeles Times.