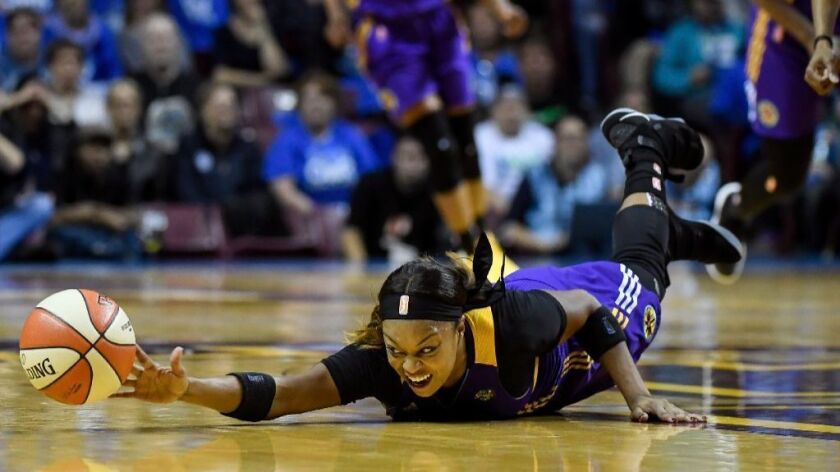 Reporting from MINNEAPOLIS —
Blue T-shirts at every seat read "This is our house," and fans donning them screamed "Beat L.A." until their lungs seemed to give out, as though the Minnesota Lynx needed extra motivation after falling behind one game in the WNBA Finals.
In the first half Tuesday night at Williams Arena, the Lynx rolled, building a 20-point lead over the Sparks. But the Sparks chipped away after halftime, and in the final three minutes threatened to steal a two-game lead in the best-of-fives series before it moves to Los Angeles for Game 3.
On the final play, Sparks point guard Chelsea Gray — a hero in Game 1 after making a last-second shot — couldn't produce a replay, as three defenders engulfed her, making it impossible to shoot or pass, and the ball was stolen as the clock expired.
The Sparks fell 70-68. The series is tied 1-1.
"It was disappointing," Sparks coach Brian Agler said. "We had a play, we just didn't execute it."
Gray screamed in frustration as teammates consoled her. She finished with 15 points and four assists.
A slow start, sluggish first half and a failed inbounds play with 13 seconds remaining ultimately doomed the comeback effort.
"We knew that they were going to come out with a punch," forward Nneka Ogwumike said. "We were allowing them to take certain things away and we weren't taking what they were giving us."
Lynx center Sylvia Fowles, the WNBA's most valuable player, notched a double-double before halftime and finished with 13 points and 17 rebounds. Guard Lindsay Whalen scored 14 and forward Maya Moore chipped in 13.
Agler appeared drained after the loss but said this is what he expected in a series between teams that produced a five-game thriller in the Finals last season that included two last-second shots.
"I wish we could have hung around a little bit closer" early on, Agler said, adding that he expected "every game to be like this."
Two-time WNBA MVP Candace Parker didn't score a point or grab a rebound in the first half, and at times it appeared a lid covered the hoop when Ogwumike, last season's MVP, took a shot. She finished three of 13 from the field.
"I can't say it happens, because it shouldn't," Parker said about her inability to score or rebound in the first half. "If we could take a couple of those possessions back and we could be told at the end of the game it'll be a two-point game, I know I would do a lot of things differently.
"And in the Finals, you can't have that."
Parker tweaked her ankle after warmups and walked off the court with a limp but said later, with her ankle packed in ice, that it didn't affect her performance. She finished with 17 points and 15 rebounds.
Despite being held scoreless in the first quarter, Ogwumike notched 11 points and 13 rebounds.
"Our offense wasn't really in sync," Ogwumike said. "We were trying to execute but we weren't doing so efficiently."
After the loss players didn't hesitate to turn their attention to Game 3 at Staples Center on Friday, where they anticipate a friendly atmosphere — and owner Magic Johnson — will greet them.
Johnson spoke with the Sparks before the Finals last season and they went on to win their first WNBA title since 2002.
He did not address the team before the Finals this year and Ogwumike said she was eager to hear from him.
"He's a champion, he's a winner and he's a leader," Ogwumike said. "And we resonate with that."
Any offering of a strategic advantage, or words of wisdom, would be welcome from Johnson, Parker said, as the Sparks try to repeat as champions.
"It's going to be a fight," she said.
Follow Lindsey Thiry on Twitter @LindseyThiry
---