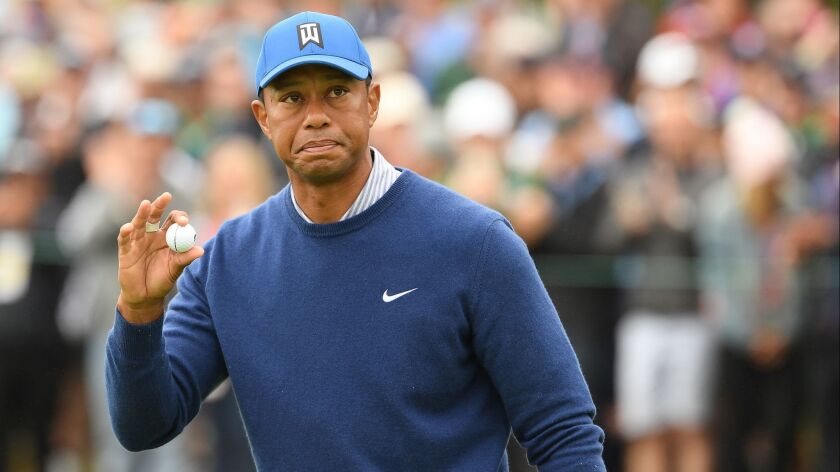 Reporting from pebble beach —
Through 16 holes of his second round Friday at the U.S. Open, Tiger Woods was in rare territory, even for him.
Woods didn't have a bogey, and if he managed to get through the rest of the morning at Pebble Beach without a hiccup it would be his first bogey-free round in the U.S. Open since he won here in 2000.
Imagine, then, how frustrated Woods was when he finished bogey-bogey for a one-over 72 that dropped him further off the pace with a total of even par 142.
"I'm a little bit hot right now," Woods said in the scoring area near the ninth green, where he finished his round. "I just signed my card about a minute ago. So need a little time to cool down a little bit."
On his second hole of the day, Woods made a 10-foot birdie putt at the par-four 11th. He wouldn't circle another number on his scorecard, and that would officially qualify Woods for a birdie drought. Over his last 29 holes, Woods has one birdie.
Woods hit 13 greens in regulation Friday — four more than in the first round — and that says something about his putting. He missed three putts inside 10 feet.
"I had a couple opportunities there," Woods said. "I missed a couple. But overall I kept leaving myself above the hole. And unlike yesterday, when I missed the correct spots below the hole, today I never had that many looks from below the hole. And the one I did have, I made at 11."
Woods said the greens were "a little bit quicker. Still low and bumpy."
A tremendous third round will be required if Woods is to have a chance for his first U.S. Open victory since 2008 at Torrey Pines.
"Right now I'm still in the ballgame," he said. "There's so many guys with a chance to win."
For the birds
The ball-hunting seagull should have been the hint for Phil Mickelson that he was going to have a wild back nine.
There were birdies all around, and bogeys too, as Mickelson recorded only three pars on the incoming nine and still managed to be on the fringe of contention in the U.S. Open. He shot two-under 69 and stood at one under overall, eight shots behind leader Gary Woodland.
The back nine got off to a bizarre start after Mickelson split the fairway with his drive at the difficult par-four 10th. As the golfers left the tee, Fox television cameras caught a seagull strolling up to Mickelson's ball. The bird examined it and plucked it off the grass, only to drop it a few seconds later.
An official was on hand to help Mickelson replace his ball.
Mickelson followed the birdie with a birdie on the hole, draining a 27-foot putt. From there, Mickelson made bogey at 12, birdies at 13 and 14, and bogeys at 15 and 17.
Furyk turns back clock
The proof that the U.S. Open version of Pebble Beach can benefit just about every player came when 49-year-old Jim Furyk set the standard for the day when he shot four-under 67 in the morning to get to two-under overall.
The winner of one major — the 2003 U.S. Open — Furyk made six birdies while hitting 13 of 14 fairways. At one point in the first round he was four over, but recovered by making birdies at 16 and 17.
"I found something in my setup," Furyk said. "Something I keyed on. Hit some solid shots."
Greller griller
Tough go of it for Michael Greller these first two rounds.
Jordan Spieth, who has Greller as a caddie, snapped at him Thursday and probably should have Friday.
In the second round, Spieth was hitting out of a fairway bunker and his ball caromed off a rake that was hiding in the deep grass on No. 2 — a rake that should have been moved by Greller.
Sign up for our daily sports newsletter »
"Oh, it hit the rake," a surprised Spieth told Greller. "There's a rake there."
A day earlier, Spieth was roasted on Twitter after he was caught on camera chiding Greller in the wake of two unfortunate shots on No. 8. His tee shot trickled over the cliff at the end of the landing area, and his approach wound up past the green.
"I hit two perfect shots and they both ended up in the wrong location," Spieth said. "Two perfect shots there, Michael. You got me one in the water and one over the green."
Cart accident
As many as five people were injured by a runaway golf cart Friday morning near the 16th fairway. The cart was being used to make deliveries and was loaded with boxes. Apparently one of the boxes fell on the accelerator when the cart was unattended.
According to a California Highway Patrol report cited by the Salinas Californian, a vendor and four spectators were struck at 10:20 a.m. when the vehicle rolled forward. Two of the people were taken to the Community Hospital of the Monterey Peninsula, the newspaper reported, and the injured range in age from 25 to 82.
In a statement subsequently released by the USGA, tournament organizers said four, not five people, had been injured: "Unfortunately, during today's second round there was an incident involving a golf cart on the 16th hole that resulted in three spectators and a vendor being injured and requiring medical treatment. We will continue to monitor their conditions."
Etc.
Among the players who missed the cut, which came at two over, were Tony Finau (four over), Justin Thomas (four over) and Ernie Els (six over).
Former U.S. Mid-Amateur champion Stewart Hagestad of USC shot 75 and missed the cut at seven over. UCLA's Devon Bling, the reigning U.S. Amateur runnerup, scored 80 and finished last at 20 over.
Follow Sam Farmer on Twitter @LATimesfarmer
---