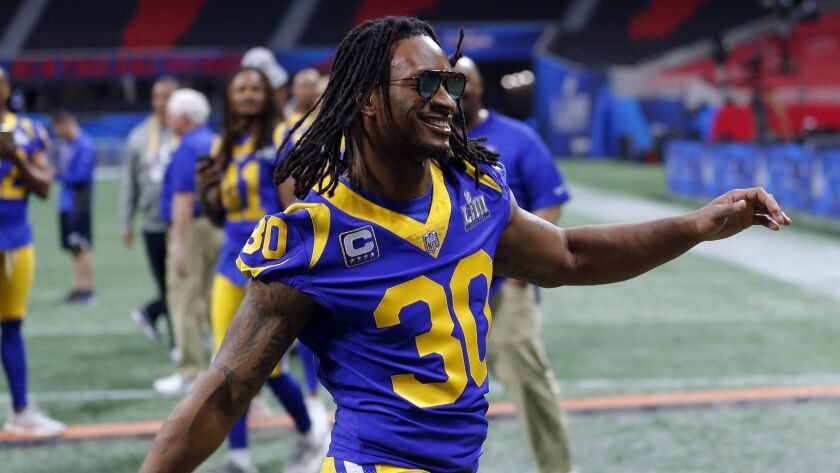 While the majority of the Rams were on the practice field Tuesday, Todd Gurley walked around the trainer's room in a white T-shirt and blue mesh shorts.
At some point, he hopped up and extended his arm as if he were attempting a layup.
With that, Gurley vanished out of sight.
The same questions that were asked about the condition of Gurley's surgically repaired left knee before and after the Super Bowl remained unanswered as the Rams opened a mandatory minicamp in Thousand Oaks.
Later, as he stood at a lectern in the facility's media room, Gurley continued to insist nothing was wrong. About the only revealing moment of his question-and-answer session came when he was asked how much he expected to be on the field for training camp, which starts July 27.
"I'm not sure what I'll be doing," Gurley replied.
And as much as the Rams claim otherwise, they can't be sure what running back he will be next season.
That would explain why they re-signed Malcolm Brown and spent a third-round draft pick on Darrell Henderson.
Or why Gurley didn't step on the practice field Tuesday. Or why he didn't participate in voluntary offseason workouts, even though he was around the team's complex.
The Rams have described this as part of a plan to manage his workload, but consider this: Cooper Kupp, who is recovering from a major knee operation, was on the field this offseason.
The most concrete evidence Gurley is dealing with something serious is how the Rams used him in their most important games last season.
Including the postseason, he carried the ball 16 or fewer times in eight of his last nine games. In the Super Bowl loss to the New England Patriots, he had only 10 rushing attempts. In the NFC championship game, he was limited to five touches.
Either Sean McVay suddenly forgot how to coach or Gurley wasn't right.
As I wrote in the days leading to the Super Bowl, the question wasn't whether Gurley was injured, but to what degree.
Gurley underwent a major reconstructive operation on his left knee in 2014, when he was a junior at the University of Georgia.
"I had bigger problems to worry about coming out of college," Gurley said. "This is small."
Only the impact on the Rams could be profound.
The team is enjoying stability under McVay. Quarterback Jared Goff continues to develop and will again be throwing to a dangerous group of receivers. Star defensive tackle Aaron Donald is now under a long-term contract and will be in training camp for the first time in three years.
But if Gurley has a damaged wheel, the ambitions of a return trip to the Super Bowl could unravel. Goff could soon be the team's highest-paid player, but Gurley motors this offense. The Rams also are invested in him financially, as they signed him last year to a $60-million extension, with $45 million guaranteed.
The Rams can't realistically expect a repeat of last season, when they overcame diminished production by Gurley and a season-ending injury to Brown by picking up C.J. Anderson from the scrap heap. Anderson, who outperformed the most optimistic of projections, signed with the Detroit Lions during the offseason.
The offseason is supposed to provide Gurley an opportunity to recover. Because of his importance to the Rams, he was never able to fully recover during the season.
"Well, I don't know if you want to use the word recovery," McVay said.
Other than to confirm Gurley has been running, the coach didn't provide any specifics about his offseason regimen under personal trainer Travelle Gaines, speaking instead in general terms of how optimistic he was about his running back.
"Feel really good," McVay said. "Talking to Todd, he feels good, looks really good, and I think the plan that we set out a few months back has been followed exactly the way that we wanted it to get done.
"Now, we know that it's still six more weeks until we report back to camp, and the goal is to have a very specific plan that he's feeling good about getting back ready to roll on the field and hopefully feeling as good as possible for that Carolina game."
The Rams open their regular season on the road against the Carolina Panthers on Sept. 8.
McVay said he "absolutely" expects Gurley to participate in on-field drills during training camp but, again, didn't offer details.
Sign up for our daily sports newsletter »
Gurley was equally evasive.
He at least had a sense of humor about the situation. Asked whether he felt refreshed, he replied: "I feel real refreshed. Just got out of the sauna."
In regard to a report that he would try to play at a lighter weight this season, Gurley said, "If I keep sweating the way I am, I'm definitely going to lose weight."
McVay wouldn't say whether he has made plans about how he would adjust his offense if Gurley returns a diminished version of himself.
"I don't think you can really get into any of these scenarios until we actually go play football," McVay said. "But with what he's said, with how he's feeling, we feel really good about Todd Gurley continuing to be the player that he's been over the course of his career, especially these last couple years where his production speaks for itself."
If he's not, the consequences could be severe.
Follow Dylan Hernandez on Twitter @dylanohernandez
---