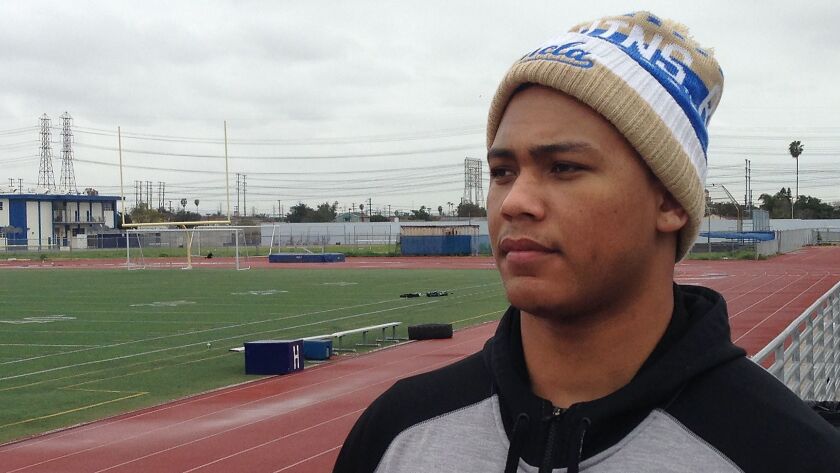 During UCLA's football season, all of linebacker Mique Juarez's efforts were directed toward one goal — playing again.
Juarez appeared in the Bruins' 2018 opener but was sidelined for the rest of the season after sustaining a concussion. In that time, he did every rehabilitation exercise and passed every test, he said, indicating a smooth recovery.
But near the end of October, Juarez's doctor delivered news that shocked him.
"He was saying, 'It's best if you don't play football anymore,' " Juarez said Thursday.
Juarez wanted to play anyway, but when he spoke to Chip Kelly, the UCLA coach said the decision was irreversible, Juarez said.
"If you were to come back to play football, like you're not gonna start," Juarez recalled Kelly saying. "I'm not gonna play you. I'm not gonna take that risk on you getting hurt again.''
Juarez appreciated Kelly's concern, but he disagreed.
"That shouldn't be up to you," Juarez said. "That should be up to the player if he still wants to play football. This is his career, not your career."
Juarez is one of four players who are no longer part of the program, Kelly announced Thursday morning. The others are defensive linemen Rick Wade, Marcus Moore and Moses Robinson-Carr. Kelly said Wade, a redshirt junior, graduated, Moore took a medical retirement and Robinson-Carr was dismissed from the team.
With Kelly's announcement, UCLA's number of scholarship athletes is down to around 70. The limit for college football teams is 85. When asked about the disparity, Kelly cited an NCAA rule enacted in 2017 that limits the number of signees to 25 scholarship athletes per recruiting class.
"That'll take a couple years to get back up to that," Kelly said, referring to the 85-scholarship total.
UCLA's 2019 recruiting class consisted of 20 scholarship athletes. The loss of players like Juarez has magnified the role of walk-on players. But Michael Alves, a redshirt sophomore offensive lineman, said the walk-ons embraced the challenge.
"They're not looking at it as like, 'Oh, what are we gonna do now?' " Alves said. "They're saying, 'Well this is my time. This is where I have to step in.' "
Juarez has not been to a football practice since October. He daily does the strength workouts he remembers from practice. Except he works out alone, at the student gym and the soccer field.
The concussion last fall was Juarez's second, he said. The first came in his initial year on campus on a hit Juarez described as "friendly fire." He took a redshirt that year for personal reasons and played sparingly in 2017.
Kelly said Thursday that Juarez left for medical reasons. When Juarez saw the news of his medical retirement on Twitter, and the questions about his health emerged, he decided to explain what happened.
About two hours after Kelly spoke with reporters, Juarez posted a statement to Twitter. "I'd die for this sport," he wrote.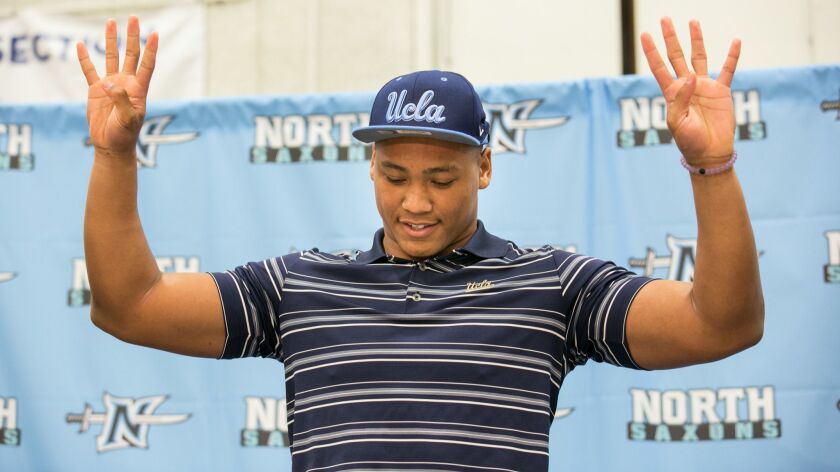 A history major, Juarez plans to finish his degree and graduate from UCLA — he would be the first in his family to earn a college degree. If the opportunity presents itself, he hopes to play another season of football elsewhere, as a graduate transfer.
"I feel like I'm missing out on a lot of things, especially with football," Juarez said. "Just being like, 'I played at UCLA,' that would've meant a lot to me."
Griffin recovering from wrist injury
For four downs Thursday, quarterback Chase Griffin took the snap and ran plays with the second-string players.
He did not throw any passes.
Kelly said Griffin, who graduated high school early to join spring practice, is recovering from a wrist injury. His throwing will be "limited" at the start of spring practice as he works with the trainers to recover, Kelly said.
Etc.
For the second straight practice, linebacker Josh Woods, receiver Dymond Lee, and defensive backs William Nimmo and Kenny Churchwell wore yellow jerseys, indicating that they were recovering from injuries.
Sign up for our daily sports newsletter »
---