UCLA has fun with sound fundamentals in victory over Tulsa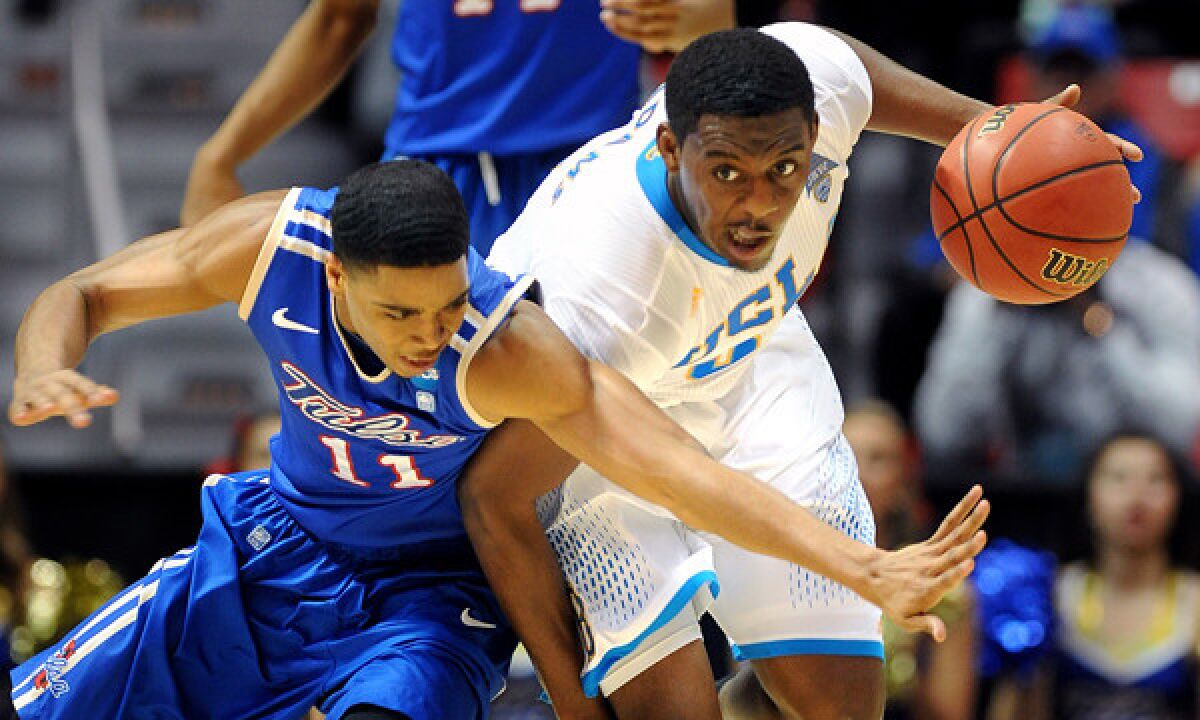 SAN DIEGO — No Duke here. No Ohio State anywhere. And no, giggle, not even a hint of New Mexico.
At the late-night end of two NCAA tournament opening days filled with higher seeds laying giant eggs, UCLA finished Friday's madness with a simple, dominating march.
The Bruins stomped through fears a talented fourth seed would overlook a pesky 13th-seed, trampled worries their new coach couldn't win a tournament opener, and even flattened a 20-year-old nightmare with a 76-59 victory over Tulsa.
Oh, yeah, no Princeton or Detroit Mercy here either.
"A statement win," said the Bruins' Tony Parker, who had 11 points and six rebounds off the bench. A big-time win."
The fun Steve Alford instilled in his team before its three-game romp through the Pac-12 tournament last week was still there Friday, UCLA flying and flinging in a manner that filled Viejas Arena with roars from the large Bruins contingent whose two-hour drive was well worth it.
They didn't play with the tentativeness seen from a UCLA tournament team in recent years. They played unafraid, unabashed and sometimes so quick as to be untouchable by a Tulsa team that chased them for nearly two hours.
"We are now playing with a comfort that comes from our coaches," said Kyle Anderson, who had five turnovers yet kept playing hard. "We are not playing to avoid a mistake, we're playing to make a play, every time."
They actually played like a Steve Lavin tournament team, only with sound fundamentals and relentless defense. The Bruins had 17 assists on 29 baskets. They missed just two of 15 free throws. They had 11 steals and five blocks.
Every time the Golden Hurricane stunned, the Bruins stunned back, most notably at the start of the second half, when Tulsa closed the gap to 35-32. The Bruins went into overdrive and the Hurricane was never that close again.
Jordan Adams hit a three-pointer. Adams grabbed an offensive rebound and laid it in for an eventual three-point play. Then, in a play that brought Bruins fans to their feet and sent the Hurricane scurrying to Coach Danny Manning on their bench, Norman Powell stole a pass and scored on a soaring dunk after a give-and-go with a fastbreaking Adams. That highlight gave UCLA a 43-32 lead and it never again felt close.
Did you notice Adams' name showing up a few times in those previous two paragraphs? The Bruins' 6-foot-5 scoring leader was everywhere Friday, with 21 points, eight rebounds and four assists. He was helped by a glorious homecoming for San Diego-native Powell, who had 15 points, three steals, and two breathtaking dunks.
"I hope we can keep it rolling," said Adams.
The next twist and tumble will come in a preamble to a Sunday afternoon matchup here that could really get those Bruins upset fears churning. In a game that could send them to the Sweet 16, the Bruins must now play a 12th-seeded Stephen F. Austin team that, in the evening opener here, overcame a five-point deficit in the final 32 seconds to eventually defeat Virginia Commonwealth, 77-75, in overtime.
That game kept the Bruins in their locker room about 15 minutes longer before taking the floor against Tulsa, not that they watched the game, or even blinked at the delay. "I heard it went to overtime and I just put back on my headphones and turned on my music," said Anderson.
He'll have to notice now. The Lumberjacks have won 29 games in a streak that ranks second to Wichita State's 35-game streak. Yeah, they haven't lost since before Thanksgiving. And nobody in this town is suddenly more popular. The loudest cheers for any players in the building Friday night were for the Stephen F. Austin players in street clothes who were spotlighted at the top at the stands midway through the first half of the Bruins game.
The Bruins are headed for a classic Cinderella versus the Evil Alford matchup, but, for once, they seem ready.
Friday was the day after the 50th anniversary of the Bruins' first national championship victory, a 98-83 victory over Duke in Kansas City. Yet nearly as memorable to current UCLA fans is the fact they haven't been to the Sweet 16 in six years.
That could change Sunday, the madness maybe ending, the march perhaps only beginning.
---
Get our high school sports newsletter
Prep Rally is devoted to the SoCal high school sports experience, bringing you scores, stories and a behind-the-scenes look at what makes prep sports so popular.
You may occasionally receive promotional content from the Los Angeles Times.