Column: Plaschke | Trojans are playing basketball with purpose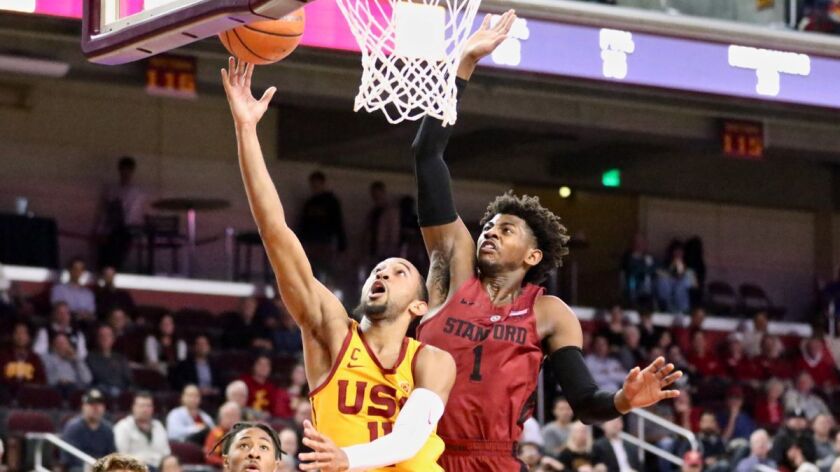 It was a football pass, the perfect ending for this school, this place and this USC basketball team.
Jordan Usher threw it. Elijah Stewart caught it. The ball sailed high into the Galen Center hush and was grabbed by a leaping Stewart just past midcourt, from where he streaked unimpeded to the basket for a dunk.
A game-ending dunk, a win-clinching dunk, and one slamming symbolic message.
These veteran Trojans believe they can go deep.
"We're trying to go all out, man," Stewart said. "We're trying to do things we've never done before."
They showed it again Wednesday night with a 69-64 victory over Stanford in a game in which they never trailed while continuing their furious climb toward March.
Since late December, they've gone 10-2, with one of those losses coming on a 55-footer at the buzzer. Since starting guard De'Anthony Melton was controversially benched for the season by the school because of NCAA legal concerns, they've gone 4-0 while using him as a rallying cry. And on Wednesday night, they won without yet another star, injured veteran star Bennie Boatwright.
They are one of only three Pac-12 Conference teams that have gone to the NCAA tournament in each of the last two seasons, and are one of the few teams in the country that will reach March with three starters who have played in two tournaments.
Their gym is often too quiet, their profile is usually too low, but do not sleep on a team that began the season ranked 10th nationally and now, at 16-6, is playing like one.
"We always say, USC basketball has always been the punching bag, nobody wants to see us win, nobody wants to see us be good, that school across L.A. has all the tradition," Stewart said. "But we're a family ... and we've really been hungry."
The family and the hunger showed up early and late against the Cardinal in yet another example of how coach Andy Enfield's fifth season here, as difficult as it has been, might be his best
"This is by far our most challenging season," Enfield said, speaking of a coaching staff that he praises with every quote. "I hope something good comes out of it."
The hunger appeared from the opening tip Wednesday night when, in the first five minutes, Stanford had exactly five points and five turnovers to set the stage for the Trojans' 41-26 halftime lead. With shot-altering Chimezie Metu down low and ball-hawking Jordan McLaughlin out front, they play stifling defense, with none of their last five opponents scoring more than 70 points.
"We've been here for so long, everybody knows each other, we know each other's tendencies, sometimes we can play defense without even saying a word," said Stewart, pausing, smiling, as if his coach was listening. "But we still speak anyway."
Late in the game, the display of hunger was accentuated by a show of family, with USC playing together to hold off a Stanford charge as if they've done this a million times, which it seems like they have.
"They're used to this, they don't get rattled," Enfield said. "They're not afraid to fail in those last few minutes, and they won't lose a game because they're not playing hard enough."
Stanford cuts the lead to two points in the final 30 seconds, but McLaughlin drives to the basket, is fouled and makes a free throw.
Stanford tries to set up a tying three-pointer, but McLaughlin slides out of nowhere to steal a pass.
Daejon Davis, the Stanford kid who beat USC with that 55-footer a couple of weeks ago, throws up a three-pointer, misses, and the Trojans fight to knock the ball off Stanford hands and out of bounds.
Cue Usher. Enter Stewart. Game over.
Among those celebrating on the bench was a sweats-wearing Melton, who has become their inspiration because of what his teammates consider unfair treatment by the school and the NCAA.
Melton has been benched for the season by USC because he was linked to the college basketball bribery case that resulted in the indictment of Trojans associate head coach Tony Bland. Yet, there has been no publicly produced proof that Melton was involved in anything, no evidence he knew about any bribes, and his involvement appears to be guilt by association.
It is seemingly an unfair situation for the sophomore, who appears to be paying for the Trojans' past NCAA troubles. After being burned so badly in the Reggie Bush scandal, USC is trying to stay clear of the misguided NCAA police, yet in doing so, it could be delivering further unjust punishment upon one of its own.
"For [Melton], it's super messed up," Stewart said. "But there's not too much we can do, we have to live through it."
Instead of griping about it, Enfield has used it to bring his team together, as he continually cites Melton as a key player in practices and applauds his energy while sitting on the bench.
"He's a daily reminder of the importance of sticking together and being part of a family and a program," Enfield said. "This young man has gone through a lot, but he's still competing with us, and that's what family is all about."
One of the coolest things about the wild Trojans nights at Galen Center, which are filled with thumping music and fan dancing and endless giveaways that include boxes of pizza, is what happens when the game ends.
After going through a handshake line with the opponent, the Trojans then wind their way along the courtside seats and personally thank the fans in completing the theme of family. Lately, there has been lots of smiles with those handshakes, with perhaps plenty more smiles coming.
"Yes, it's been challenging, but I'm proud of their growth through the challenges," said Enfield, the game over, the ride just beginning.
Get more of Bill Plaschke's work and follow him on Twitter @BillPlaschke
---
Get our high school sports newsletter
Prep Rally is devoted to the SoCal high school sports experience, bringing you scores, stories and a behind-the-scenes look at what makes prep sports so popular.
You may occasionally receive promotional content from the Los Angeles Times.