Amanda Johansen, who scored the first goal in USC lacrosse history, returns on other side of field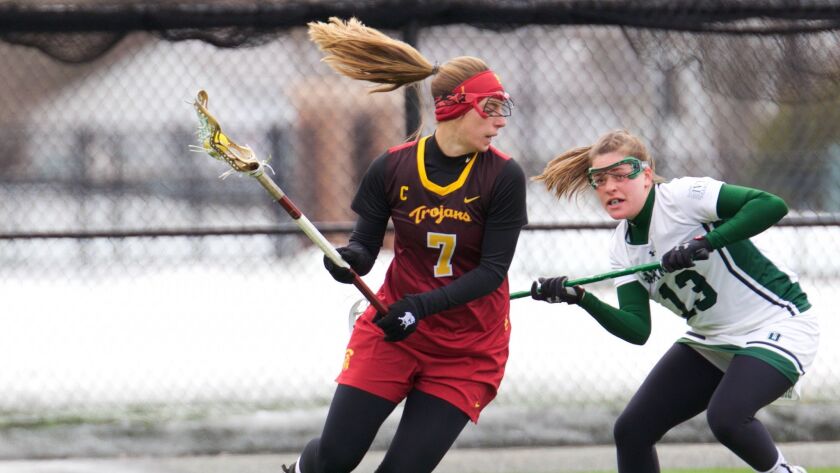 Amanda Johansen needed only one juke to get a wide-open shot. Then a freshman on the USC lacrosse team, Johansen flew down the field, dumped the ball to teammate Caroline deLyra, who stood beside the goal. After turning right, Johansen cut back to goal, caught deLyra's pass and whipped a shot to the lower right side, opposite the goalie's stick.
Against Northwestern, the nation's No. 1 team, Johansen scored the first goal in the history of USC women's lacrosse in 2013. Her teammates engulfed her. When the Coliseum's video board flashed the reaction of fans,, Johansen saw her father with tears in his eyes.
Northwestern entered the game having won seven of the previous eight national championships, including the last two. A crowd of 2,890 filled a section behind the benches for the Trojans' inaugural game, which Northwestern won 18-5.
"It meant so much more than a lacrosse game," Johansen said. "Even though we lost by a large margin of goals, it still felt like a successful day, and just kind of made us all excited for the future of the program."
Six years later to the day, Johansen returns to USC for the Trojans' season opener Saturday against Hofstra, where Johansen is a first-year assistant coach. She was an assistant coach for the Trojans the year before.
"It's a really cool ... full-circle sort of moment," said USC coach Lindsey Munday, whose team is ranked No. 21 after going 10-8 and missing the postseason last year.
Johansen was one of 17 freshmen on that first USC team, which went 8-10. The Trojans have since had four winning seasons, with two conference titles and two quarterfinal appearances in the NCAA tournament.
Johansen was selected Mountain Pacific Sports Federation rookie of the year as a freshman in 2013 and earned third-team All-America honors her senior year. She was a team captain for two seasons and as a senior led the Trojans to a program-record 20-game winning streak.
"She really was the heart and soul of that group," Munday said.
She helped establish the only Division I lacrosse program in the Southland, where lacrosse was a largely unknown sport. As an underclassman, Johansen remembers fans at games chanting "airball" after missed shots like it was basketball. When the players walked around campus with their lacrosse sticks, they were regularly mistaken for quidditch players.
"People had no idea who we were," Johansen said.
That's part of what drew Johansen to USC. Playing lacrosse in Southern California had been her dream since her high school days in Long Island, N.Y., when a USC football game on TV prompted her to remark to her father, "I wish USC had a program." Johansen visited the school in March of her junior year and committed six days later, allured by warm weather and the chance to build something.
The team's first meeting took place in a theater-style room in the Galen Center. On a table at the front, Munday, who played for U.S. national team and Northwestern, and the other coaches laid their championship rings and medals. They stood behind their treasures as they told the Trojans their days of being freshmen were over; they needed to be leaders.
One by one, snaking from the front row to back, each player stated, "I want to be a national champion."
Johansen responded to her coaches' expectations by elevating her work ethic. She ran several miles each morning in the fall to condition — until her sophomore year when they told her to cut back on extra workouts. In the summer she ran sprints hours before sunrise, and at practices went all-out in every drill.
"She was just this silent warrior, and every day went to battle," said Elizabeth Eddy, Johansen's former teammate who now plays professional soccer for the North Carolina Courage. "And with her individual effort by pushing herself, then everyone else was like … 'I'm gonna do better so Amanda can be proud of me.' "
Two years after their inaugural season, the Trojans again faced Northwestern in the season opener, losing by a goal in overtime. The next year, when Johansen was a senior, USC beat Northwestern and went undefeated in the regular season. The Trojans reached the Elite Eight against Syracuse.
The game went to sudden-death overtime. When Syracuse scored, the Trojans on the field dropped to their knees. Johansen's exhaustion hit all at once; then came the realization that her time at USC was done.
The Trojans gathered in a huddle on the turf by their bench, their arms tangled together as they leaned in, heads drooping from sadness and exhaustion. Some players cried as the coaches expressed their pride and gratitude for the departing senior class. Munday said as much in a text to Johansen the next day.
Once Johansen graduated, her younger sister, Kelly, joined the Trojans. Kelly was sidelined her first two seasons with knee ligament tears, but is slated to play her first game Saturday, with Amanda on the sideline. She was drawn to the school by seeing her sister's impact on the program.
"I love the fact that every class that comes has the opportunity to live up to these girls," Kelly said. "They came to practice every day ready to work harder than any other team, and they were known as just the workhorses."
At USC last season, Johansen coached like she competed — quietly. Her advice came in one-on-one conversations between drills, which she followed up with a text if needed. She set an example by regularly attending workout classes and doing drills with the players. She reached out to players who seemed down in practice and helped them by sharing her own experiences as a student-athlete.
Sign up for our daily sports newsletter »
Johansen joined the Trojans after serving as a graduate assistant at Mount St. Mary's in Maryland, as she earned a master's degree in sports management. She left the Trojans to earn a master's degree in sports science while coaching at Hofstra, which is 15 minutes from her family's home in New York.
After USC's loss to Syracuse ended Johansen's collegiate career, and after the coaches said their piece in the team huddle, Johansen and the rest of the captains took their turn to speak. Johansen turned to the juniors, and implored them to continue what she helped start.
"Remember this moment, and let it fire you up," she said. "This is just a glimpse of what is to come for the program."
---
Get the latest on L.A.'s teams in the daily Sports Report newsletter.
You may occasionally receive promotional content from the Los Angeles Times.