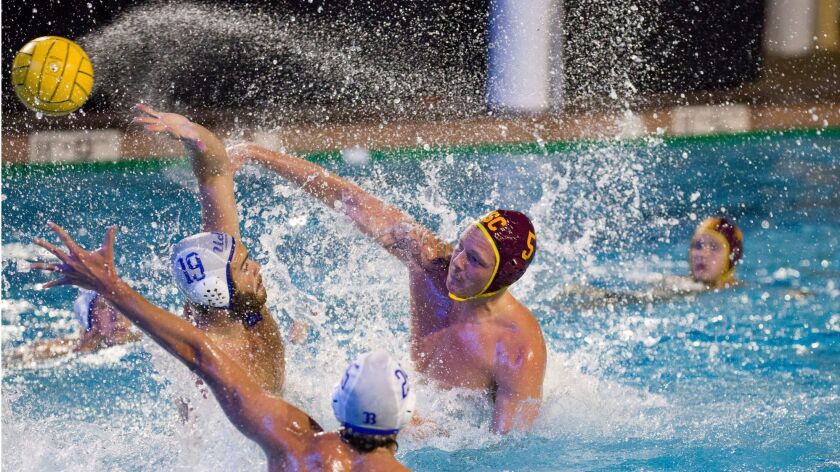 Reporting from Palo Alto —
USC redshirt junior Sam Slobodien remembers it like a flash. When he freed his hand from the frothy water and grabbed senior Zach D'Sa's pass, then somehow managed to take a shot.
Slobodien thought it didn't go in at first. He was tightly covered by a UCLA defender, fighting just to keep his head above water; his only reassurance as he flicked the ball toward the net was the countless times he practiced that play.
Alex Wolf, who tied his career high with 16 saves, could not stop Slobodien's shot. The fate-flipping instant gave USC (29-3) the lead with five seconds left in an 8-7 victory over the Bruins (23-5) in an NCAA tournament semifinal game.
"We really can't enjoy this victory for too long. … We didn't come here to win one game," coach Jovan Vavic said.
The Trojans earned a spot in the national championship game for the 14th consecutive year and will play host Stanford (21-2) for the title Sunday at 3 p.m. at the Avery Aquatic Center. It would be USC's first national championship victory since 2013.
UCLA took an early 4-2 lead, but USC scored consecutive goals to tie the score at the half. The second half remained tight, with long stretches of uninterrupted play that left players battling each other and their own exhaustion.
"We're a really fit team," USC freshman Nic Porter said. "As you can see, that paid off. We were flying around until the last second of the game."
USC freshman Hannes Daube had a hat trick, his third goal coming in the fourth quarter. UCLA freshman Jake Cavano countered with a hat trick to keep the Bruins alive. But they fell one defensive stop shy, one of several UCLA losses this season that slipped away in the final seconds.
"You wonder, if those turned out the other way. …It's tough to imagine what if," UCLA senior David Stiling said.
When time expired, the Bruins were left wondering as Porter hurled the ball high into the stands. Some Trojans lingered in the pool to hug each other. After shaking hands with the Bruins, they lined up in front of the pool one more time, triumphantly facing their cheering fans.
D'Sa redirected the celebration by raising his finger to the sky. "One more," he shouted, eyeing the boisterous stands. "One more."
Stanford 16, UC San Diego 7: Stanford blew past the Tritons to earn a spot in the national championship game.
The two teams were tied after the first quarter and the Cardinal led by only two goals at halftime, but they dominated in the second half, quickly claiming a comfortable lead.
---