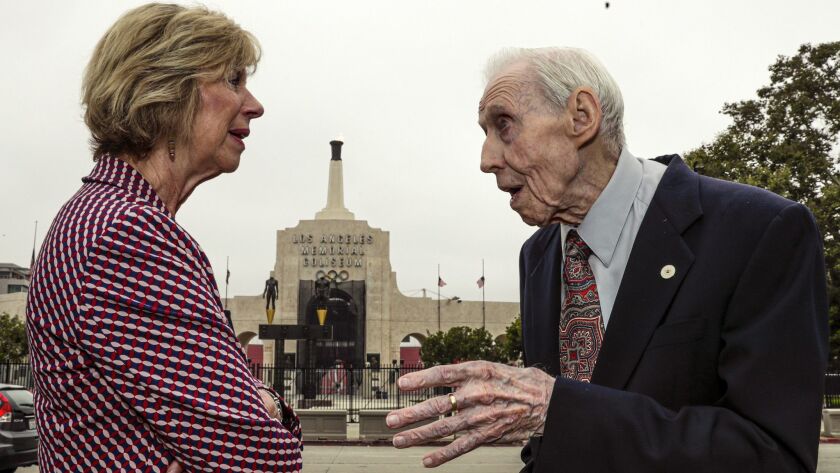 The Los Angeles Memorial Coliseum will continue to be called the Los Angeles Memorial Coliseum and that's good news for everyone. Well, everyone not tasked with raising money to improve the 96-year old facility.
Last year USC and United Airlines announced a 16-year, $69-million naming-rights deal related to the $315-million upgrade of the stadium, which would have been known as the United Airlines Memorial Coliseum.
The deal fell apart when Janice Hahn, Los Angeles County supervisor and president of the Los Angeles Memorial Coliseum Commission, started a campaign to preserve the name out of respect for the building's history as a war memorial. A new deal was reached last week to name the field United Airlines Field at the Los Angeles Memorial Coliseum.
Terms of the shorter 10-year deal were not announced, but one person with knowledge of the agreement said USC lost at least $25 million when the original pact was scrapped.
Naming rights for the Coliseum have long been seen as a key component to renovating the aging stadium. USC and the Coliseum Commission hired the Wasserman Group to explore naming-rights options in 2008 and enlisted the help of Fox Sports to do the same in 2015. They were looking for around $5 million per year and "Memorial Coliseum" had to remain part of the name.
It never made much sense for the stadium to be called United Airlines Memorial Coliseum. Outside of the obvious and unfortunate placement of "airlines" and "memorial" next to each other, the airline simply goes by "United" on its website and commercials. The home of the Chicago Bulls and Blackhawks is the United Center, not the United Airlines Center. "United Memorial Coliseum" would have been an easier pill to swallow.
No one will call the Coliseum's previously nameless field the United Airlines Field at the Los Angeles Memorial Coliseum, outside of school and network employees obligated to do so. Even if they had renamed it everyone still would have called it the Coliseum, which is why they were never able to get the naming-rights deal they wanted. It's hard to rebrand a stadium that is almost 100 years old.
Before the naming-rights dispute, most didn't even realize the Coliseum was a war memorial. There's no actual war memorial at the stadium, and the "Memorial Court of Honor" within the peristyle arches has 61 commemorative plaques but not one is dedicated to our war heroes. There are five plaques, however, recognizing the Coliseum Commission.
With the Los Angeles Memorial Coliseum's name untouched for the foreseeable future, perhaps Hahn can now push for the stadium to actually recognize veterans. Now would be a good time for Hahn and the Coliseum Commission to make sure that word actually stands for something in the Memorial Court of Honor.
::
Speaking of naming rights, Social Finance, the lender known as SoFi, is in talks to put its name on the new Los Angeles Stadium at Hollywood Park, which will be the home of the Rams and Chargers beginning next season.
I don't know but it just seems like a missed opportunity for Fiat Chrysler Automobiles, which owns the Dodge Charger and Ram Trucks.
::
It's not cheap to go to a professional sports event in Los Angeles, and the cost of sitting in a private suite or in premier seats is usually out of the price range for most families. The best deal in the city every summer continues to be the Sparks. Since suite and premier seat owners at Staples Center have tickets to every event at the arena, many try to unload their Sparks tickets on StubHub, meaning you can sit in a private suite or in premier seats with in-seat waiter service for $6. Even if you're not a WNBA fan, you really can't beat an entire suite for your friends and family at Staples Center for under $100 and watching arguably the best basketball team in L.A.
::
Most critics of Clay Helton usually preface their complaints by saying he's a nice guy. While that may seem like a backhanded compliment in the cutthroat world of college football recruiting, Helton's agreeable personality actually may have helped turn around the fortunes of USC's football team.
Recently quarterback Matt Fink, wide receivers Velus Jones Jr. and Bru McCoy and cornerback Chris Steele all had a change of heart and decided they wanted to continue their college football careers at USC. Fink and Jones were set to transfer while McCoy and Steele decided to transfer to USC after spending last semester at Texas and Florida, respectively.
Sign up for our daily sports newsletter »
Helton was supportive of the players during their decisions to leave and never criticized them or the NCAA transfer portal. It would have been easy to lash out but he let the players know he supported them no matter what they did. In the end, his commitment to them as people instead of players made their decisions to return easier.
::
Of all the notable players, coaches and staff members the Lakers have lost since 2011, one of the least known but most valuable was Alex McKechnie, who was the team's performance trainer from 2000-2011 when they won five championships and played in seven NBA Finals. McKechnie is now the director of the sports science for the Toronto Raptors and has been heralded this season for helping Kawhi Leonard, who missed 73 games for the San Antonio Spurs last season, stay on the court. Leonard missed 22 games this season due to "load management," a term McKechnie used when he was in Los Angeles and helping Shaquille O'Neal stay on the court. The goal was to keep Leonard healthy and on the court through June and it has worked out perfectly. "If we didn't do that," Leonard said, "I wouldn't be here right now."
---